This post may contain affiliate links, from which we earn an income.
Romania is known for its magnificent castles, churches, monasteries, and historic towns dotted around the country. It also has unexpectedly beautiful landscapes and diverse wildlife just waiting to be explored.
Taking a Romanian road trip is the ultimate way to discover one of Europe's most underrated and undiscovered countries. As you travel around Romania, you'll find UNESCO World Heritage Sites, forested mountains and towns that have stepped back in time, as well as some of Europe's most famous driving roads.
In this Romania trip planner we share travel tips, the best routes between towns and cities, things to do and see along the way, and hotel recommendations to help you plan your perfect Romania road trip.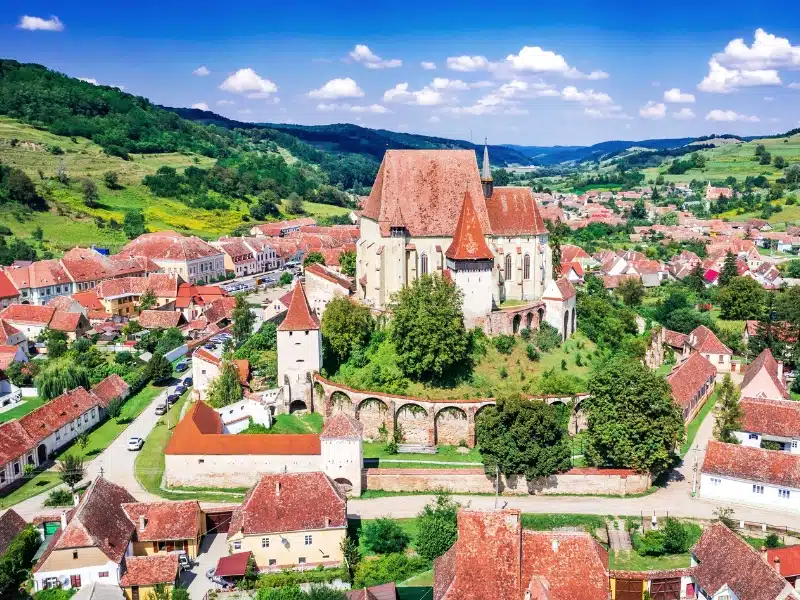 Where is Romania?
Romania is a country located at the crossroads of Central, Eastern, and Southeastern Europe, most famous for its vibrant capital city of Bucharest, the region of Transylvania which is circled by the Carpathian Mountains, the fictional Count Dracula, and Europe's second-largest river, the mighty Danube.
Romania borders Bulgaria to the south, Ukraine to the north, Hungary to the west, Serbia to the southwest, Moldova to the east, and the Black Sea to the southeast.
The modern Romanian state was formed in 1859 when the Danubian Principalities of Moldovia and Wallachia united and then gained independence from the Ottoman Empire in 1877.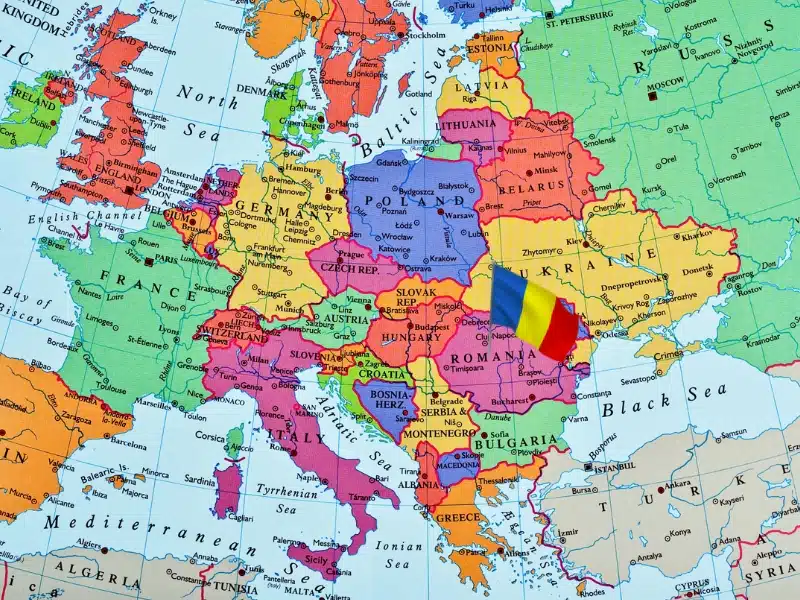 Make sure you have travel insurance you can trust when visiting Romania. We recommend True Traveller for their 5-star TrustPilot reviews, variety of cover options, best activities cover as standard, great prices, and excellent service.
Getting to Romania
Whether you're taking a road trip to Romania in a car, motorcycle, or campervan, self-driving is absolutely the best way to explore this spectacular European country.
You can stop whenever you want, try new activities, visit places you see along the route, and have the freedom to change plans at the last minute.
Fly into Bucharest's Henri Coandă International Airport Otopeni to start your roadtrip in Romania. With direct flights from Europe, the Middle East and the UK, we recommend booking through Skyscanner for live deals and the best prices.
Are you planning to rent a car in Romania? As one of the largest aggregator car rental companies in the world, we recommend Rentalcars.com because they have massive purchasing power which enables them to secure the best car hire prices, which benefits you when you're planning a road trip through Romania.
For a real adventure, hire a motorhome or campervan in Romania. We recommend Motorhome Republic, an aggregate booking site who pull together all the best deals from a number of rental agencies, to offer you a wide choice of options alongside an excellent English speaking expert motorhome Concierge Team.
It is possible to follow this road trip itinerary using public transport. All the towns and destinations are connected by train or bus. Find routes and timetables on Autogari, book trains with CFC Călători, and check out the community-based travel network BlaBlaCar for carpool options. You will need to book a day trip for both the Transalpina and Transfăgărășan roads, which unsurprisingly have no public transport options.
We recommend this Transfăgărășan day trip from Bucharest and this Transaplina and Transfăgărășan multi-day tour if you're traveling Romania by public transport.
Best Time for a Romanian Road Trip
Romania has a temperate-continental climate of a transitional type, specific to Central Europe. The average temperature in winter falls below -3°C / 27°F and in the summertime is 23°C / 73°F.
March to May
Spring is a fantastic time for a Transylvania road trip, with temperatures warming across the country from April onwards. Blooming wildflowers, vibrant greenery in the mountains, and cows heading out to pasture mean spring is a fantastic time to experience Romania by car. You'll find the roads and cities less crowded, and most attractions will be open.
June to August
Summer is a great time to plan a trip to Romania, when the country enjoys beautiful weather, long days, and the prospect of outdoor adventures, with July being the warmest month. This is when locals take holidays, with school being out for all of July and August, meaning heavier crowds and more traffic.
September to November
Autumn is a fantastic time for a Romania roadtrip, but it is considered the rainy season, so pack a waterproof! In early fall, the grapes and crops are being harvested, food festivals celebrate the bounty of the land, and you might enjoy an Indian summer, with the fall colors of the vineyards aflame.
December to February
The winter months in Romania can be very harsh and it usually snows, but most people come to Romania during the months of December to March for winter sports like skiing and snowboarding. It's not the best time for a road trip, as the spectacular mountain passes will be closed and roads can be challenging to drive.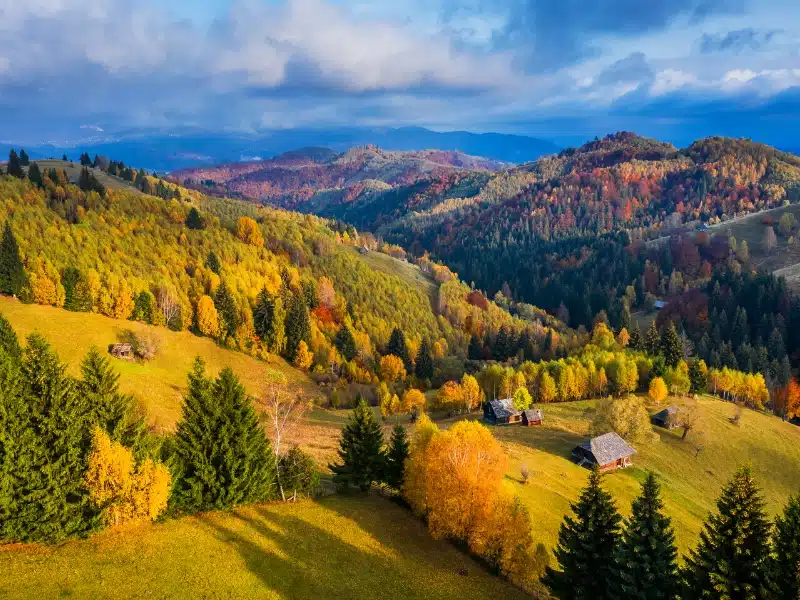 Road Trip Romania Map & Route
Our nine day Romanian itinerary starts in Bucharest and heads north through the heart of Transylvania, visiting some of the country's most iconic cities and sights on the 843 mile circular route. If you're looking for a one week Romania road trip itinerary, spend a morning in Braşov instead of a full day, and skip Sibiu.
Bucharest – Raşnov – Brasov – Sighişoara – Cluj-Napoca – Oradea – Timişoara – Hunedoara – Sibiu – Piteşti – Bucharest
How to use this map – Use your fingers (or computer mouse) to zoom in and out. Click or touch the icons to get more info about a place, and click the arrow in the box top left to open the index. To add to your own Google Maps account, click the star next to the title of the map.
Romania Itinerary
Day 1: Bucharest
Bucharest has much to offer visitors, from historical landmarks to trendy cafés and restaurants, so much so that it is worth spending a full day in the Romanian capital.
Start your day by exploring Lipscani, the old town. The area has many cobblestone streets, historic buildings, sidewalk cafés, and independent shops selling traditional Romanian handicrafts like ceramics, lace, leatherwork and intricately painted eggs.
Stroll through the city to admire the charming architecture, including conventional Romanian buildings, Art Nouveau, and Art Deco designs, and marvel at the Stalinist Palace of the Parliament, the heaviest building in the world at 4.10 million tonnes!
It's worth taking a free walking tour of Bucharest or this highly-rated guided city highlights tour to learn about the city's history, communist past, and culture.
Afterward, visit the stunning National Museum of Art of Romania and the Village Museum. The latter is an outdoor museum with exhibits showing traditional Romanian village life, with more than 300 buildings from all over the country.
Enjoy lunch at the elegant Haute Pepper or the Stadio Restaurants Herastrau, which has lovely outdoor seating.
After lunch, take a relaxing walk through one of Bucharest's beautiful parks, like Herastrau Park, Carol Park, or Tineretului Park.
You can also take a day trip to the Danube Delta, a UNESCO-protected site that is the second-largest river delta in Europe and the best preserved in the world. There are fantastic bird-watching opportunities, with over 300 species of migratory birds visiting annually.
Enjoy dinner at Amethyst Sky Bar, 18 Lounge, or NOR – Sky Casual Restaurant for exceptional food and the city's best views.
Follow it up with a night in the town, as Bucharest has many bars and clubs to enjoy. Throughout the year, it is common to find several outdoor festivals ongoing in various parts of the city.
Upmarket: Epoque Hotel by Relais & Chateaux – Booking.com | Agoda
Mid-Range: The Marmorosch Bucharest – Booking.com | Agoda
Budget: Hotel Michelangelo – Booking.com | Agoda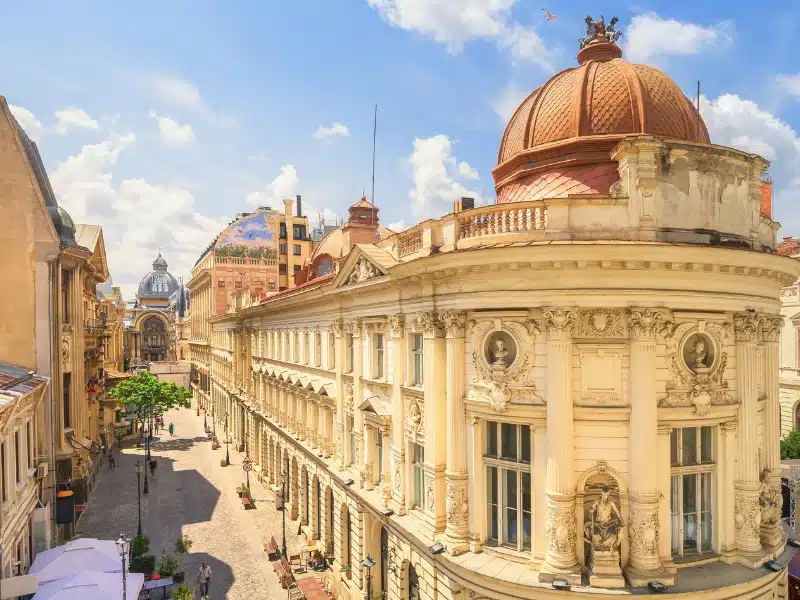 Day 2: Bucharest to Raşnov
The second day offers visits to two castles, Peleş and Bran, and ends in Raşnov.
Peleş Castle
Peleș Castle is a stunning 19th century castle located about 87 miles / 140km from Bucharest. Since the drive is just under two hours, leave the capital early to make the most of your day.
Many consider Peleş Castle one of Europe's most striking castles and a must-see attraction for visitors to Romania. It was built between 1873 and 1914 at the request of King Carol I of Romania, and it was used as a summer residence for the royal family. It is now open to tourists year-round and is a popular tourist destination.
Peleș Castle's architecture combines different styles, including Gothic Revival, Renaissance, and Baroque. It features intricate wood carvings, stained glass windows, and ornate decorations. Inside, you can explore more than 160 rooms, including several royal apartments, a stunning concert hall, and a weapons room with medieval weapons and armor.
Peleș Castle also boasts a magnificent art collection that includes works by Gustave Moreau and Franz von Stuck.
Bran Castle
An hour away from Peleș is another must-see, Bran Castle. This medieval fortress is also known as Dracula's Castle, based on its association with the character from Bram Stoker's 1897 novel, Dracula.
Bran Castle was built in the 1300s by the Saxons of Brasov as a fortress to protect them against the Ottoman Empire. It was later used as a customs post and a royal residence. In the early 20th century, it was given to Queen Marie of Romania as a gift, and it became one of her favorite residences.
Bran Castle enjoys a backdrop of scenic landscapes with walking trails leading to the nearby village of Bran, known for its traditional architecture and crafts.
Go for a quick lunch at Bran Chalet Restaurant and see if you can get outdoor seating for the best views of the castle.
Raşnov
Just a stone's throw away from Bran is Raşnov, a small medieval Saxon town known for its hilltop fortress and beautiful natural surroundings.
Head to the impressive Raşnov Fortress, built in the 13th century to protect the town against invaders. It now serves as a museum where visitors can learn about its history.
For a more relaxing oasis to unwind after a day of traveling, visit one of Raşnov's many spa resorts where you can soak in the hot springs, get a massage, or try some traditional Romanian treatments.
Take a stroll in the town center, which has several cafés and restaurants where you can dine. Try La Promenada or Sub Cetate Sergiana.
Upmarket: Das Fort Boutique – Booking.com | Agoda
Mid-Range: Radsor Hotel – Booking.com | Agoda
Budget: Hotel Soimul Poiana Brasov – Booking.com | Agoda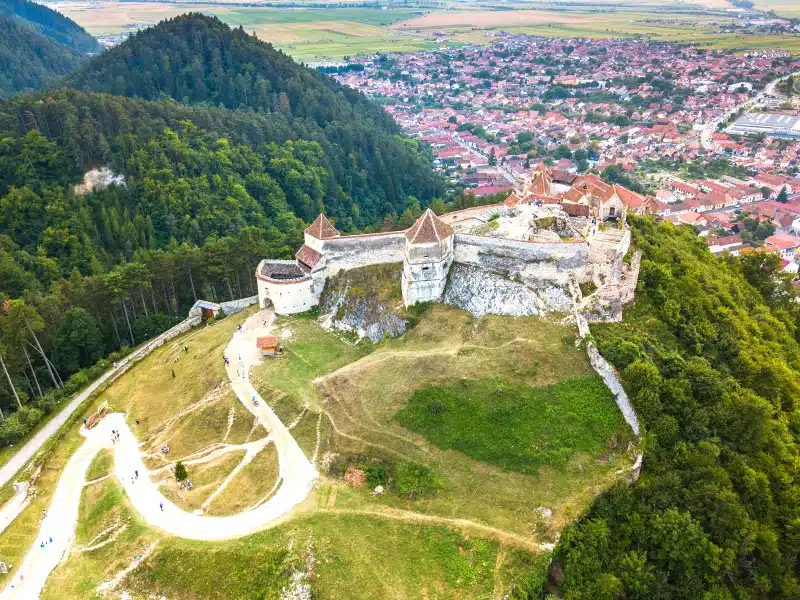 Day 3: Raşnov to Braşov
Less than half an hour away from Raşnov is the beautiful city of Braşov. It offers visitors enough to set aside an entire day.
Walk along the city's fortified walls for incredible city views of Braşov and the surrounding landscapes. Take a cable car ride up to Mount Tampa for more scenic sights.
In the city center, visit the charming Council Square, Casa Sfatului, and the Black Church, one of the most iconic landmarks in Braşov. It is a Gothic-style church built in the 1500s and is one of the largest in Romania.
Nearby is also the oldest school in Romania, now serving as a museum about the country's history of education.
Have lunch at La Ceaun – Piata Sfatului in the town square or Casa Hirscher if you enjoy Italian cuisine.
In the afternoon take a small group Brown Bear watching tour to see the bears in their natural habitat from a specially-designed observation hideaway, or head for the Seven Ladders Canyon, locally known as Canionul Sapte Scari, famous for its steep ladders that take you up the rock walls past a series of rushing waterfalls.
Treat yourself to a restaurant celebrating local cuisine, like Restaurant Mamaliguta Brasov or Ograda, who serve exceptional beef cheeks.
Upmarket: Hotel Aro Palace – Booking.com | Agoda
Mid-Range: Radisson Blu Aurum Hotel – Booking.com | Agoda
Budget: Mer Guest House B&B – Booking.com | Agoda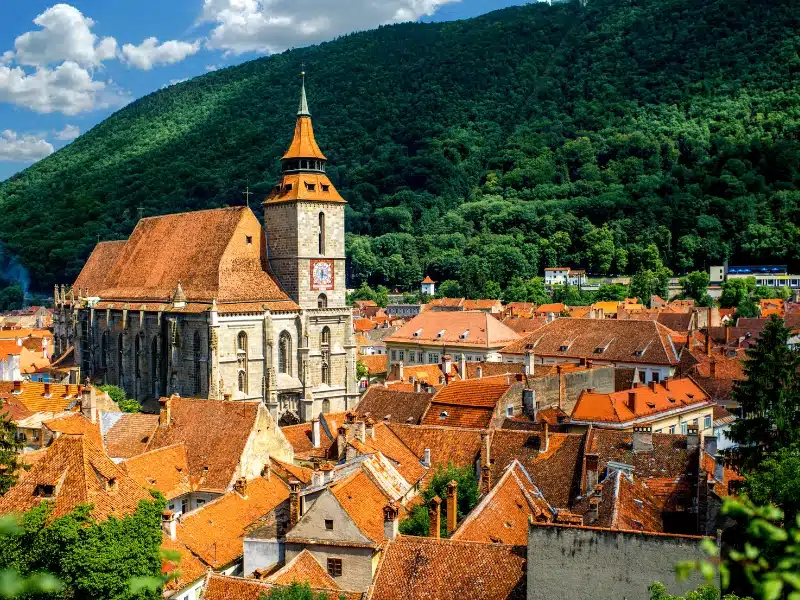 Day 4: Braşov to Sighişoara
Just under two hours north of Brasov is Sighişoara. En route, stop at Rupea Citadel or Cetatea Rupea. This magnificent hilltop fortress includes a courtyard and tower and offers visitors breathtaking panoramic views of the area.
Once you reach Sighişoara, the first thing you should do is visit the birthplace of Vlad III, commonly known as Vlad the Impaler or Vlad Dracula, was Voivode or Prince of Wallachia three times between 1448 and his death in 1476 or 1477, and inspired the name of Bram Stoker's literary vampire, Count Dracula.
Vlad III is often considered one of the most important rulers in Wallachian history and a national hero of Romania, and you can visit the house on Tin Street where he was allegedly born, which is now the Vlad Dracul House museum.
A good way to find out more about the history of Dracula and the legends and myths which surround the first vampire is to take this Sighişoara city walking tour and Dracula house visit. You'll get to visit the Scholars Staircase, and take the Scara Acoperita covered stairway to the 14th century Church on the Hill with its impressive history and ancient frescoes, and wander through the medieval cobbled city streets lined with colorful houses with your guide.
Another landmark linked to the fictional vampire is The Dracula Investigation, a museum with tours and exhibitions about the history of Dracula, including art installations, light and shadow shows, and multimedia projections.
Enjoy lunch at The Bean Specialty Coffee or Sanmarco Sighişoara for casual pizzas or burgers.
Another notable landmark in Sighişoara is the Clock Tower. It contains a museum and offers visitors stunning city views. Finally, explore the Sighişoara Museum, showcasing the history of the town, and the Guild House or Casa Breslelor.
Dine at Casa Georgius Krauss, Casa Joseph Haydn – Wine & Cuisine or Casa Ferdinand.
Check in advance of your travels for festivals in Sighişoara, like the Medieval Festival held in July and the Sighişoara Blues Festival held annually in March.
Upmarket: Casa Georgius Krauss Sighişoara – Booking.com | Agoda
Mid-Range: DoubleTree by Hilton Hotel – Booking.com | Agoda
Budget: Carolina House – Booking.com | Agoda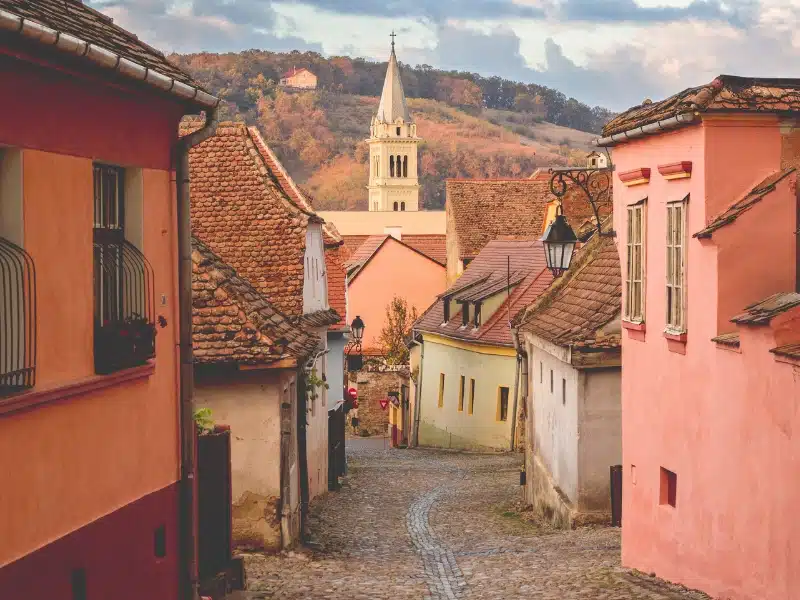 Day 5: Sighişoara to Cluj-Napoca
About 90 miles from Sighişoara is the vibrant city of Cluj-Napoca. On your way, stop at the following two places:
Biertan: A UNESCO World Heritage Site and wonderfully preserved 15th century fortified church with three tiers of 35-foot high defensive walls connected by towers and gates which encircled the complex, meaning the church was impossible to conquer during medieval times.
Salina Turda: Nearly 1,000 years old, the Turda Salt Mine is a unique attraction in Romania and features underground lakes, a Ferris wheel, and a mini-golf course.
Cluj-Napoca is the second-largest city in the country and deserves a whole day to visit. Explore the old town's charming streets, beautiful architecture, and quaint shops.
See the beautiful Gothic-style St. Michael's Church, a famous landmark built in the 1300s. Another must-see is the Matthias Corvinus House, an attractive Gothic-style house that is now a museum, once home to King Matthias Corvinus.
Go to the trendy DOT District of Toast or Sra Foodhouse for lunch. Afterward, visit Cluj-Napoca's botanical gardens, arguably the most beautiful in Romania, with over 10,000 plant species.
Two museums worth exploring are the National Museum of Transylvanian History and the Ethnographic Museum of Transylvania. Both museums focus on showing the region's history, culture, and traditions.
Cluj-Napoca is known for its delicious cuisine, which includes traditional dishes such as paprikash, a stew made with paprika and meat, and langos, a deep-fried dough with cheese and sour cream. Find these dishes at Roata or one of the two Dacilor restaurants.
Upmarket: Hotel Platinia – Booking.com | Agoda
Mid-Range: Radisson Blu Hotel Cluj – Booking.com | Agoda
Budget: Hotel Transilvania – Booking.com | Agoda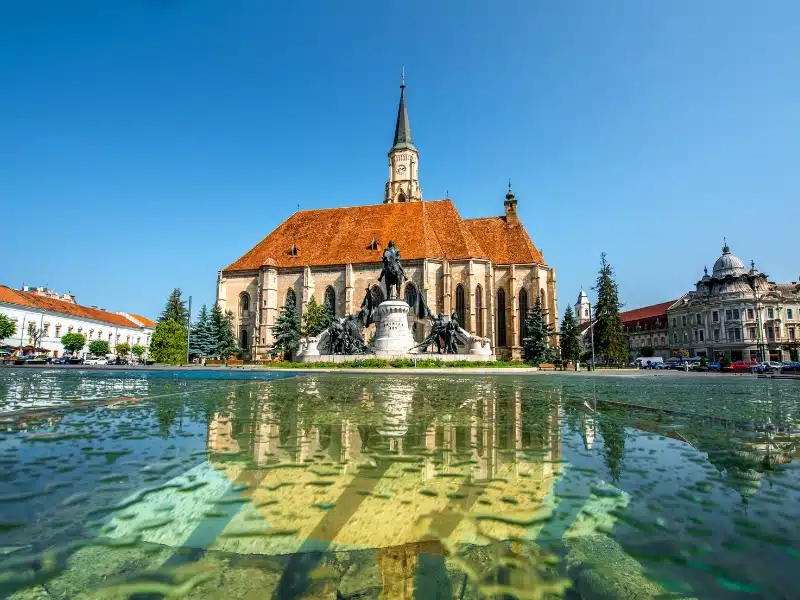 Other Nearby Road Trips
Day 6: Cluj-Napoca to Oradea
Oradea is a beautiful city located three hours west of Cluj-Napoca, close to the Hungarian border. Give yourself a break at Coffee Break in Huedin to stretch your legs. The town is also worth exploring, with its colorful and slightly quirky architecture.
Given the long journey, it is best to make Oradea your primary destination for the day. Upon arrival, explore the old town, full of beautiful buildings and architecture from the 19th and 20th centuries.
Whilst in the old town, visit the Military Museum and the Tarii Crisurilor Museum, which offers impressive historic and science exhibitions. Afterward, go to Baraw if you want Indian food for lunch or Hanul cu Noroc, which has a lovely terrace area.
More notable places to visit include two palaces: the Black Eagle Palace, one of Oradea's most beautiful Art Nouveau buildings, and the Bishop's Palace, a stunning Baroque-style palace built in the 1700s and home to the Museum of Art.
If you are keen on further exploration, there is also the 17th century Oradea fortress in the city center and the unique Moon Church, known for its unusual shape and decorations.
A more relaxing option is to visit one of Oradea's many thermal baths, some of the best in Romania. The most famous one is the Felix Baths, located just outside the city.
Dine at Piata9 or Via29 before strolling along the Crisul Repede River. The river runs through the city center. It offers a picturesque setting for a leisurely walk, even at night when the lights of the city dance on the water.
Upmarket: Ramada by Wyndham Oradea – Booking.com | Agoda
Mid-Range: Hotel Nevis Wellness & Spa – Booking.com | Agoda
Budget: Stokker Hotel – Booking.com | Agoda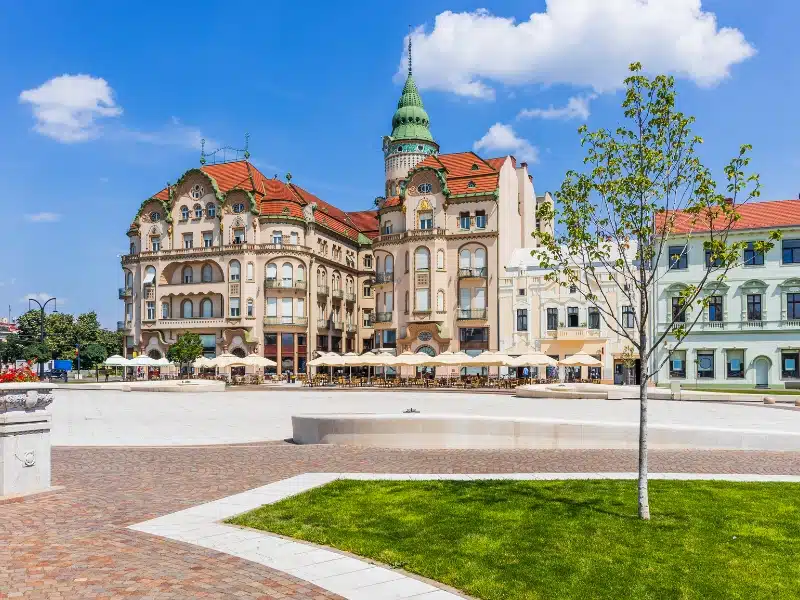 Day 7: Oradea to Timişoara
Just under three hours south of Oradea is Timişoara, a 2023 European Capital of Culture, along with Elefsina in Greece and Veszprém in Hungary.
On your way to Timişoara, stop at Arad. Take the opportunity to walk, get a refreshment, and visit the magnificent Holy Trinity Cathedral, with its beautifully adorned multi-colored interior.
Given the long drive, it is best to make Timişoara your primary destination for the day. Explore the Piata Unirii, Timişoara's Union Square, and one of the city's most vibrant areas, with many cafés, shops, and street performers.
The imposing Baroque-style Palace of Culture in the town center can also be seen. Afterward, head to lunch at Restaurant Sabres and eat al fresco in the courtyard or In Thyme.
Stroll through the charming Rose Park or the Timişoara Botanical Park, or ride a bike along the Bega River before visiting the Timişoara Art Museum. This museum has a fantastic collection of contemporary and modern art, with works by Romanian and international artists.
Before dinner, see the Timişoara Orthodox Monastery, which has a fascinating history and is one of the oldest in Timişoara. It also has a beautiful chapel and garden.
Enjoy dinner at Vinto, Le Monelline, or Restaurant Merlot. Follow it up with a night on the town. Timişoara boasts plenty of bars and clubs with something to suit all tastes.
Upmarket: Hotel Tresor Le Palais – Booking.com | Agoda
Mid-Range: Hotel Stein Collection – Booking.com | Agoda
Budget: ApartHotel Iosefin Residence – Booking.com | Agoda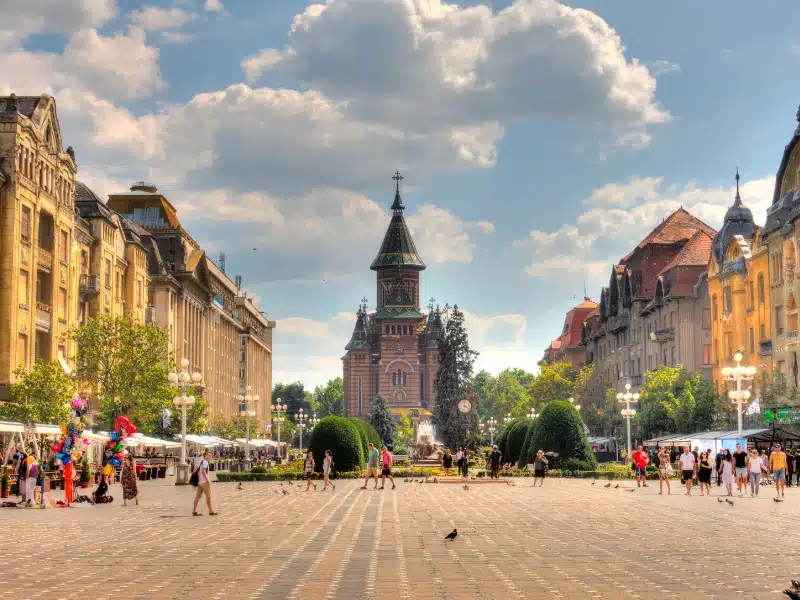 Transalpina or Transfăgărășan?
As you head east through Romania, there are two spectacular roads that will take you back toward Bucharest through dramatic mountains and incredible natural scenery… but which one to take?
The first option is the Transalpina, Romania's highest paved road. The DN67C runs north to south for 92 miles / 148km from Sebeş in Alba County to Novaci in Gorj County through the beautiful Parâng Mountains, and tops out at 7,037ft / 2,145 meters above sea level at the Urdele Pass. Go in May to mid-October when the road is open. To really appreciate the natural surroundings and vibrant colors of the autumnal trees go in mid-to-late fall.
The second option is the more famous Transfăgărășan Highway which is open between June and October. The DN7C highway is the epic Romania road that stretches for 56 miles / 90 kilometers through the Carpathian Mountains between Cârțișoara and Bascov. The route boasts 80 hairpin curves, five tunnels, and over 500 small bridges, topping out at 6,699ft / 2,042 meters above sea level at the Pasul Bâlea. Driving the Transfăgărășan Highway in Romania is popular with road trippers and motorcycling enthusiasts due to its stunning views and challenging twists and turns.
If we had to pick one it would be the Transfăgărășan due to its history and variety of landscapes and attractions. It is possible to do both of these incredible driving roads if you have an extra day in hand. Take the Transalpina first, then head north again to Sibiu on the E81 before taking the E68 to the crossroad with Transfăgărășan and head south to Piteşti.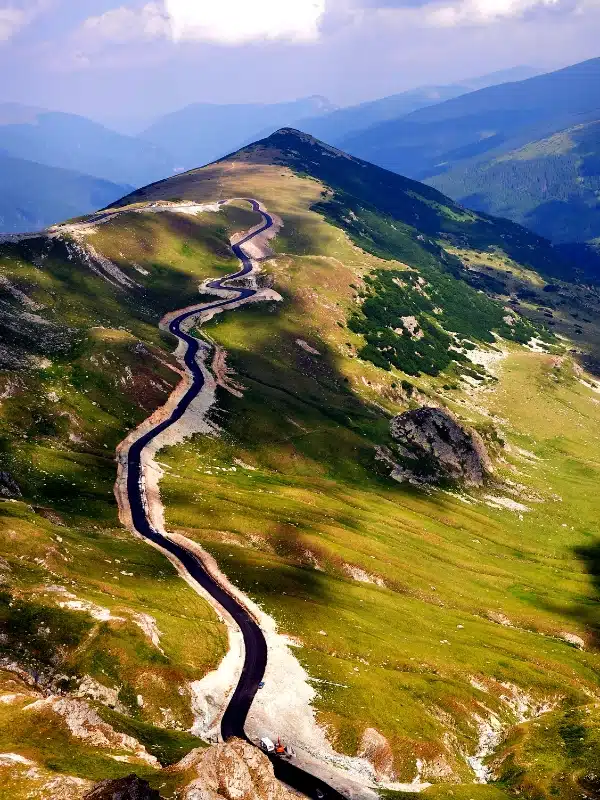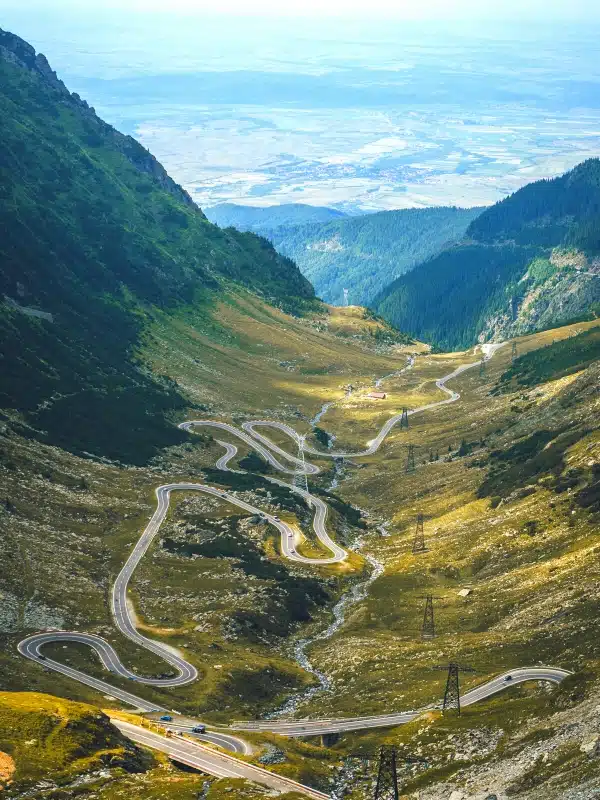 Day 8: Timişoara to Sibiu
Hunedoara
Roughly 104 miles east of Timişoara is Hunedoara. Once there, spend a few hours visiting Hunedoara's iconic landmark of Corvin Castle, also known as Hunyadi Castle or Hunedoara Castle. This magnificent medieval fortress is one of Europe's largest and most impressive castles.
Many regard Corvin's Castle as one of the Seven Wonders of Romania, along with Peleș Castle, the Palace of the Parliament, the Rock Sculpture of King Decebalus in Dubova, Bran Castle, the Mausoleum of Romanian Heroes in Mărășești, and Salina Turda.
The 14th century Corvin Castle was built by John Hunyadi, one of Hungary's most famous military commanders. It was then expanded and renovated over the centuries by other owners. Today, the castle is a popular tourist destination open to visitors year-round.
Highlights at Corvin Castle include walking over the drawbridge with pointed turrets above, the late-Gothic Knight's Hall, 15th century Mace Tower, the grisly torture chambers, and the Castle museum, where you can learn more about the architecture and history of the castle.
Sibiu
Continue to Sibiu, a beautiful city 80 miles east of Hunedoara. But first, stop about an hour outside Hunedoara in the small town of Sebeş for lunch at Eden café on Aviator Olteanu Street.
The historical center of Sibiu is known for its well-preserved medieval architecture, narrow streets, and colorful buildings. While there, visit the gorgeous Holy Trinity Cathedral and take photos at the famous cast iron Bridge of Lies.
The Bridge of Lies has many legends surrounding it, with the most popular being that the bridge will collapse when someone tells a lie while standing on it, closely followed by a story that the bridge was often crossed by merchants who were trying to fool their clients, and the ones who were caught were thrown off the bridge.
Check out the Natural History Museum and the Brukenthal National Museum, one of the oldest museums in Romania. It is home to an impressive collection of art and artifacts, including works by Rubens and Bruegel.
Climb the Council Tower for stunning city views and surrounding hills. Then walk along the Sibiu's fortified walls, considered to be the best-preserved in Europe, for more panoramic city views.
If you travel through Sibiu in October, see if you can catch the Astra Film Festival, Romania's longest-running film festival.
Enjoy dinner at La Cuptor or Kombinat Gastro-Brewery for great drinks, music, and food.
Upmarket: Noblesse Boutique Resort – Booking.com | Agoda
Mid-Range: Magister Seven – Booking.com | Agoda
Budget: Poet Pastior Residence – Booking.com | Agoda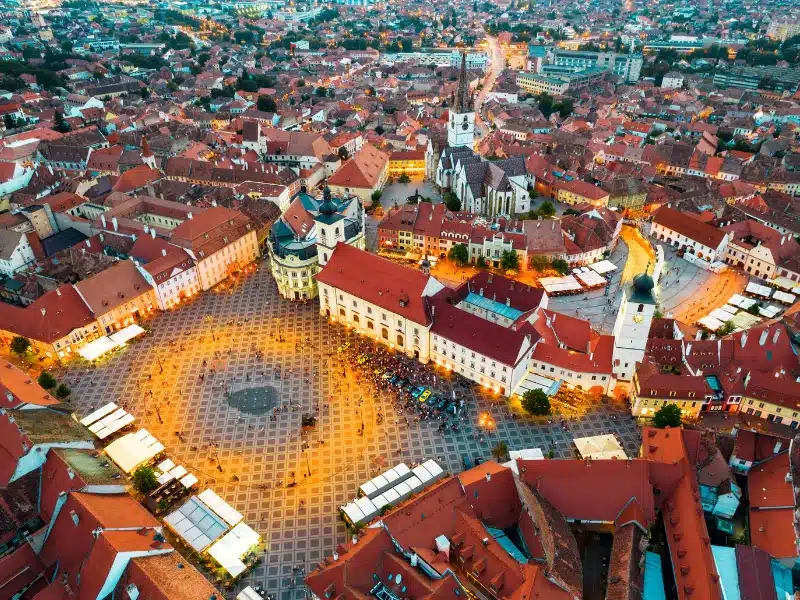 Day 9: Sibiu to Piteşti
Upon arrival in Piteşti, explore the old town known for its historic buildings and charming cafés and shops. Visit the impressive Piteşti City Hall and the Holy Friday Church. Enjoy lunch at Bistro 27 afterward.
Your activities after lunch will depend on your next destination. If you are heading back to Bucharest, start the 73 mile / 117km journey toward the capital to arrive before sunset.
Otherwise, stay in Piteşti and explore the Pitesti Natural History Museum. You can also take a walk through the Parcul Trivale, located on the city's outskirts, and then make your way to dine at Casa Sattler.
Upmarket: Hotel Victoria – Booking.com | Agoda
Mid-Range: La Strada Boutique Villa – Booking.com | Agoda
Budget: Casa Maria Arges – Booking.com | Agoda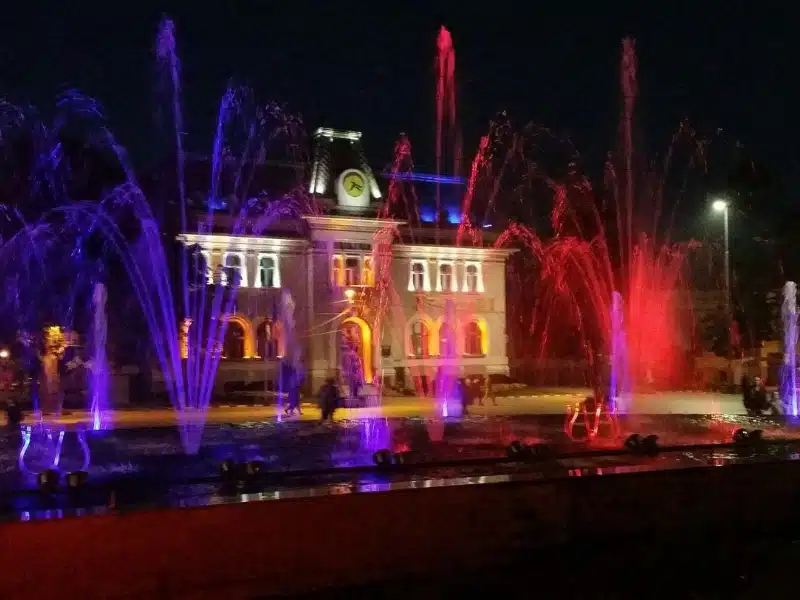 Romania Road Trip Resources
Here are the websites and services we personally use and recommend for traveling in Romania.
Tips for Driving in Romania
The roads in Romania can be a challenging drive due to their condition, which often includes potholes, roadside deterioration, and poor surfacing. Awareness of this is crucial to help you avoid damage to your vehicle, and can slow down progress at times.
Whether you're driving through Romania in your own vehicle or flying in and renting a car, you need to follow these rules when you drive and travel in Romania;
You must have at least three months remaining on your passport (issued in the past ten years) at your intended date of departure from Romania.
You must have at least 3rd party insurance for your vehicle when you road trip in Romania.
Citizens of non-EU third countries may require an International Driving Permit (IDP). You can check here.
Motorists are also legally required to carry the following items when driving in Romania: reflective jackets for drivers and passengers; a warning triangle, a fire extinguisher, and a first aid box.
Romania uses an electronic road tax system to collect tolls. The tax or vignette is payable at border crossing points, post offices, and online. It's easiest to buy your Romanian vignette in this way, and our recommended website is authorized by the Romanian Government. You don't need a sticker or device, just select your vehicle and the amount of time you need and pay online with Roviniete.ro. If you're hiring, check whether a vignette is included with your car rental company.
In Romania, motorists drive on the right and overtake on the left. As a general rule, priority must be given to vehicles coming from the right unless indicated
The alcohol limit for drivers of private vehicles is 0.00%. Penalties for drink driving can be severe.
RELATED POST: Driving in Europe – Everything You Need to Know
Are you looking for more road trip inspiration? Check out these top posts…
Amongst the beautiful landscapes of Spain, in the mountainous interior and along the gorgeous coasts, you'll find fascinating history, vibrant culture, and incredible cuisine. One of the best ways to experience Spain is by taking a road trip. We base ourselves in Spain when not traveling and have explored much of the country on four wheels and two! Whether you want historic cities, gorgeous landscapes, beaches and sun, or something a bit different, our detailed…
Love it? Pin it!