This post may contain affiliate links, from which we earn an income.
Nestled in the Carpathian Mountains, Transalpina is a scenic road that winds its way through the heart of Romania. One of Romania's best-kept secrets, Transalpina offers breathtaking views of the surrounding mountains and valleys, making it a must-visit destination for nature lovers and adventure seekers alike.
With its winding curves and hairpin bends, Transalpina is a must for drivers and bikers looking for a thrilling ride along the highest paved road in Romania. Offering a true sense of adventure, Transalpina is a once-in-a-lifetime experience.
But Transalpina is not just about the journey. Along the way, you can explore pretty villages, hike the Transylvanian mountains, sample local cuisine, and experience the warm hospitality of the Romanian people. So, pack your bags and get ready to discover Transalpina, one of Romania's best driving roads.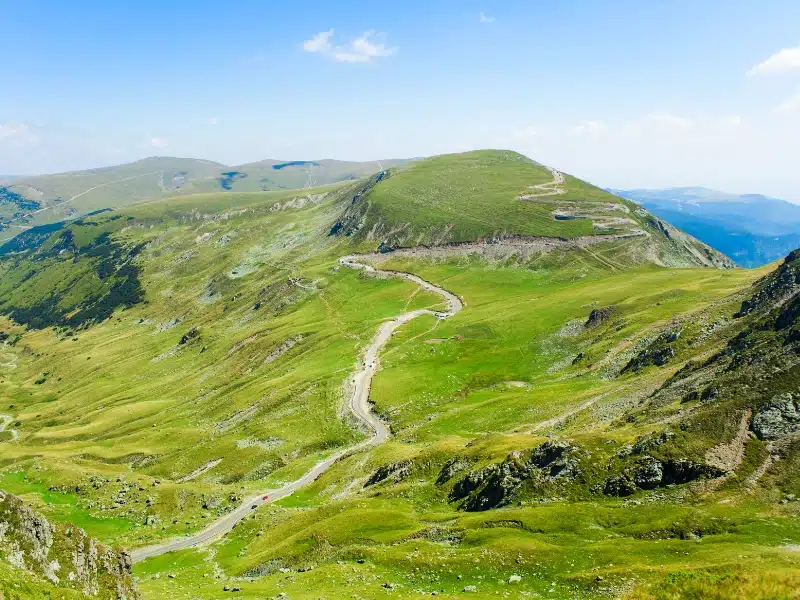 What is the Transalpina Road in Romania?
Transalpina or Transalpina útvonal is a stunning destination for road trip enthusiasts. The highest paved road in Romania since 2009, the Transalpina reaches an altitude of 7,037 feet / 2,145 meters above sea level at the Urdele Pass.
The road spans 92 miles / 148km between Novaci in the south and Sebeș in the north as it winds its way through the majestic Parâng Mountains in the Southern Carpathians.
Officially designated as the DN67C, this remarkable mountain road is also known as the 'Devil's Pass' and the 'King's Road', reflecting its historical status as a strategically important route in the region with origins dating back to ancient times. Over the centuries, it has served significant purposes for trade, communication, and transportation.
Today, this picturesque and exhilarating journey attracts travelers worldwide, as they come to experience the incredible scenery, drive the breathtaking route or simply enjoy the peace and tranquillity provided by the stunning Carpathian landscape.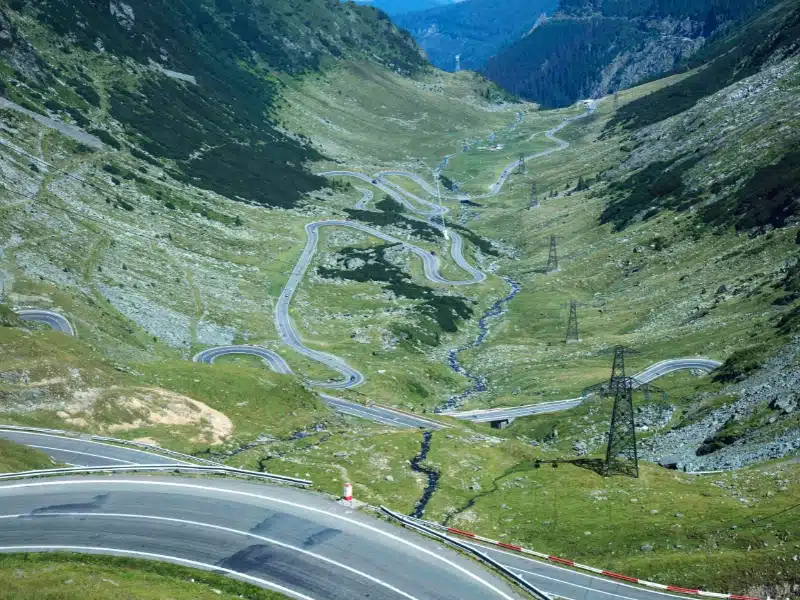 Make sure you have travel insurance you can trust when visiting Romania. We recommend True Traveller for their 5-star TrustPilot reviews, variety of cover options, best activities cover as standard, great prices, and excellent service.
History of the Transalpina Road Romania
Roman Legions
The origins of the Transalpina road can be traced back to the beginning of the 2nd century CE. The Roman legions first built Transalpina when they were on a campaign to conquer Sarmizegetusa, the capital of Dacia, now present-day Romania.
The ancient road played a crucial role in the Roman Empire's territorial expansion and allowed for greater control and communication between provinces.
King Carol's Involvement
The Transalpina road, also known as the 'King's Road' or Drumul Regelui was inaugurated by King Carol II in 1938. Under his reign, this spectacular road was built with the purpose of connecting Transylvania and Oltenia between the villages of Novaci in Gorj County and Sebeș/Săliște in Alba County.
The construction of this road helped improve transportation and accessibility across the Carpathian Mountains.
World War II
During the Second World War, the Transalpina became especially important for military purposes. The German troops, who were stationed in Romania at the time, played a significant role in consolidating the road. It provided a strategic route for transporting troops and supplies, which was vital for their war efforts.
After the war, the Transalpina largely remained inaccessible to most cars until 2009, when paving started and transformed it into a more modern and usable road, and the spectacular ride it is today.
RELATED POST: Why We Think These Are The Best Driving Roads in Europe
Getting There
Fly into Bucharest's Henri Coandă International Airport in Otopeni to start your Transalpina adventure, a four hour drive from the start point in Novaci on the E81 highway. With direct flights from Europe, the Middle East, and the UK, we recommend booking through Skyscanner for live deals and the best prices.
Why not take your own car, motorbike, or camper to Transalpina and enjoy a Romanian road trip? Romania is easily accessible from Western and Northern Europe via the Czech Republic and Austria to Hungary, from the Balkans through Serbia, and from Greece and Turkey from Bulgaria.
How to Travel the Transalpina Romania
Self-Drive
Whether you're in a car, motorcycle, campervan, or motorhome, self-driving is absolutely the best way to explore Romania's Transalpina road, meaning you can stop whenever you want, try new activities, visit places you see along the route, and have the freedom to change plans at the last minute.
Are you planning to rent a car in Romania? As one of the largest car hire aggregator companies in the world, we recommend Rentalcars.com because they have massive purchasing power which enables them to secure the best rental car prices, which benefits you when you're planning your Transalpina drive.
For a real adventure, hire a motorhome or campervan in Romania. We recommend Motorhome Republic, an aggregate booking site who pull together all the best deals from a number of rental agencies, to offer you a wide choice of options alongside an excellent English speaking expert motorhome Concierge Team.
Transalpina Road Tours
There is no public transport along the Transalpina route, but there are one day trips and multi-day tours from Bucharest which means that you can explore this picturesque part of Romania without your own transport, and enjoy hearing interesting facts and anecdotes about the road from your tour guide.
These are our top picks of highly rated and recommended Transalpina tours.
Transalpina Map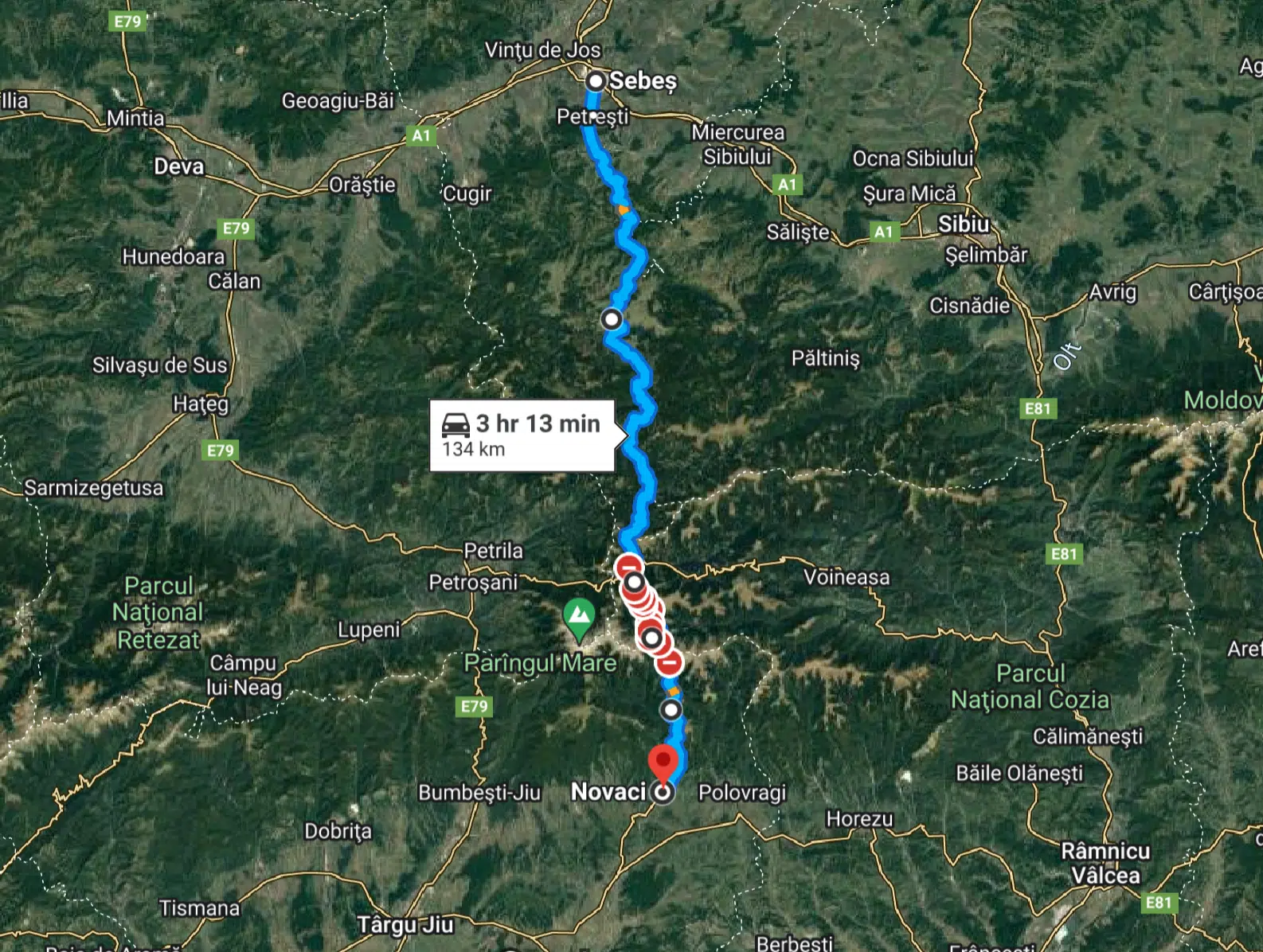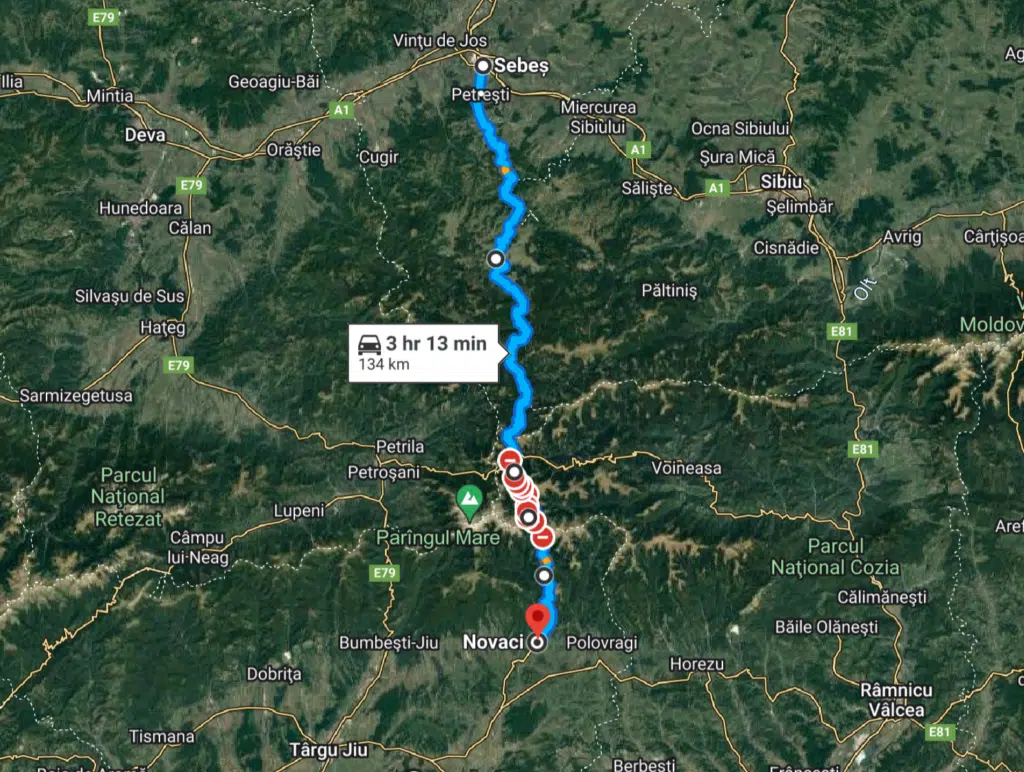 Driving the Transalpina
Novaci
The start point of the DN67C Transalpina road, Novaci is a town in Gorj County and is known for its beautiful natural scenery. Nearby you can visit the Cozia National Park, home to the Olteț Gorge, and the ancient Peștera Polovragi and Peștera Muierilor caves.
The nearby 17th Horezu Monastery built in the Brâncovenesc style is well worth a visit, and the Endless Column and Gate of The Kiss, both war memorials in Târgu Jiu, should be on your itinerary.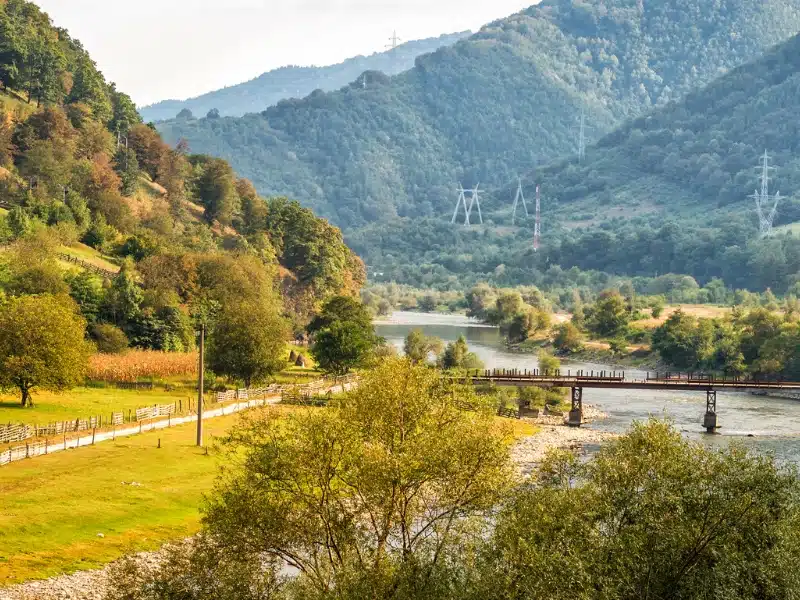 Lone Man's Rock
Lone Man's Rock is the first viewpoint on the Transalpina heading north and is the perfect place to step out, take some photos and truly grasp the enormity of the mountains and sky.
There's nothing to really mark this point other than a hillock to the left of the road, with a well-worn path to the top. From the top you can look east and north and see the road snaking through the mountains ahead.
Popas & Rânca Viewpoints
As you continue driving the Transalpina, don't miss a chance to stop at the viewpoints at Popas and Rânca. Both lookouts have plenty of space to park and offer majestic panoramas of the Parâng Mountains and the road twisting through the landscape below.
If you can, time your visit to coincide with sunrise or sunset for an unparalleled visual experience, as the golden hues cast their glow across the rugged terrain.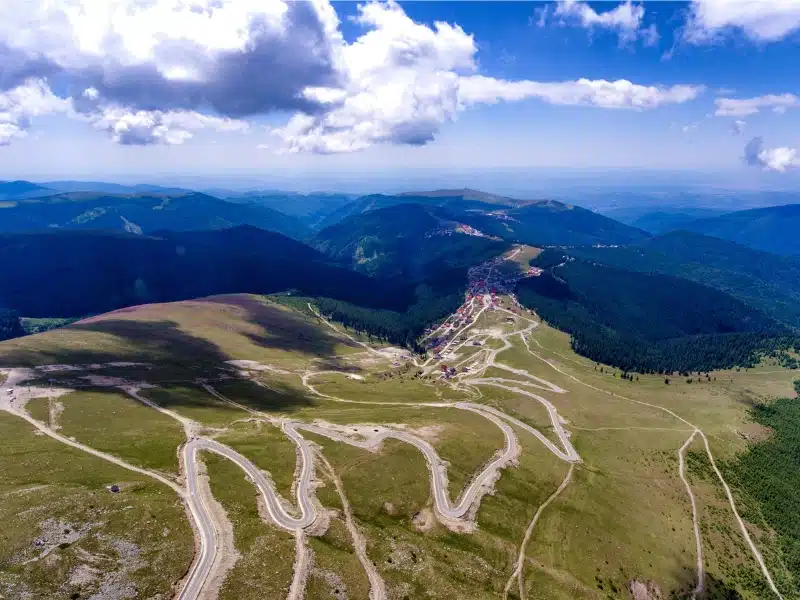 Urdele Pass
Located on the boundary of Valcea and Gorj Counties, the Urdele Pass or Pasul Urdele is the highest point on the Transalpina at 7,037 feet / 2,145 meters and offers breathtaking views to those daring enough to venture along the road.
This is the most spectacular section of Romania's highest road, and so much more than just the highest point. The road up includes many serpentines, switchbacks, and inclines as well as some descents before you arrive at the ridge, which the road follows for around 12 miles / 20km.
It's a fantastic drive through the mostly barren mountain steppe and you'll pass the mighty peaks of Dengheru, Păpușa, Urdele, Iezer, and Muntinu, all of which top 6562 feet / 2,000 meters.
This is also a great spot from which to hike, with locations like Lake Gâlcescu, Curmătura Olteţului, and Traseul de Creastă being reachable on foot from the Urdele Pass.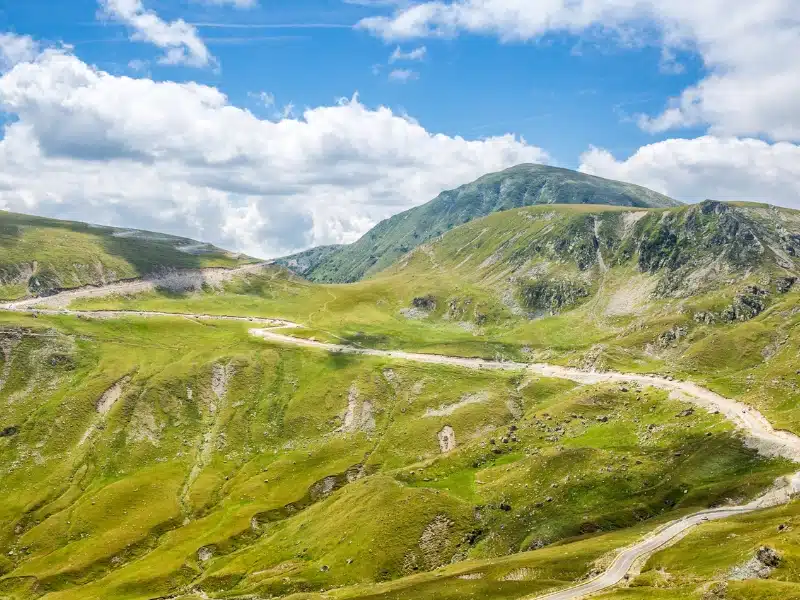 Voineasa Center
The Voineasa Center is a good opportunity to stop for a drink with a scenic view. Adjacent there is a souvenir market that showcases an array of traditional handcrafted products made by locals.
A little further on is Stâna Ștefanu, a ranch that is popular for its cute donkeys and delicious Romanian cuisine that comes at an affordable price.
Try sarmale, a better-than-it-sounds cabbage roll stuffed with minced meat, spices, onions, and rice. Papanași is another favorite, a sweet cheese donut served with a warm fruit compote, a touch of sour cream, and icing sugar.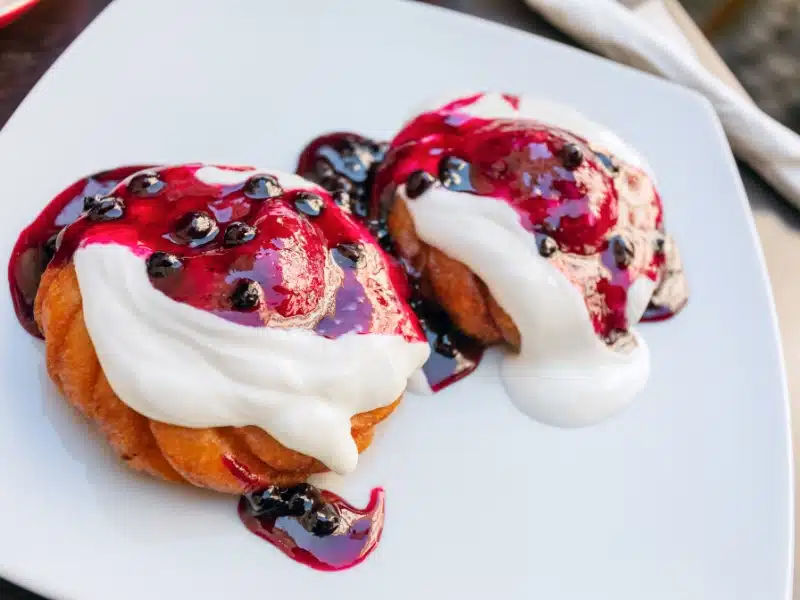 DN7A Side Trip
If you're looking for more adventure, consider taking a detour on the DN7A side trip while exploring the Transalpina. This alternate route adds an exciting twist to your journey, diving deeper into the heart of the Southern Carpathians to the east, passing the gorgeous Vidra Lake and the Transalpina Ski Resort which are surrounded by pine-covered mountains.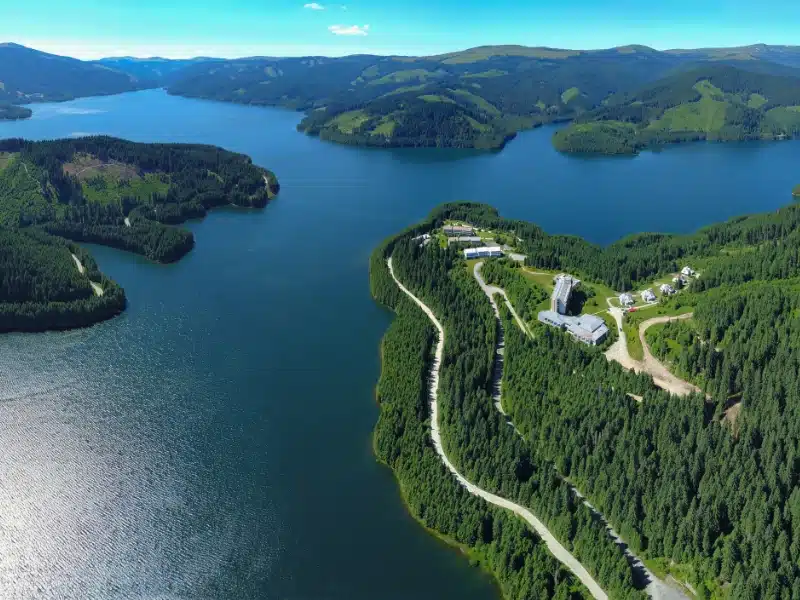 Tărtărău Pass
Pasul Tărtărău is the second high mountain pass on the Transalpina, at an altitude of 5,636 feet / 1,718 meters above sea level. This pass is much more wooded and not quite as picturesque as its bigger brother to the south.
Oașa Dam
As you come down from the Tărtărău Pass, the road wraps around the Oașa Dam on the River Sebeș. From much of the road, you can't actually see the Oașa Lake, as its steep banks are covered in tall pines which block the view, but there are road bridges that span the deep inlets, where you can see the water and opposite shore.
When you cross the actual 299 feet / 91 meter concrete dam, you'll get a far-reaching view south of the turquoise lake, and you can stop for photos.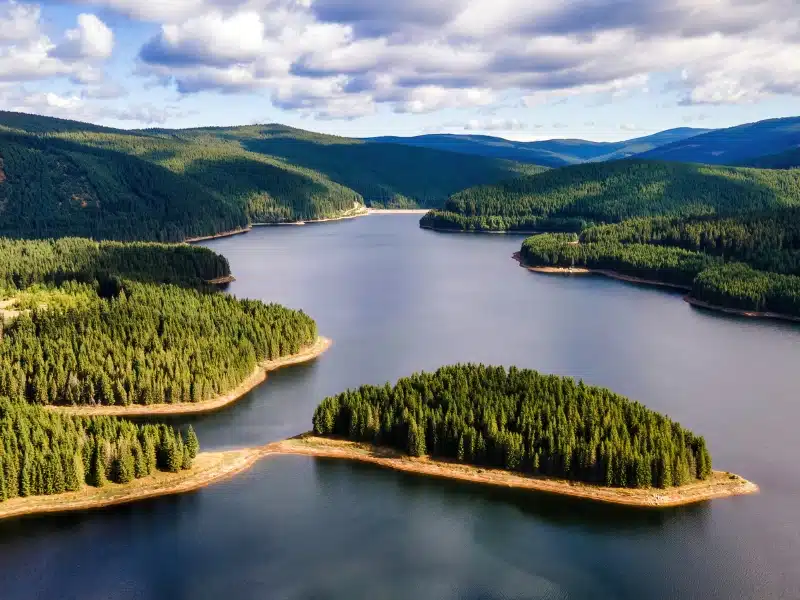 Sebeș
Sebeș lies in the Mureș River valley and is known for its rich history, with several important landmarks such as the Evangelical Lutheran Church, a monumental work of Romanesque and Gothic architecture completed over a period of two centuries.
Nearby is Râpa Roșie, a protected area and natural monument of national interest. A geological and botanical reserve situated in the extreme southwest of the Secașelor Plateau, the Râpa Roșie area covers approximately 10 hectares and was declared a natural monument in 1950.
Known for its unique and impressive geological formations, which were created by the erosion of the red sandstone cliffs over thousands of years, Râpa Roșie is characterized by steep cliffs, deep gorges, narrow canyons, and unusual rock formations that make it a popular destination for hikers, rock climbers, and nature enthusiasts.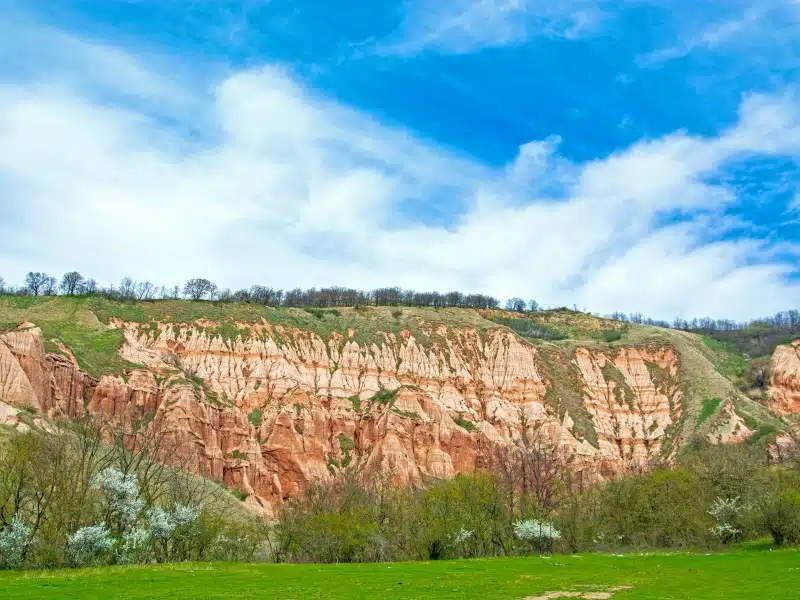 Other Nearby Road Trips
Transalpina Frequently Asked Questions
How long is the Transalpina?
The Transalpina is approximately 92 miles / 148 kilometers long, crossing four counties: Gorj, Valcea, Sibiu, and Alba. The road offers breathtaking views and is popular among road trip enthusiasts.
How long does it take to drive the Transalpina road in Romania?
The Transfagarasan Road is 92 miles / 148 kilometers long and takes, according to Google Maps, just 3 to 4 hours to drive. But this is a simple equation of miles divided by speed and doesn't take into account the topography of the road and its varying elevation, twists, bends, and livestock on the road, which all add to the driving time.
To truly enjoy the incredible scenery and the road itself, and have plenty of time to stop to explore and take photos, we recommend that you set off early and allow 5 to 6 hours to fully enjoy the Transalpina drive and experience.
Is the Transalpina a dangerous road?
Although Transalpina is Romania's highest route it is not an inherently dangerous road. But, drivers should exercise caution, particularly during poor weather conditions or if they are inexperienced with mountain driving.
The Transalpina is narrow in parts and speed is limited to 30km/h between 7am and 8pm. To be honest, you won't want to go any faster because you'll be so busy admiring the scenery and landscape around you.
There are no safety barriers here and no road markings either, and it's highly likely that you'll come across cyclists and livestock on the road. But it's all part of the experience!
Just take it slow, follow the traffic signs, give yourself enough time, and you'll be able to relax and enjoy driving this incredible road.
When is the Transalpina open?
The Transalpina usually opens in late spring or early summer, typically around May or June, and remains open until late fall. The exact opening and closing dates may vary from year to year, depending on weather and road conditions. During winter months, the road is generally closed due to snow and ice.
During July and August, the road is at its busiest. We think the best time is June for perfect weather before the crowds and September and early October when you'll be able to enjoy the late summer weather, the vibrant fall colors, and the quieter stretches without the visitors.
Always check the weather conditions before heading out, even in the height of summer, when it has been known to snow, and be aware that the top of the route is often shrouded in clouds or mist and fog.
Whenever you decide to travel the Transalpina, it's best done between Monday and Thursday, avoiding the always busy weekends and bank holidays.
How do I get to Transalpina?
The Transalpina is accessible from two main points. On the south side, travelers can reach the road via Novaci, which is connected to Târgu Jiu, a city with train and bus connections to Bucharest and other Romanian cities.
On the north side, travelers can access Transalpina from Sebeș, connected to major cities via the A1 motorway and national roads.
Can I drive the Transalpina in a motorhome?
Yes, it is possible to take a motorhome, campervan, RV, or overland truck along the Transalpina. Regular-size tour coaches and trucks use the road on a daily basis and there are no tunnels, so length and height are not an issue. There are even some cool off-grid spots to stay overnight.
Can I drive the Transalpina & Transfăgărășan in one day?
The more famous Transfagarasan Highway is also open between June and October and is another epic Romanian road.
The Transfagarasan stretches for 56 miles / 90 kilometers through the Carpathian Mountains between Cârțișoara and Bascov and runs almost parallel to the Transalpina.
The route boasts 80 hairpin curves, five tunnels, and over 500 small bridges, topping out at 6,699ft / 2,042 meters above sea level at the Pasul Bâlea.
Both roads offer incredibly scenic drives, but if we had to pick one it would be the Transfăgărășan due to its history and variety of landscapes and attractions.
It is possible to do both of these incredible driving roads, although not in one day.
You'll need two days to drive both these roads. Tackle Transalpina first, then head southeast to Sibiu on the E81 for an overnight stop. From there take the E68 to the crossroad with Transfăgărășan before heading south to Piteşti.
RELATED POST: Transfagarasan: The Ultimate Guide to Romania's Famous Road
Where are the best places to stay along Transalpina?
Pensiunea Valea Măgurii – Booking.com | Agoda
Cazare Nely – Booking.com | Agoda
Pensiunea Adrian – Booking.com | Agoda
Cabana Transalpina, Rânca – Booking.com | Agoda
Hanul Haiducilor, Obarsia Lotrului – Booking.com | Agoda
Pensiunea Bradul, Obarsia Lotrului – Booking.com | Agoda
Hotel Leul de Aur – Booking.com | Agoda
Karlhof – Booking.com | Agoda
Palm Rezidential – Booking.com | Agoda
Romania Road Trip Resources
Here are the websites and services we personally use and recommend for traveling in Romania.
Tips for Driving in Romania
The roads in Romania can be a challenging drive due to their condition, which often includes potholes, roadside deterioration, and poor surfacing. Awareness of this is crucial to help you avoid damage to your vehicle and can slow down progress at times.
Whether you're driving through Romania in your own vehicle or flying in and renting a car, you need to follow these rules when you drive and travel in Romania;
You must have at least three months remaining on your passport (issued in the past ten years) at your intended date of departure from Romania.
You must have at least 3rd party insurance for your vehicle when you road trip in Romania.
Citizens of non-EU third countries may require an International Driving Permit (IDP). You can check here.
Motorists are also legally required to carry the following items when driving in Romania: reflective jackets for drivers and passengers; a warning triangle, a fire extinguisher, and a first aid box.
Romania uses an electronic road tax system to collect tolls. The tax or vignette is payable at border crossing points, post offices, and online. It's easiest to buy your Romanian vignette in this way, and our recommended website is authorized by the Romanian Government. You don't need a sticker or device, just select your vehicle and the amount of time you need and pay online with Roviniete.ro. If you're hiring, check whether a vignette is included with your car rental company.
In Romania, motorists drive on the right and overtake on the left. As a general rule, priority must be given to vehicles coming from the right unless indicated
The alcohol limit for drivers of private vehicles is 0.00%. Penalties for drink driving can be severe.
RELATED POST: Driving in Europe – Everything You Need to Know
Are you looking for more road trip inspiration? Check out these top posts…
One of the best ways to explore the beautiful country of Croatia is by taking a road trip, where you can drive along winding coastal roads, visit charming towns and villages, and discover off-the-beaten-path hidden gems. In this Croatia road trip guide, we'll share some of our favorite road trip routes and destinations in Croatia, along with tips for planning your own adventure on the open road. Get ready for an unforgettable journey through one…
Love it? Pin it!