This post may contain affiliate links, from which we earn an income.
The Best Autumn Destinations in Europe
Autumn in Europe is the perfect time and place for a holiday or short break. The kids are back in school, the crowds have gone and the weather has yet to turn wintry.
The colors will be glorious, attractions and cities will be quieter, and beaches deserted. With so many reasons to experience the colors, gastronomy, festivals, and traditions of autumn in Europe, what are you waiting for?
In our Europe in fall travel guide, we share travel tips and highlights for our top places for autumn color and adventure. Whether you're a city lover or road tripper, or want to visit some of Europe's national parks and glorious landscapes, you're in the right place!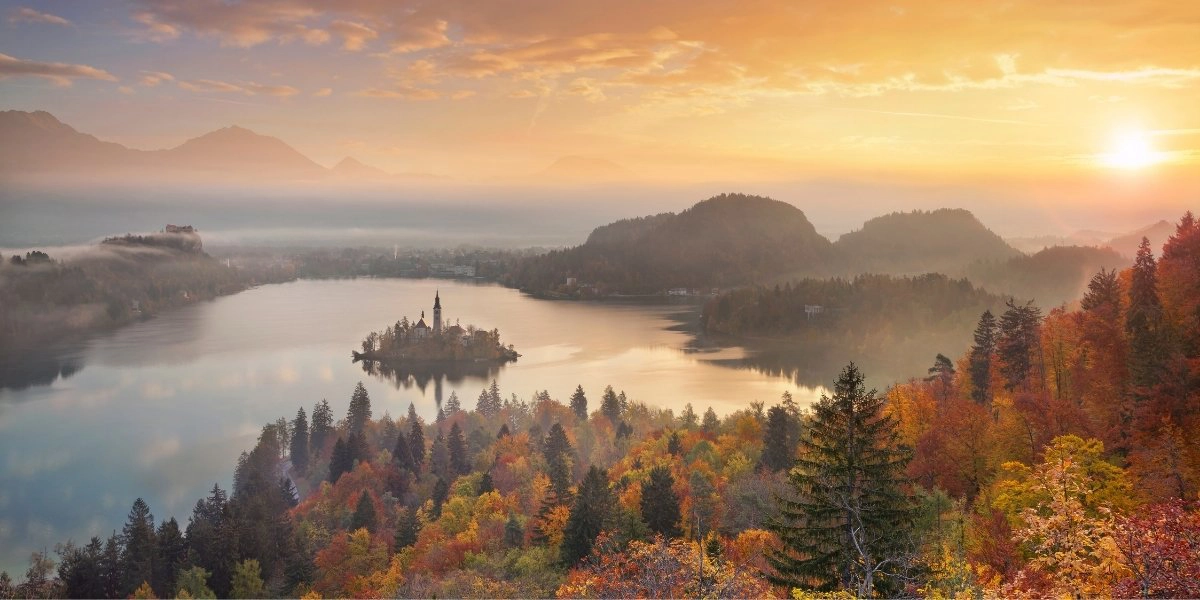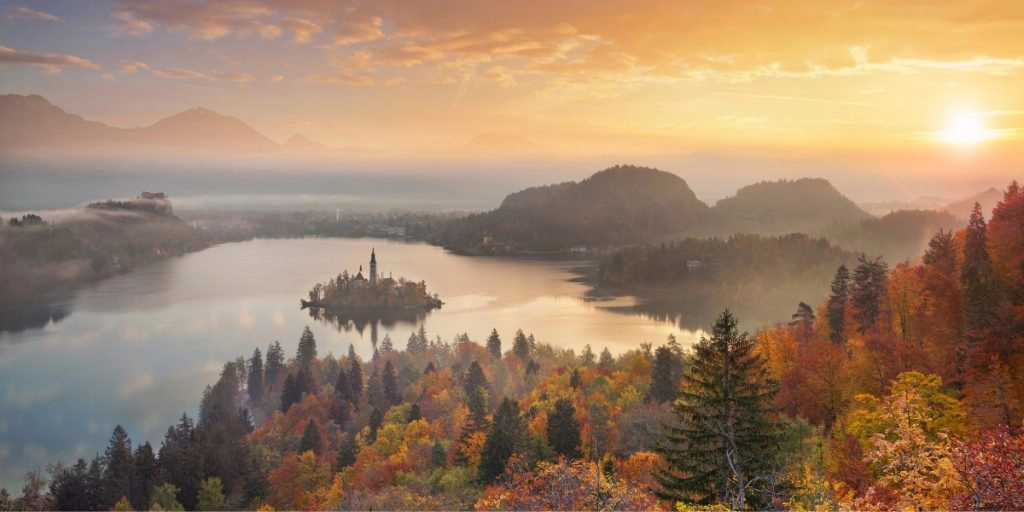 Six Reasons to Visit Europe in the Autumn
Weather in Europe in Autumn
Autumn in Europe dates are 1st September to 30th November every year.
Early autumn is usually warm and if you're lucky you might get an Indian summer in September. However, if you're traveling for those autumn colors, you're unlikely to see much of a change during September, as it's the cold that causes trees to become dormant and the leaf color to change.
In the south of Spain and Portugal, you can expect temperatures to be around 20 to 22° celsius (68 to 72° fahrenheit) during the day, with mild evenings and nights throughout the season. The further north or east, and the deeper into autumn you go, the more unpredictable the weather becomes.
Wherever you are in Europe in autumn, you can expect some stormy weather. This is the season of high winds and rain, so always pack a waterproof coat and shoes or boots.
Autumn in Europe Destinations Map
How to use this map – Use your fingers (or computer mouse) to zoom in and out. Click or touch the icons to get more info about a place, and click the arrow in the box top left to open the index. To add to your own Google Maps account, click the star next to the title of the map.
Amsterdam, Netherlands
Amsterdam is a city packed with eclectic culture and life. There is a little bit of everything, be it architecture, cuisine, history or nature. So much is squeezed into this small city, it's perfect for an adventure-filled autumn trip, whilst you dip into fun museums, munch on stroopwafel and soak up the lively, yet laid-back, atmosphere of the Dutch capital.
In autumn Amsterdam sees the leaves turn fiery on the 400,000 trees which line the city's famous canals, and candles are lit in the windows of its townhouses from mid-afternoon every day.
Alongside this distinctively autumnal atmosphere, the city comes alive when the Amsterdam Dance Event takes over venues with electro, house, and techno club nights. In November it's the turn of Museumnacht when 55 of Amsterdam's top museums open after hours late into the night.
Highlights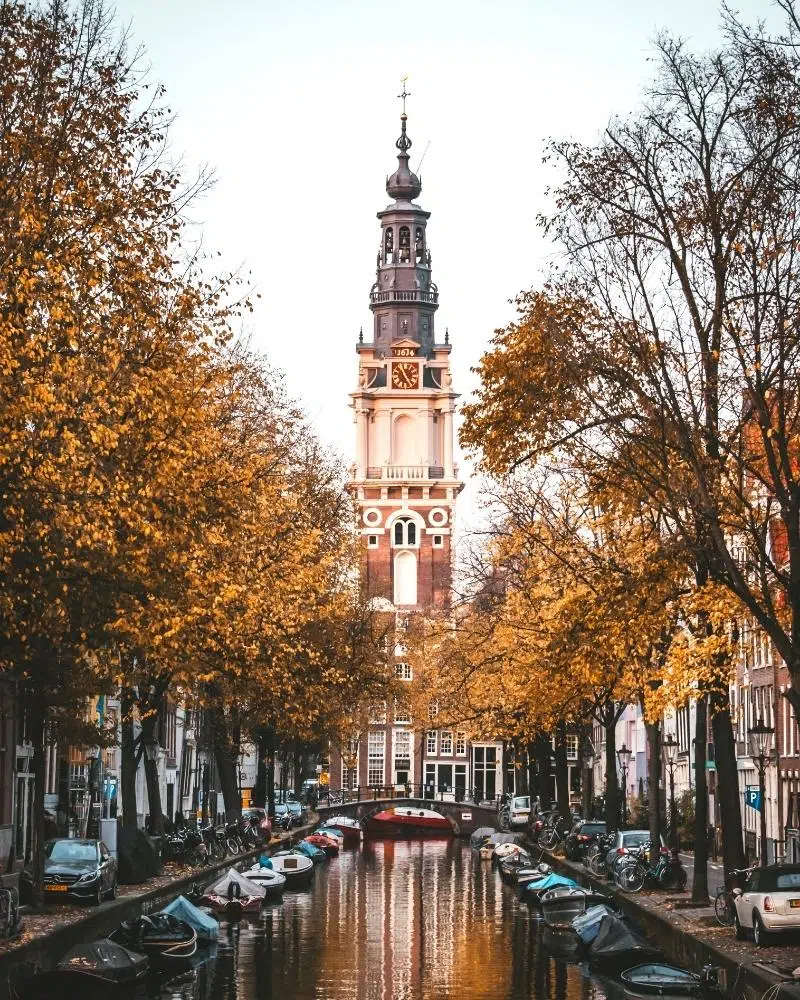 Bruges, Belgium
The gorgeous medieval city of Bruges packs a punch in autumn, with spectacular canalside colors, the atmospheric old town, and just the sort of food that's right in October and November! Just two of the must-try Belgian foods are decadent waffles smothered in cream and fruity autumn berries, or Frites with mayonnaise, the traditional Belgian accompaniment.
Easily accessible from London or Paris via the Eurostar, Bruges is perfect for an autumn weekend break for Brits and northern Europeans, ideal for strolling and relaxing. The Minneswater (Lake of Love) will be surrounded by autumn colors as the trees turn and is a great place to meander.
Follow the windmill path for fabulous views of the oldest windmills in the city, highlighted on the landscape against the low autumn sun.
Highlights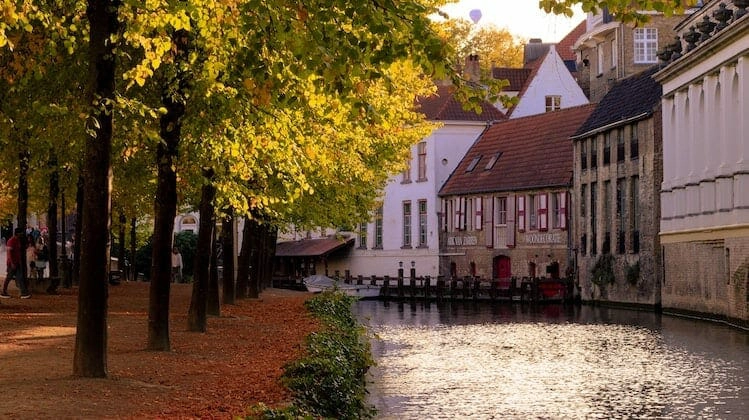 Cairngorms, Scotland
Scotland is renowned for its stunning autumn foliage, and during the autumn season, the trees come ablaze in a myriad of warm tones. One place in particular where these are at their best is the Cairngorms National Park, situated in the eastern Scottish Highlands.
Covering 1,748 square miles, the Cairngorms is the largest national park in the British Isles, larger than both the Lake District and the Peak District combined. It covers a diverse landscape including mountains, heather moorlands, forest, wetlands, and even a sandy beach at Loch Morlich!
The spectacular autumn colors can be seen throughout the park and can be enjoyed by taking a walk or bike ride along one of the many routes.
Munro bagging is another popular activity – summiting one of the mountains over 3000ft – there are 282 Munros in Scotland and over 50 of them are located in Cairngorms National Park, including the second highest peak in the UK – Ben Macdui.
Bagging a Munro while hiking through colourful foliage is definitely one of the best ways to enjoy the autumn season!
RELATED POST – Eight Incredible Scotland Road Trips
Highlights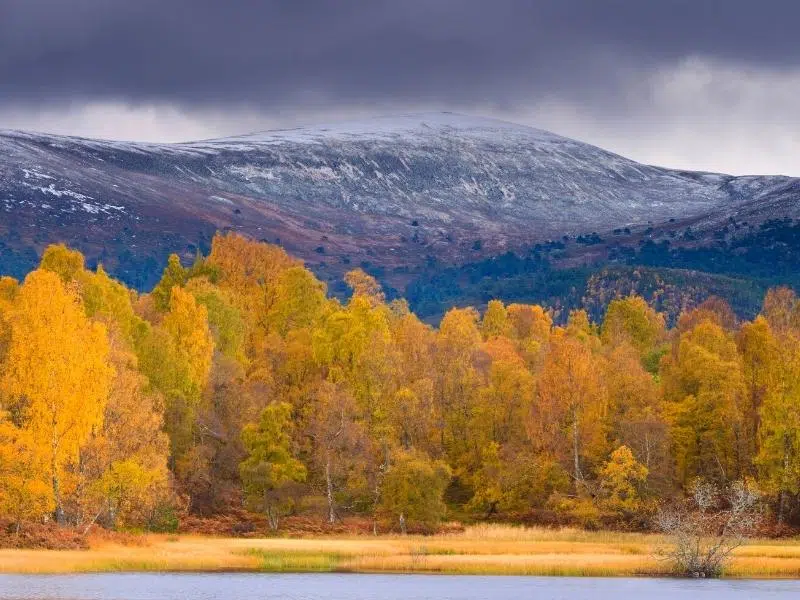 Copenhagen, Denmark
The colorful and vibrant capital city of Denmark has so much interest but is incredibly busy during the summer months. Of course, people want to visit Copenhagen in the summer when there is a chance of sunshine and some heat! But we think Copenhagen is one of the best places to visit in Europe in October – the late summer crowds will have gone and it's too early to be truly cold.
You'll have the opportunity to see this historic and beautiful city in all its glory, without thousands of other people spoiling your photo opportunity. You can also fully embrace the Danish feeling of hygge, a mood of coziness and comfortable conviviality and contentment, which for me means being warm and snuggly!
RELATED POST – One Day Copenhagen Itinerary – Map, Tips & Guide
Highlights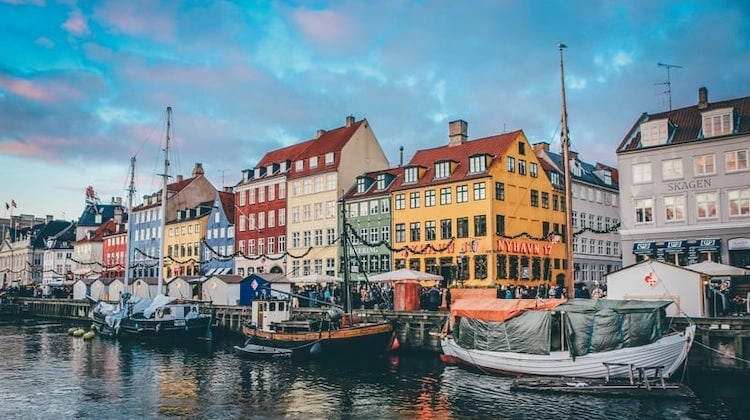 Cotswolds, England
Probably the best place in the whole of the United Kingdom for autumn color, the Cotswolds are an Area of Outstanding Natural Beauty, and deservedly so.
Westonbirt, The National Arboretum, is a Forestry England park tucked away in the South Cotswolds in Gloucestershire. Just 30 minutes from Bristol, 1.5 hours from Bath, and an easy day trip from London, Westonbirt Arboretum is a wonderful place to enjoy the ever-changing autumn colors.
With over 600 acres and 2,500 species of trees, you could spend hours exploring, but to find the best autumn colors head to the Colour Circle and Acer Glade area or walk around the Loop Trail.
Nearby, the city of Gloucester, famous for its 11th century cathedral and the restored Victorian Glocester Docks, packed with cool bars and restaurants is worth exploring too.
Elsewhere in the Cotswolds, you'll see a riot of colour in the hedgerows along the country lanes, and the trees dazzle in shades of gold, orange, and red from early October until mid-November. Make sure to visit the most beautiful villages of the area, in particular Bourton-on-the-Water, Stow-on-the-Wold, Moreton-in-Marsh, Broadway, Bibury, and Lower Slaughter.
RELATED POST – Road Trip England – 10 of the Best Routes
Highlights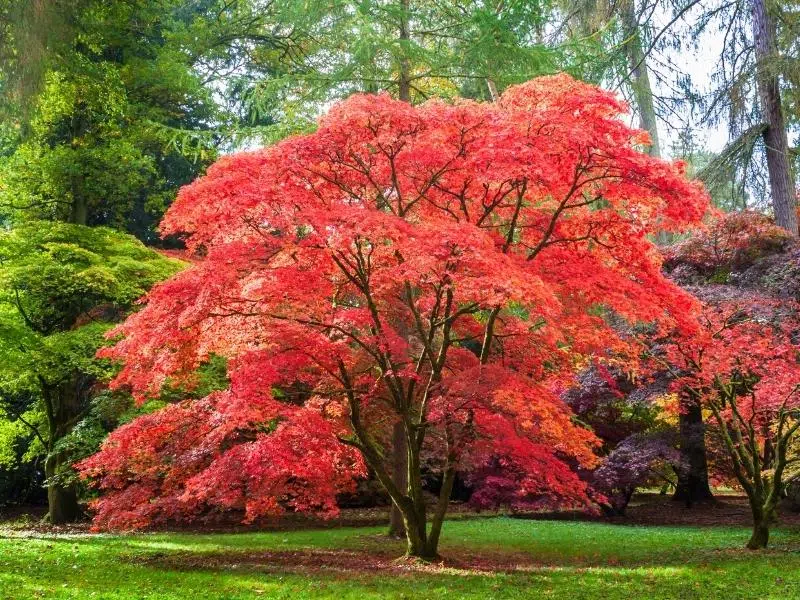 Douro Valley, Portugal
An autumn road trip to the Douro Valley of Portugal is a must – the light is soft, the air warm and the colors of the vines spectacular. This UNESCO World Heritage Site comes alive in the autumn with the wine harvest and you can stop at some of the best Douro wineries for a tour and tasting – most offer port and table wines for you to enjoy.
There is no fixed date for the Douro harvest season to start but it usually happens in the second half of September, although much depends on how the vines have reacted to the weather conditions throughout the year.
One of the best wineries in the Douro region, Quinta do Popa offers harvest experiences to visitors. The Quinta (country estate) is situated on the southern slopes of the Douro, about halfway between Porto and the Spanish border.
It would be possible to drive from the lively city of Porto and complete the whole of the Douro Valley in a day, but you would miss so much. We recommend stopping at least twice along the valley. Take a short detour south to Lamego and climb the famous baroque staircase of 686 steps to the shrine and rococo church of Nossa Senhora dos Remedios.
If you have a week to spend in autumn in Europe, why not consider flying to Porto and taking an organized Douro Valley guided tour or hiring a car, then taking the road all the way to Madrid?
This makes a fantastic road trip, with two iconic cities to visit, and a whole load of gorgeousness and autumn color in between!
RELATED POST – Europe Road Trip – 18 Incredible Routes
Highlights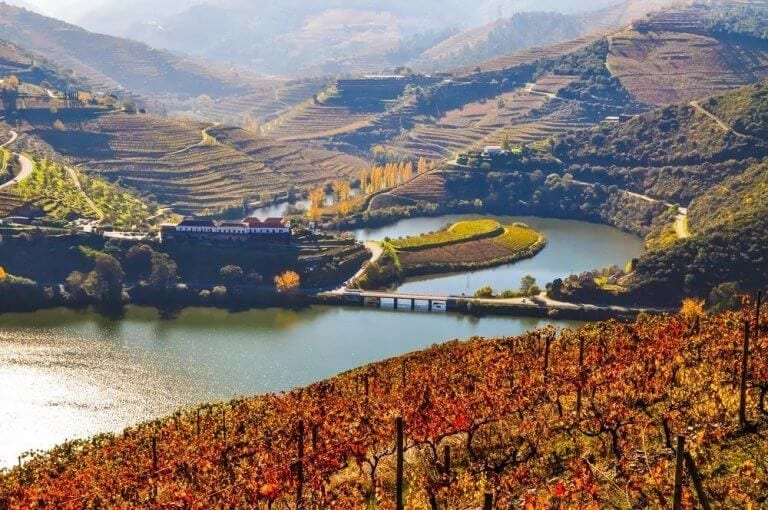 Dublin, Ireland
The capital city of Ireland has a huge reputation and has managed to retain the quaint and lively charm that you will find throughout the country. Dublin has a complex history full of Vikings, famines, and wars, and much of the city still has a historic feel, with streets of cobblestone, castles, and ancient churches.
Known as the 'Emerald Isle', Ireland is just as beautiful in autumn, with rich colors and crisp blue skies. Head for St Stephen's Green, take a meander along the Grand Canal, or go for a cycle in Phoenix Park, Europe's largest city-center park, to admire the gorgeous foliage.
After you've explored, find a cozy pub with a real fire and warm up with a drop of the good stuff – a pint of Guinness or an Irish whiskey!
Ireland is one of the only countries in the world to have a public holiday for Halloween, or Samhain, its original Gaelic name. The holiday on 31st October is celebrated with music, dance, and spooky fancy dress parades and parties in Dublin's many pubs and bars.
RELATED POST – One Day in Dublin – Itinerary, Map, Tips & Guide
Highlights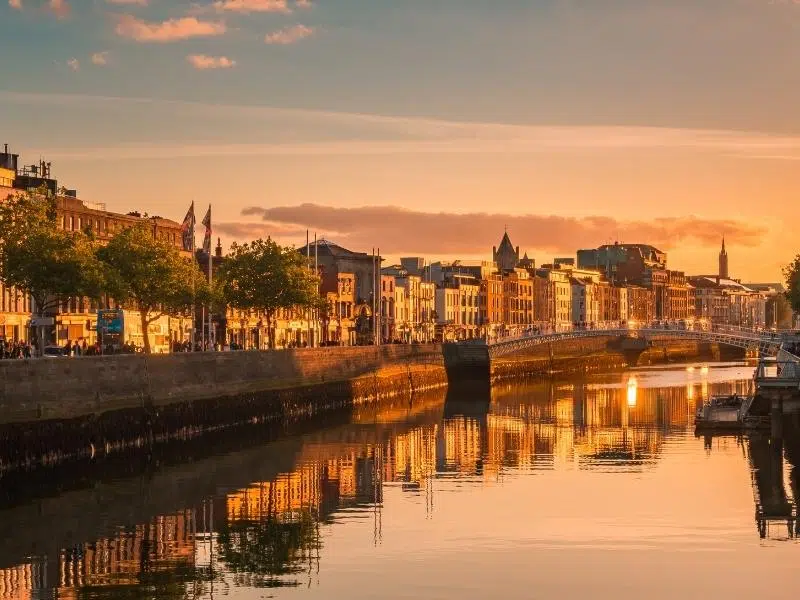 Florence, Italy
Birthplace of the Renaissance, Florence is one of the most cultured and artistic cities in Italy and very possibly, the world. Enchanting and captivating, this is a place to revel in history, art, and cuisine, and in autumn it will be relatively, and blessedly, quiet.
I say "relatively" because Florence is never tourist-free, and there will always be a certain amount of visitors around, but autumn is quieter than both spring and summer.
Packed with remarkable art and architecture, Florence has a wonderful tangle of narrow streets to explore, lined with elegant and historic palazzi, medieval churches, and world-class art museums.
As well as the changing colors of the leaves on the trees in the parks, avenues, and streets of the town, and the glistening reflections in the River Arno, autumn is also the wine season, with grape harvesting taking place in the northern Italy region, and a great opportunity for a wine tour to a local vineyard, where you can take learn about winemaking and sample local wines.
RELATED POST – One Day in Florence – Itinerary, Map, Tips & Guide
Highlights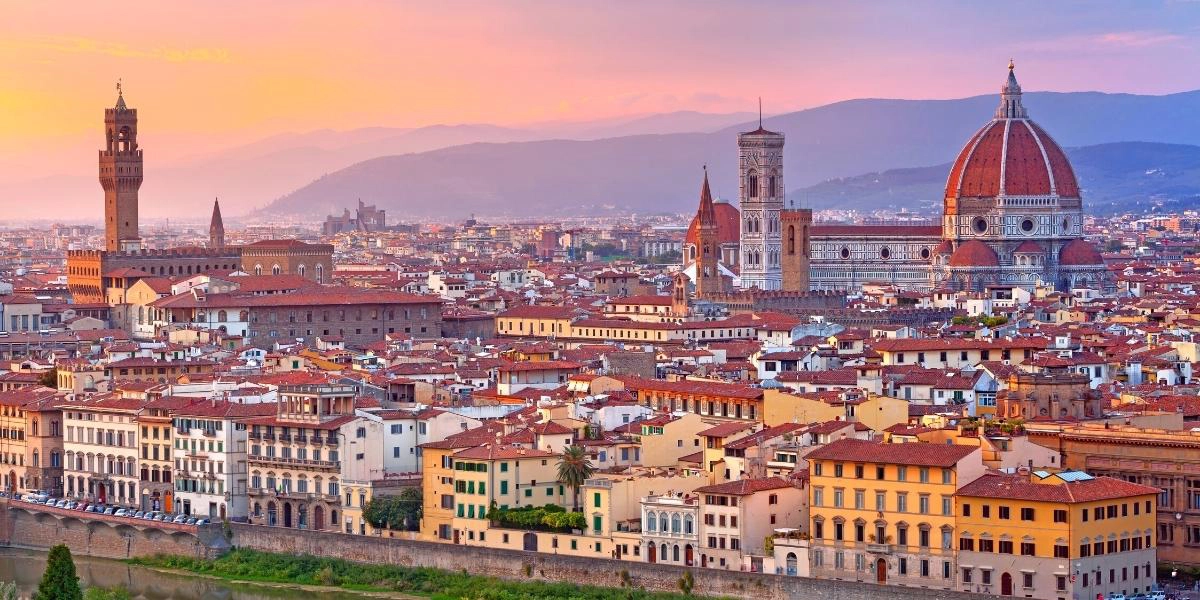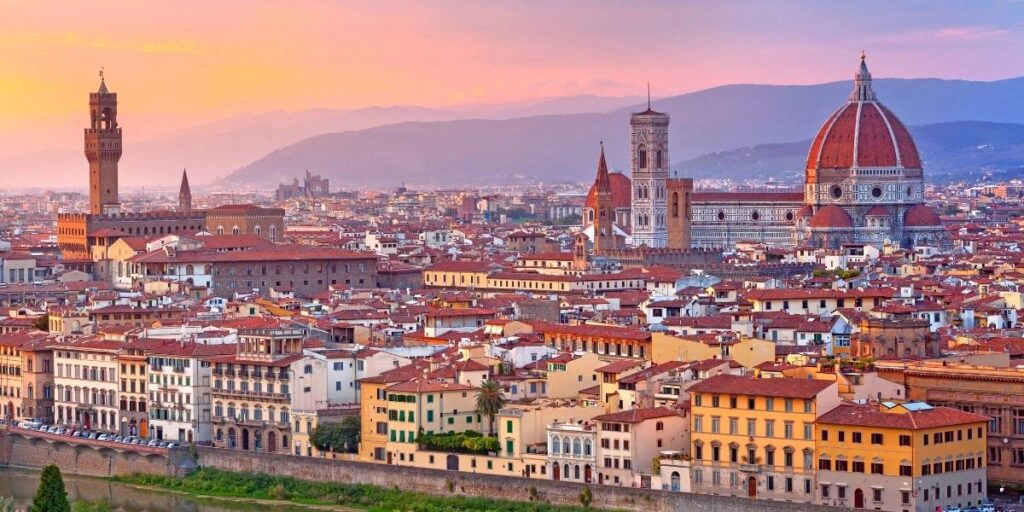 French Riviera, France
If ever there was a place to go in the autumn, after the madness of summer has abated, it's the gorgeous French Riviera, an eight hour drive south of Paris.
Also known as the Cote d'Azur, this stretch of Mediterranean coastline runs from Menton on the Italian border to pretty Cassis and includes the glamorous and glitzy towns of Cannes, Nice, and St Tropez, as well as the tiny Principality of Monaco.
Uncomfortably crowded in the height of summer, this beautiful coastline of France will be much quieter in autumn, with late September and October the optimum months for visiting. Base yourself in one of the central towns and you'll be able to day trip to everywhere else you want to see.
RELATED POST – France Road Trip – 13 Amazing Itineraries
Highlights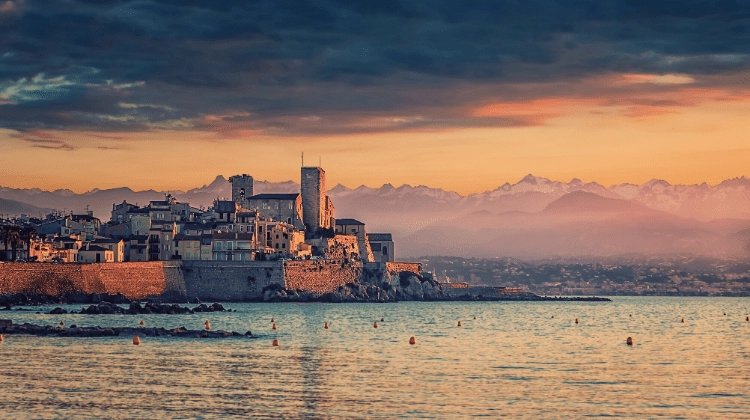 Ljubljana, Slovenia
Slovenia has the most spectacular colors in autumn with clear crisp days which are good for the soul. Ljubljana, with its medieval old town, is as atmospheric as they come with early morning mist, glistening cobbles, and vivid colors. The city makes a great base to explore and hike the surrounding countryside and fairy tale landscapes, where the autumn colors will be even more pronounced.
One of the best day trips from Ljubljana is to Lake Bled, around a 40 minute drive from the city. Go early in the morning and enjoy the mirror surface of the lake and iconic images of the Pilgrimage Church of the Assumption of Mary, sited on the small island in the center of the lake. From here, hiking in Triglav National Park is awesome at this time of year, not too hot and fairly quiet, all the time surrounded by those amazing autumn colors.
Just three hours south of Ljubljana in Croatia is the UNESCO Plitvice Lakes National Park. This lake district is stunning at any time of year, but in autumn, with the copper and russet leaves contrasting against the turquoise waters, the lakes really come alive. To get the best from your visit take a tour and boat trip with an expert guide, and discover the lakes and waterfalls of the park.
Highlights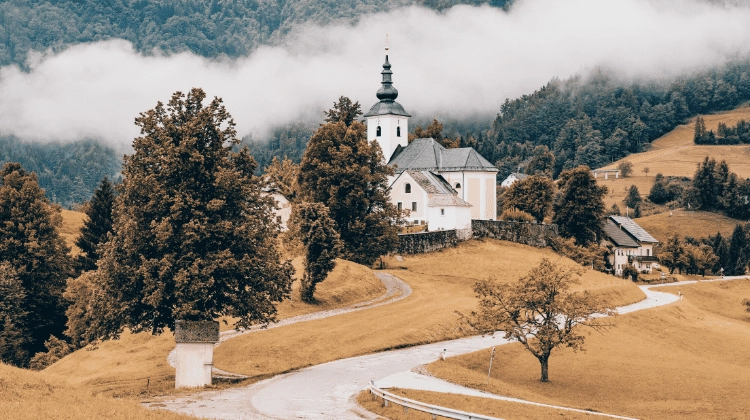 Lugano, Switzerland
The perfect destination for a Swiss road trip, Lugano is breathtakingly beautiful during any season, but during fall, the soft sunlight illuminates the alleys and piazzas of this pretty town at the foot of Monte Brè, and the weather is perfect for eating alfresco.
For three days in early October, Lugano takes the best of local and seasonal ingredients including red cabbage, chestnuts, squashes, truffles, and apples, and creates Ticino specialties, such as polenta and stew, beans and mortadella, braised meat, risotto, minestrone, gnocchi, and many other delicacies, to be served with a glass of local wine at Festa d'Autunno, Lugano's annual autumn festival.
Make sure to visit the market where you can buy local food products and handicrafts. Think Alpine cheese, chutneys and wild honey, beautiful fabrics, and hand-carved wooden items. They make perfect souvenirs to take home, and even better Christmas gifts!
Highlights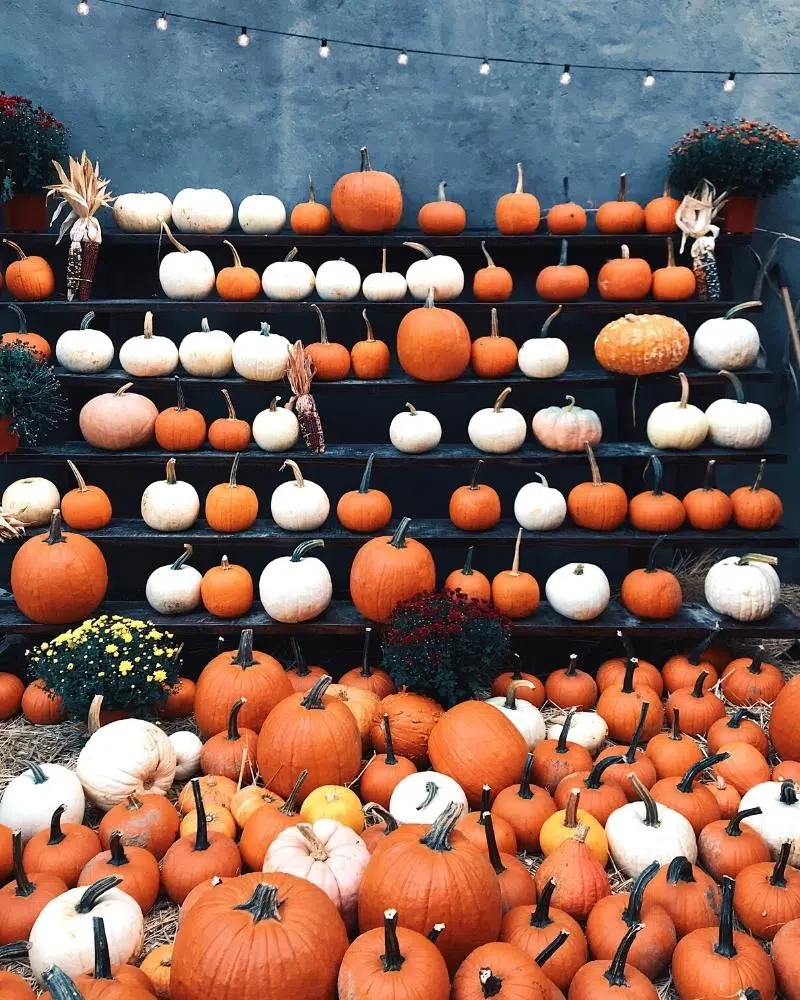 Munich, Germany
No autumn trip list would be complete without Munich making an appearance. The capital of Bavaria, the start point for the Deutsche Alpenstrasse road trip and a quintessential German city, Munich is a fantastic year-round destination and is famous for its historic buildings, the glockenspiel, and of course, the Oktoberfest.
The Oktoberfest, a bucket list destination for artisan and craft beer lovers, is normally held across the last week of September and the first week of October and celebrates everything Bavarian. This is a huge festival with a fairground and 38 beer tents, it has to be one of the best places to party in Europe in October!
Munich also holds the daddy of all German Christmas markets. Starting in the last week of November, Marienplatz is turned into a traditional Bavarian wonderland, with wooden huts, gluhwein being served on every corner and chestnuts roasting on open braziers.
With twinkling fairy lights and huge decorated festive trees, Munich is one of the best places to visit in November in Europe if you love Christmas markets, with an added option of a side trip along the Romantic Road route, for even more Christmas markets and festive events.
RELATED POST – 18 Magical Castles in Germany to Add to Your Bucket List
Highlights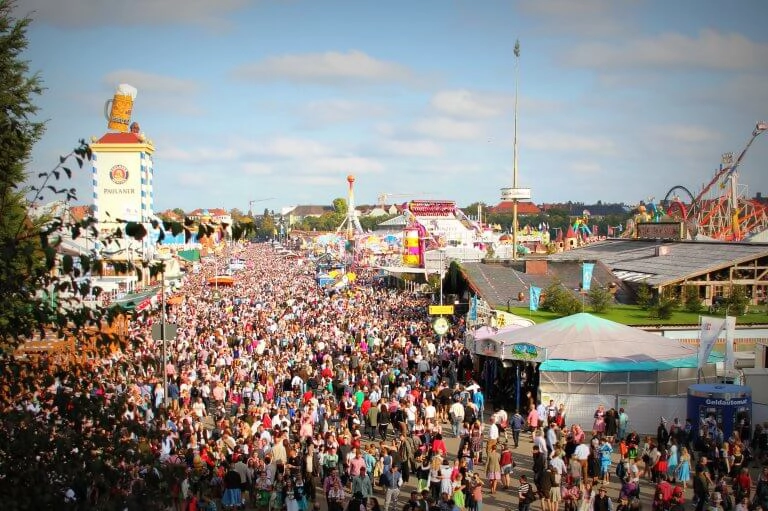 New Forest, England
The New Forest will be a riot of autumn color and the purple heather will be out in force, which along with early morning low-lying mists makes the forest a wonderful place for photographers. If you haven't visited this tranquil haven for wildlife and nature, September is the perfect time for an autumn trip.
The forest is a 200-square-mile mix of ancient woods, heathland, and a gorgeous coastline, and offers lots of things to see and do. Hiking, cycling, and horse riding are very popular, with designated routes crisscrossing the whole area.
You'll also find lots of other outdoor activities, great for when the weather is just a little cooler, making this one of the best places to visit in September in Europe.
RELATED POST – UK Road Trip – 18 Unmissable Routes
Highlights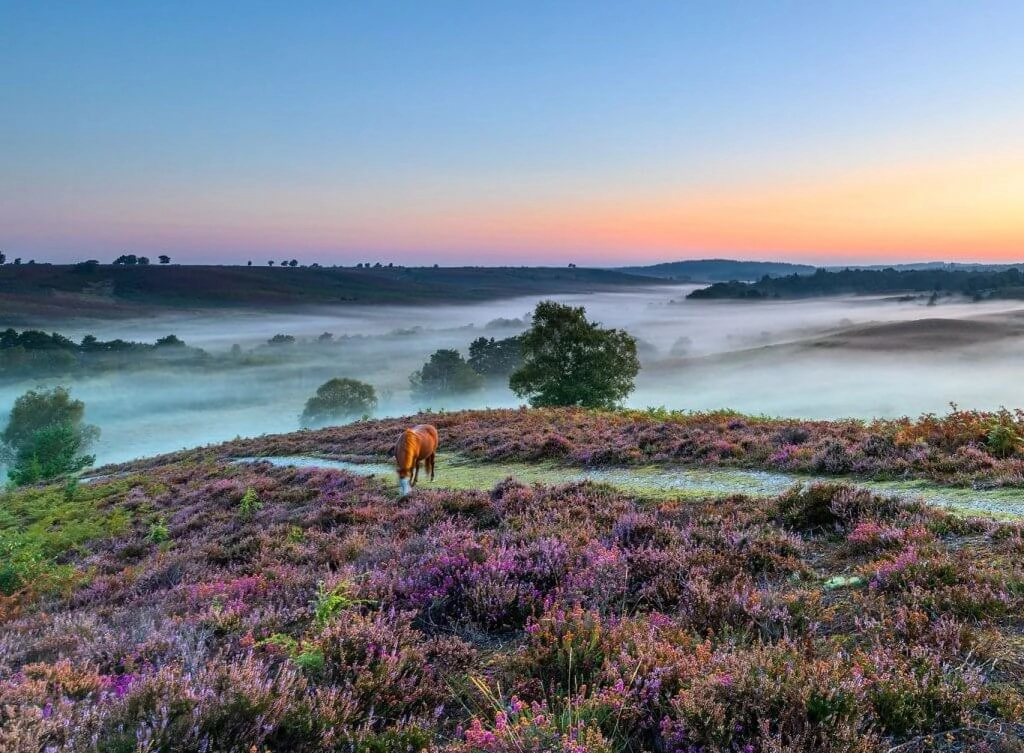 Prague, The Czech Republic
Prague in October is beautiful. The leaves are turning and the panorama from the castle across the rooftops reveals the best views. The gorgeous architecture of the old town glows in the soft autumn light and the glamorous cafés serving gloopy hot chocolate with pastries are warm and welcoming.
The streets will be quieter and you'll be in Prague in the festival season if you visit in October, with the classical Strings of Autumn International Music Festival topping the bill of cultural events. With so much to offer, Prague has to be one of Europe's best city breaks in October in Europe.
Highlights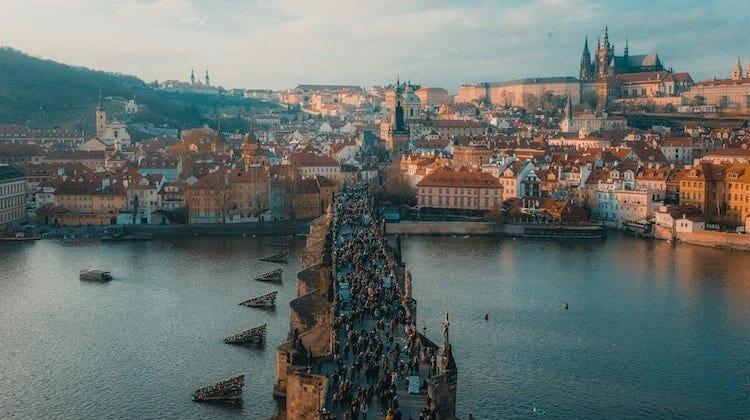 Pyrenees National Park, France
An early autumn road trip is the best way to visit the magnificent Pyrenees, one of Europe's most spectacular national parks. It's too early for snow or ski resorts, the sky will still be blue and the trails will be deserted, making the Pyrenees one of the best places to visit for hikers and walkers in Europe in September.
Follow our Pyrenees hiking tour to tackle four awesome and moderately easy Pyrenees hikes. From the Valle de Gaube to Gavarnie and east over the magnificent Col de Tourmalet to Mont Né, you'll see some of the most spectacular landscapes Europe has to offer.
Hop across to Spain and a further stunning hike at Circo de Soaso in the Monte y Perdido National Park if you have a few days to spare.
RELATED POST – A Seven Day Pyrenees Hiking Tour
Highlights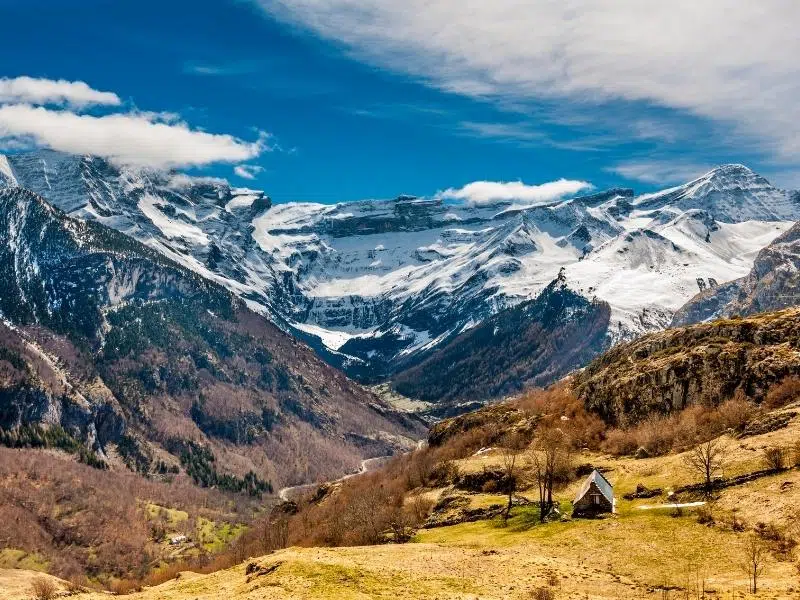 Seville, Spain
If you're looking for an October city break, then Seville, with Cordoba as a side trip, might just fit the bill. One of the most beautiful cities in Spain, if not Europe, Seville will be quieter and cooler than the busy and fiercely hot months of summer but is lively enough to provide atmosphere and Spanish charm by the bucket load.
Cordoba will captivate you with its ancient Moorish architecture and hidden squares, perfect for spending an afternoon with delicious tapas as you watch the Spanish world go by. If you have a week or so, you could make Seville and Cordoba stops on an Andalucian road trip.
RELATED POST – The Perfect Andalucia Road Trip
Highlights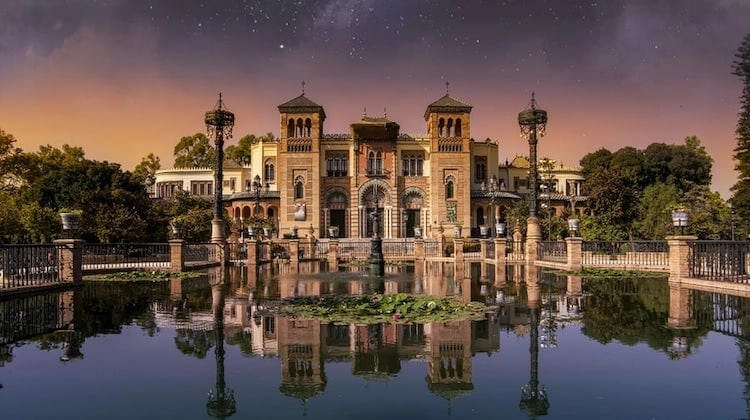 Other low season holiday ideas…
Sorrento, Italy
Perched atop cliffs and with a panoramic view of the Bay of Naples, Sorrento is a coastal town that makes a perfect base for visiting the three Italian behemoths of the Amalfi Coast, Mount Vesuvius, and Pompeii. Sorrento itself is a lovely place to spend a few days, with its busy marinas, and historic centre full of narrow alleys, café lined squares, and historic churches.
The Amalfi Coast is a fabulous place to visit at any time of the year, but in September and October, it will be cooler and quieter, allowing you time to linger and enjoy at your own pace, without the frenetic traffic of the summer months. If you're nervous about driving, book an Amalfi Coast tour with guided commentary.
Explore the picture-perfect villages of the coast and enjoy the liberal sprinkling of religious and food festivals at this time of year, celebrating various saints, local chestnuts, and delicious Italian wine.
It's just an hour from Sorrento to visit historic Pompeii and the live volcano of Mount Vesuvius, a trip you can do in a day if you're renting a car. These are two of the top tourist attractions in the whole of Italy, and an October or November visit will find both much quieter, and all the more enjoyable for it.
If you're not driving yourself, check out this highly rated full day Pompeii and Mount Vesuvius tour with a guide to show you the highlights of Italy's famous live volcano and the Archaeological Park of Pompeii.
RELATED POST – A Bucket List Amalfi Coast Road Trip
Highlights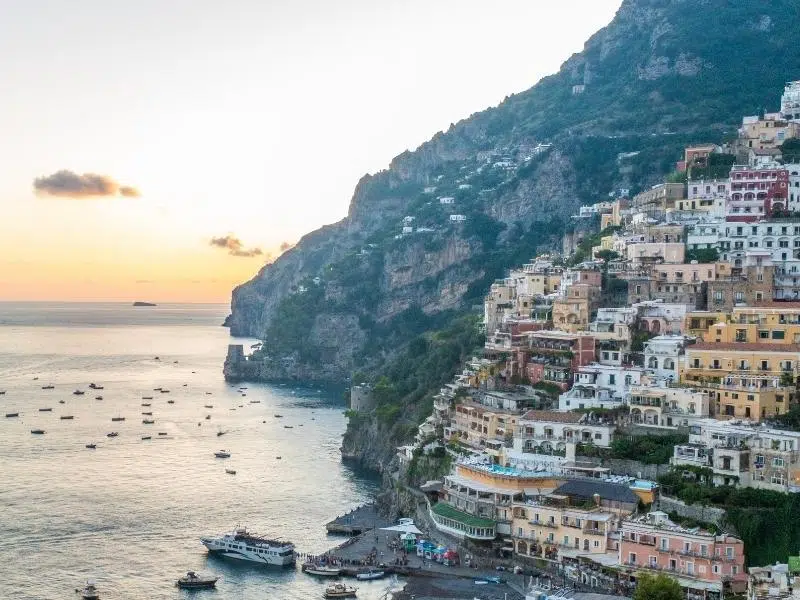 Southwest Alentejo and Vicentina Coast Natural Park, Portugal
If you love deserted beaches, wide-open spaces, and coastal hiking then you will be in heaven here, this is a perfect place for the October holidays and one of Portugal's hidden gems. A wonderful autumn destination, you will fall in love with the natural beauty of this region of Portugal.
The park straddles the Alentejo and Algarve regions and is a haven for wildlife, birdlife, and nature, and the mighty Atlantic rolls in here with drama and spectacle. Hike all or parts of the 224km Rota Vicentina (also known as the Fisherman's Trail) and watch the waves with awe.
Head south to the busier beaches of the southern Algarve coast and be wowed by the rock formations, pretty coves, and charming towns. Make for Lagos, where you'll find an old town packed with fish restaurants, interesting independent shops, and some of those amazing beaches.
RELATED POST – Road Trip Portugal – Two Incredible Itineraries
Highlights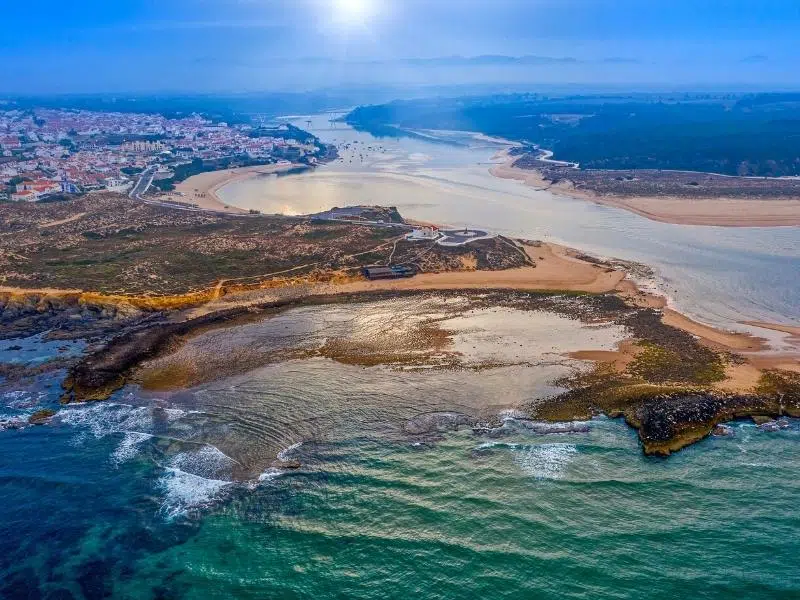 Tenerife, Canary Islands
A large archipelago off the northwest coast of Africa, the Canaries are rugged volcanic isles. Tenerife is the largest and best-known island, followed by Fuerteventura, Gran Canaria, Lanzarote, La Palma, La Gomera, El Hierro, and La Graciosa.
The Canary Island seas are temperate enough to swim in all year round and the autumn sunshine hours longer than anywhere else on the continent. The islands see very little rainfall during the autumn months, making them one of the best places to visit in October in Europe. The islands can be windy due to their Atlantic location, but if you enjoy sailing, windsurfing, and kiting, then so much the better!
Visit Tenerife in autumn for a lively atmosphere and great nightlife. The beaches will be quieter than in the summer and the bars and clubs are a bit more relaxed. Gran Canaria is best for hiking, national parks, and huge beaches, whilst Lanzarote is ideal for a family holiday, with unique volcanic landscapes and natural wonders, typified in the imposing and dramatic Timanfaya National Park.
Head for Fuerterventura if you're looking for the best wind and water sports and La Palma for fabulous snorkeling and local wildlife. La Gomera is a hidden gem and the most authentic of the larger islands and perfect for getting away from it all.
Highlights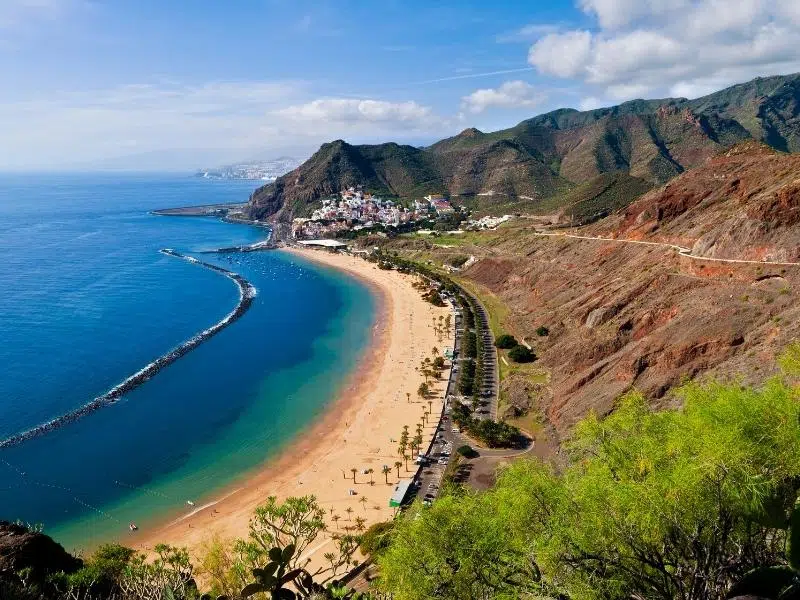 Umbria, Italy
In Umbria, autumn is the season of the grape harvest, or vendemmia, when whole communities turn out to support and pick. The gorgeous Umbrian landscape is vibrant as the vines turn orange and red in their final swansong of summer, and the whole area is immersed in the food of the season.
The countryside comes alive as the wine, oil, and saffron harvests get going, truffle hunting steps up a gear, and crops like mushrooms and beans are abundant and ready for picking.
Restaurants and rustic trattorias enrich their menus with all the new offerings and locals celebrate the bounty with sagre, Italian food festivals dedicated to a local delicacy or ingredient. These hyper-local festivities welcome visitors, and it feels like every small town and village has a sagre during harvest.
RELATED POST – The Ultimate Bucket List Italy Road Trip
Highlights
Zillertal, Austria
50km east of Innsbruck, Zillertal is an unassuming town in the Tirol. In a truly breathtaking Alpine valley, the town comes alive in autumn every year when the Almabtrieb (cattle drive) takes place.
Almabtrieb is the homecoming of the cows, festooned with flowers and head-dress, from the high pastures where the herds have spent the summer. It is a much-loved tradition and an important part of the Alpine farming calendar.
There are a number of cattle drives across the Tirol (sometimes called Tyrol) in fall, and the local towns all have festivals taking place with local artisan food, live music, and handicrafts. You could easily combine an Almabtrieb festival with an Austrian road trip or a stay in Innsbruck, where there is lots to see and do in autumn before the winter ski season kicks in.
Highlights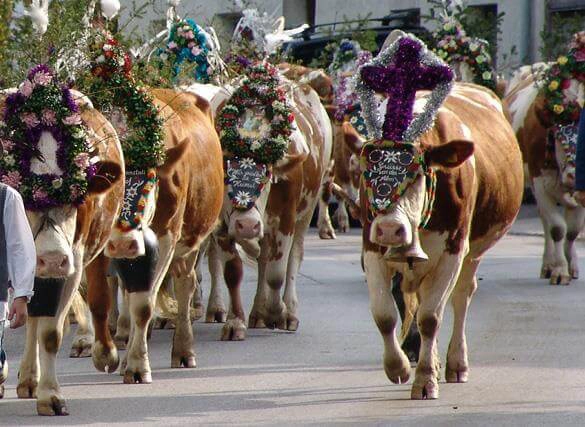 Are you looking for more travel guides? Check out these top posts…
Norway's Atlantic Road is a dancing ribbon of tarmac that connects a string of islands in Western Norway. We have put together a 4-5 day itinerary and share everything you need to know about the Atlantic Road, taking in the best that this part of Norway has to offer.
Love it? Pin it!