The Definitive Guide to Motorhome Life
Living in a motorhome is a hugely appealing lifestyle for many. Selling up and living in a motorhome is not for the faint hearted though and will undoubtedly mean compromise.
Read on to understand what living in a motorhome permanently is really like and get our top motorhome living tips.
Top Tips for Making the Move to Living in a Motorhome
Successful full time motorhome life is mostly about preparation and the dirty word; compromise! If you are thinking about renting your house or selling up for a life of motorhome travel, ask yourself these questions;
Does the motorhome offer what you need?
If you already own a motor home, is it realistically big enough for living full time in – 24/7, 365 days of the year? How would you manage if one of you got ill? What about being stuck inside when it gets dark at 4pm or it's raining for days on end? Can you live in a motorhome in the winter?
These are such simple things to manage when you live in a house, but living in a motorhome full-time is different, you feel the changes in the seasons and elements way more, whether you're travelling in a motorhome in the United Kingdom, Europe or some far-flung place like New Zealand!
If you're buying your first motorhome and are wondering what is the best motorhome to live in full time, then head on back to the Motorhome Advice page where you will find loads of helpful info about choosing, buying and kitting out a motorhome or camper van for long term motorhome living.
If you are thinking about a campervan conversion, check out the website of our friend VanDog Traveller, who writes inspirational stuff about his own van conversion and shares diy campervan tips and tricks.
Who are your travelling with?
Can you live in a camper with your other half, in a confined space full time? Or manage alone if you are a solo traveller? Read our post about camper van life and relationships on the road to get an idea of what it's like travelling as a couple.
Are you willing to compromise?
You have to give up a lot to achieve your dream of permanent motorhome living. We sold our house and almost all of our possessions. A good question to ask is whether you think you can do without all the trappings of your previous life?
Unless you're willing to fork out huge sums of money (and OMG it is expensive!) on storing your stuff, then you will probably be looking at selling most of it.
For us, the campervan lifestyle and the ability to travel where and when we want is worth far more than any clothes, cars or possessions could be but not everyone feels the same.
Are you chasing the dream or running away?
Do you want to live in a camper van or motorhome for the right reasons? Really dig deep and ask yourself and each other whether you are running away from work, family issues, money problems or whatever else is going on in your life?
Camper van living is unlikely to solve any of those issues and may magnify some of them.
What's your goal?
What do you want to achieve from living in a motorhome? You could tour Europe in your motorhome without a plan but will get so much more from your experience if you understand the why.
For us, it was about wanting to do something different with our life and escape the hamster wheel of 'normal'…feeling excited, looking forward, rather than waking up with a heavy heart to another day groundhog day.
Check out this post if you're thinking about touring Europe in a motorhome during an adult gap year, there's lots of information about working abroad and how you could extend and vary your trip
How are you paying for it?
How will you finance your motorhome life? It will always cost more than you think, but the cost of living in a motorhome in UK and Europe is still so much cheaper than living in a house.
The pie chart below represents our motorhome costs for travelling and living in a motorhome for a year in mainland Europe. You can find out the details and our top tips and hacks for saving money here.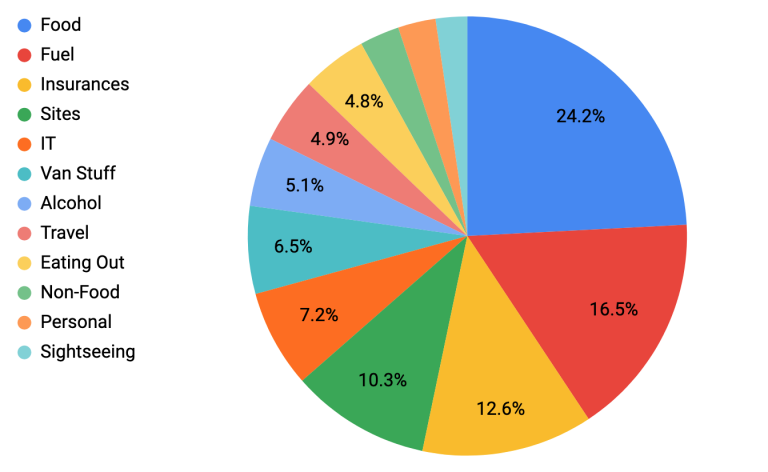 Living in a motorhome permanently in UK will be more expensive due to the cost of campsites and lack of aires and easy wild camping, you may also have to pay to use services which are generally free or very cheap in Europe. Some of this will be off-set by cheaper insurance if you don't intend to travel out of the UK.
Of course, you also have to take into account the cost of your motorhome, campervan or RV…whichever you decide is right for you.
You may already own such a vehicle but if you're buying one for your new life, then this is a big outlay and even the most basic and older models will cost upwards of £10k. Check out our motorhome finder service, if you're looking for a used motorhome for your adventure.
What about family & friends?
Are you happy to be away from family and friends in the UK? Can you accept that they may not all be delighted for you (a sad reality of following your dreams)? We talk about this more in our post 'Ten Things We Have Learnt in the Last Year of Motorhome Life'. The bonus is, as you meet other van lifers, you'll make a load more new friends who get you and your way of life.
Can you live with paying €1.29 for a good bottle of wine? Oh…wrong post…….
If you're cool with all that, then this guide will help you understand the finer details of full-timing and how to live in a camper. We'll share with you how to survive it and how to have the best time of your life doing it!
Recommended Reading
Is motorhome ownership for me? Should I buy a campervan? We'll take an honest look at the pros and cons of owning a motorhome in UK and Europe, so you can decide whether motorhome or campervan ownership is right for you.
Top Tips for Living in a Motorhome
Can you live in a motorhome full time in UK & Europe?
People often contact us to ask us questions about the legalities of full-time campervan living. So, is it legal to live in a van?
There is no specific law preventing you from full time motorhome living in UK or Europe, as long as you follow the specific vehicle and residency laws of the country in which you are living or travelling.
In the UK this means you need to be a resident, so have a British passport or other entitlement to live there. Your motorhome or campervan must be taxed, insured and have a valid MOT.
You must also follow the correct rules regarding where you park or stay in your motorhome, whether thats at on permanent motorhome sites, wild camping or RV living. You can find out more about the rules and laws regarding wild and free camping in the UK for motorhomes here.
In Europe, living in a camper van becomes a bit more complex now that Great Britain and Northern Ireland have left the EU. Travelling in Europe has become more complicated because of changes to freedom of movement for UK citizens in Europe.
It is still possible to travel full-time on the continent, but you can now only spend 90 in every 180 days in the Schengen area. This means leaving European countries we are familiar with, and heading for Morocco, some of the Balkan countries, and Turkey.
You can find out more in our post about motorhoming in Europe after Brexit.
Want exclusive subscriber resources & top tips to make life on the road a breeze?
What about an address if I've sold my house?
There are other also other practical things to think about.
What address will you use if you're selling up or renting? You will need a UK fixed address for your driving licence and V5 document and this address will also need to be used for motorhome insurance, so think carefully as some parts of the country will increase your premium exponentially due to high risk factors.
You can 'rent' an address which works for all those things (as long as you are taking our full-timing insurance but you won't be eligible for the electoral roll form such an address and it won't be recognised by any local authorities should you need their support if/when you return. The only way to achieve this is to use a relatives address.
What about insurance?
And what about motorhome insurance? This is a complicated and often mis-quoted and mis-understood area and may well change once the UK has fully left the EU. Read our guide for the facts about full-time motorhome insurance.
You will also need travel insurance to supplement your EHIC/GHIC card (get one if you don't have one) if you are intending on living in a motorhome in Europe or beyond.
Back-packer insurance tends to be the best as it will cover you for up to 24 months. Most companies won't let you take this out once you've started travelling, so plan ahead, although if you use True Traveller they have a policy where you can renew annually on the road, and they are not interested in where you are 'resident' or have spent the last six months. This policy also includes more sports cover as standard than any other we have seen.
What stuff do I need?
Living in a campervan will inevitably result in a process of elimination; what do you want and what do you really, really need? Whether your 'suitcase' is a rucksack or a motorhome, something is probably going to have to give because motorhome and campervan storage is always a challenge for long term travellers.
How much you take will of course depend on the size and GVW (gross vehicle weight) of your van and what is important to you. If you are intending to write a cookbook on your travels, then food storage will be a priority.
If, like us, you want an inflatable kayak, two inflatable paddle boards, kite-surfing gear two bicycles and a portable washing machine, its fair to assume that some difficult decisions about everything else might need to be taken. If you're not familiar with motorhome weights, read more here.
At the end of our first year of campervan life, we were having the van serviced and there was a weigh bridge right next door. Out of curiosity, we ambled over and got weighed…oops! We were half a tonne over our GVW of 4,500kg (and that was with an empty fresh water tank!)
So, we had a massive sort out and were a bit stunned to realised we had been carrying around half a tonne of stuff that we never used! Our rule now is that if it isn't used in a month, it doesn't stay.
Clever motorhome storage will give you more bang for your buck, if you can be organised about where things are this will also help; this will evolve as you are on the road. What's important on day one will have changed by day 60!
We bought all of our storage boxes and packing cubes from Ikea, from hard plastic stacking boxes for the garage and under the bed, to soft felt boxes for the overhead bins; they are innovative and cheap …happy days!
Getting about
You also need to consider how you will get about on a day to day basis. If you mostly free or wild camp, then you will probably be moving on regularly but if you are intending to visit cities (many of which you won't want to drive into and will need an emissions vignette to do so) and stay on sites, you will need some form of transportation other than your motorhome.
This could be a tow-car, a scooter or motorbike, e-bikes or good old-fashioned pedal cycles. Weight, space and cost will be massive factors here but it is an important aspect of living in a motorhome. Being stuck on a site without means to get to the nearest village for a pint of milk is a real bummer!
Recommended Reading
When you're preparing and cooking meals in a small motorhome or campervan kitchen, you need to make the most of the limited storage and work space – everything you use needs to be lightweight, multi-purpose, space saving and easy to store. Our top motorhome kitchen accessories deliver all that and more.
Deciding what to take on your motorhome road trip is hard; it can make or break a holiday. This essential motorhome packing list has all of the top things you need for a motorhome along with a packing list for you to print. Go on, get packing!  
If you like a full roast or are partial to banana bread, whatever your motorhome cooking style you'll find all the information you need on motorhome and campervan cooking options here.
After a recent shock at the weighbridge, we decided to do some research into motorhome weights, how they are calculated and what it all means. Motorhome weights guides can be a bit wordy and complicated; read our easy motorhome weight guide and hit the road safely.
Living the Motorhome Lifestyle!
So you're actually doing it! You're on the road, full time living in a motorhome. For some people it's an easy transition, less so for others.
We spent the first two weeks of van life euphoric as we headed south to the sun, the third week wondering what the hell we had done and the following six months loving every moment. Most people who live the full time RV and motorhome life, tell us they went through a similar process.
After about six months, we took a nose-dive; the weather and clocks changed and with it we became a little desponded and struggled to adapt. We were also a little travel fatigued (yep, it's a thing) after seeing so many new places and having so many new experiences; we missed being in one place. But we bounced back and accept that not every day will be perfect, life is life after all…we're just living it slightly alternatively!
We have found purpose by setting up and running our motorhome life blog but there are lots of other ways you can fill your time. Try house-sitting or volunteering with WorkAway. If you're a keen photographer, sell your images through Pexels or Unsplash and earn a bit of dosh.
Perhaps learn a language or take up a new sport; Phil has learnt to kite-surf and we are both (trying) to learn Spanish as we have enjoyed living in our motorhome in Spain so much.
Recommended Reading
People are fascinated by motorhome life. We get asked a lot of questions about our life style – here are the top ten questions and our no holds barred, totally honest answers…
Back in May 2020, we reached a milestone – we had been travelling Europe in a motorhome full time for two years! These are our thoughts, musings and lessons learned in our second year of full time motorhome life.
Connectivity is also really important; we thought we would do away with mobiles and become virtuous hippies but the reality is we use our devices and the internet to research, map, stay in touch and blog.
Email and social media is a lifeline for keeping in touch with friends and family. How did we ever think we would manage without on such an epic (and permanent) road trip? Read this guide to understand how to get wifi and internet when you're living in a motorhome.
It would be easy to sink into a life of motorhome slobbery (and you may want to, that's fine) but for us it just wouldn't work. We spent the first six months revelling in not having to get up for work or clean the motorhome (if we didn't want to) but eventually our body-clocks kicked in and now we are up at around 8am.
We try to eat well and have managed to cook all sorts on our Cadac, including bread, which we would never have had time to make before, just one of the many benefits of living in a motorhome!
Recommended Reading
Wifi and internet access in life has become essential. Living in a motorhome is no different – researching, blogging, social media, keeping in touch and even smart motorhome connectivity means wifi and internet is critical. If you're wondering how to get internet in a motorhome, this easy and definitive guide to getting internet and wifi in your motorhome is for you.
Whether you holiday or full-time, tv in your motorhome is probably a necessity. You may not watch much, but when it's raining or you fancy a duvet day, being able to curl up with a great film is one of life's pleasures. Our guide has all the information you need on how to get tv in a motorhome.
We hike a lot and have completed some incredible hikes across Europe, often also wild camping nearby to maximise the experience of the place.
But mostly living in a motorhome is a way to explore, to see, to absorb and to expand our minds. Along with all the ups and downs of this slightly crazy and alternative lifestyle choice, that is and will always be our why.
Recommended Reading
Do you want to wild camp in your motorhome? Already wild camping in your motorhome? Then read on for top tips and advice about how to wild camp in a motorhome and get off the beaten track like an expert!
Who's ready for a motorhome trip? Researching and planning motorhome trips can take a lot of research, or none at all depending on how you want to travel. Find out how to plan an epic motorhome road trip in our ultimate guide complete with step by step road trip planner.
Other Useful Resources & Motorhome Guides
Our motorhome and campervan travel blog has lots more information and tips about life on the road in a motorhome.
>> Motorhome Tips for Beginners
>> Motorhome Accessories
>> Life on the Road
>> How Do Motorhomes Work?
Are you looking for more tips about motorhome life? Check out these recent posts…
If you love a road trip or like touring in your motorhome, from time to time you may end up tackling a long distance drive. Even if you prefer life in the slow lane, there may be occasions when you just need to get from point a to point b as quickly and easily as possible. These are our top safety tips for long distance driving, to help you manage the journey.
If you're planning a motorhome trip to Spain, you'll probably want to stay in a Spanish aire. But what is a Spanish aire, how do you stay in them and how do you find them? We answer all your questions about motorhome aires in Spain here.
Selling up to live in a motorhome or campervan is a HUGE step to take, and even if you've spent a long time thinking about it, making the final decision is tough. Having sold up and quit the rat race to spend years living in a motorhome and travelling Europe, we share the good, the bad and our tips for selling up for a life on the road.
If you live in a small space, you'll already know how important storage is for organisation, and sanity! We've got loads of creative small motorhome and campervan storage ideas to help keep van life as simple and easy as possible!
If you want to motorhome in Europe, then the chances are you'll want to stay on a campsite at some point. The ACSI camping card provides low season discount on thousands of campsites across Europe. We share all our top tips to help you get the most from your ACSI card.
If you're planning a motorhome trip to France, the chances are you'll want to stay in a French aire. But what is an aire, how can you stay in them and how do you find them? We answer all your questions about motorhome aires in France here.
Love it? Pin it!