This post may contain affiliate links, from which we earn an income.
The Best Scottish Road Trips
Scotland is a place made for road trips. Sweeping roads wind their way through dramatic and moody landscapes, past historic castles, gentle lochs, and wild seas. Ancient myths and rich history thread through Scotland's fabric, making the country a wonderfully diverse and fascinating place to visit.
A road trip in Scotland showcases the dramatic landscapes, historic cities, lochs and glens, and beautiful coastlines, like no other way to travel does.
As you road trip through Scotland, you'll find yourself stopping regularly for Insta-worthy images, and along the way, you'll find fantastic adventures to try like hiking Munroes, wild swimming in Scotland's lochs and seas, exploring Scotland's turbulent history, and spotting amazing wildlife.
In this Scotland travel guide, you'll find a round-up of all the best road trips in Scotland, with Scotland travel tips and information to help you plan and prepare. Come with us as we share eight unmissable Scotland road trip itineraries and highlights.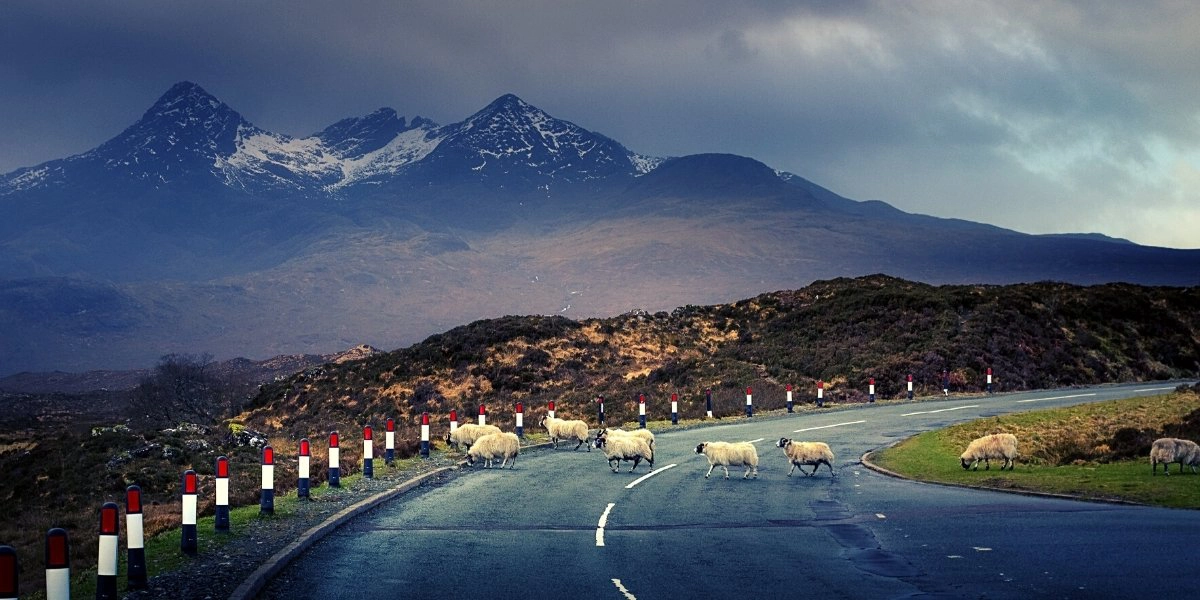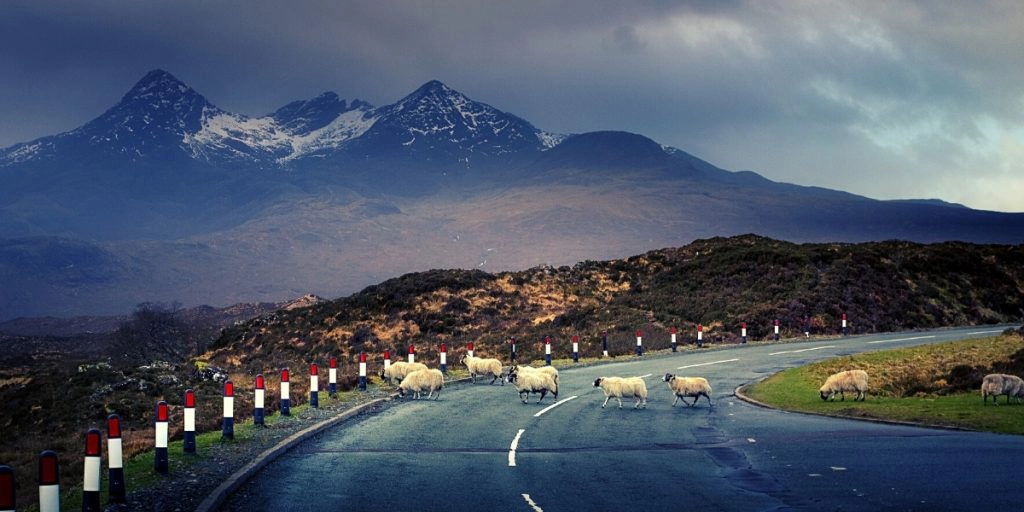 Getting to Scotland
Scotland has six main airports, one of which will be the perfect start point for your ultimate Scottish road trip itinerary. We recommend booking through Skyscanner for live deals and the best prices.
You can hire a car at any of these airports and be on your chosen Scotland driving tour route within an hour of landing. Book your rental car well in advance and use a care hire booker like Rentalcars.com who will provide the best deals from all the top car hire companies. How? Because they have such a large market share, they've got way more buying power than individuals and can negotiate much harder on price.
For those planning a Scottish staycation, get the fast train from London to Edinburgh and hire a car from there, or even drive yourself to Scotland.
YOU MAY ALSO LIKE… Europe Road Trip – 18 Incredible Routes
Scotland Road Trip Map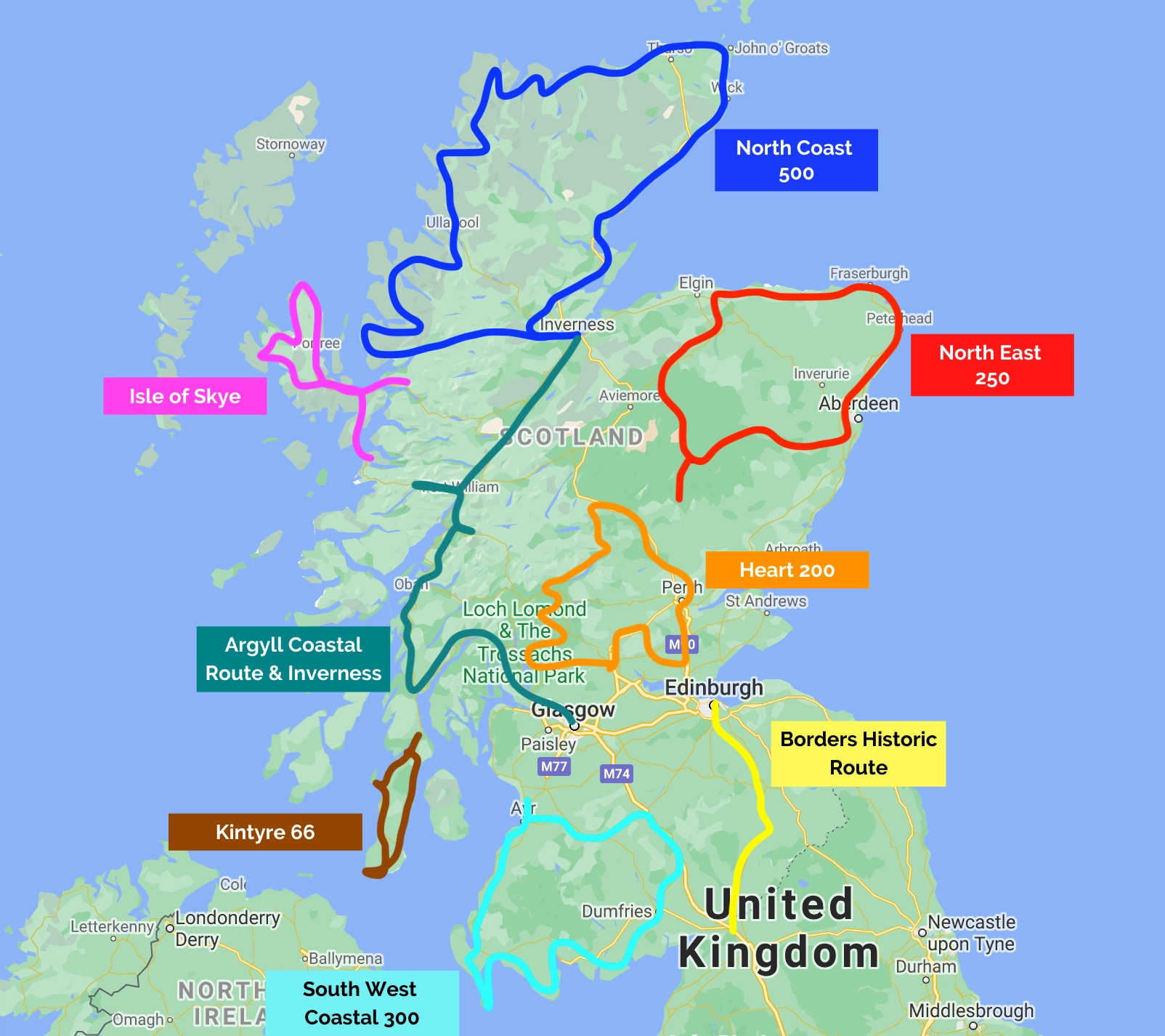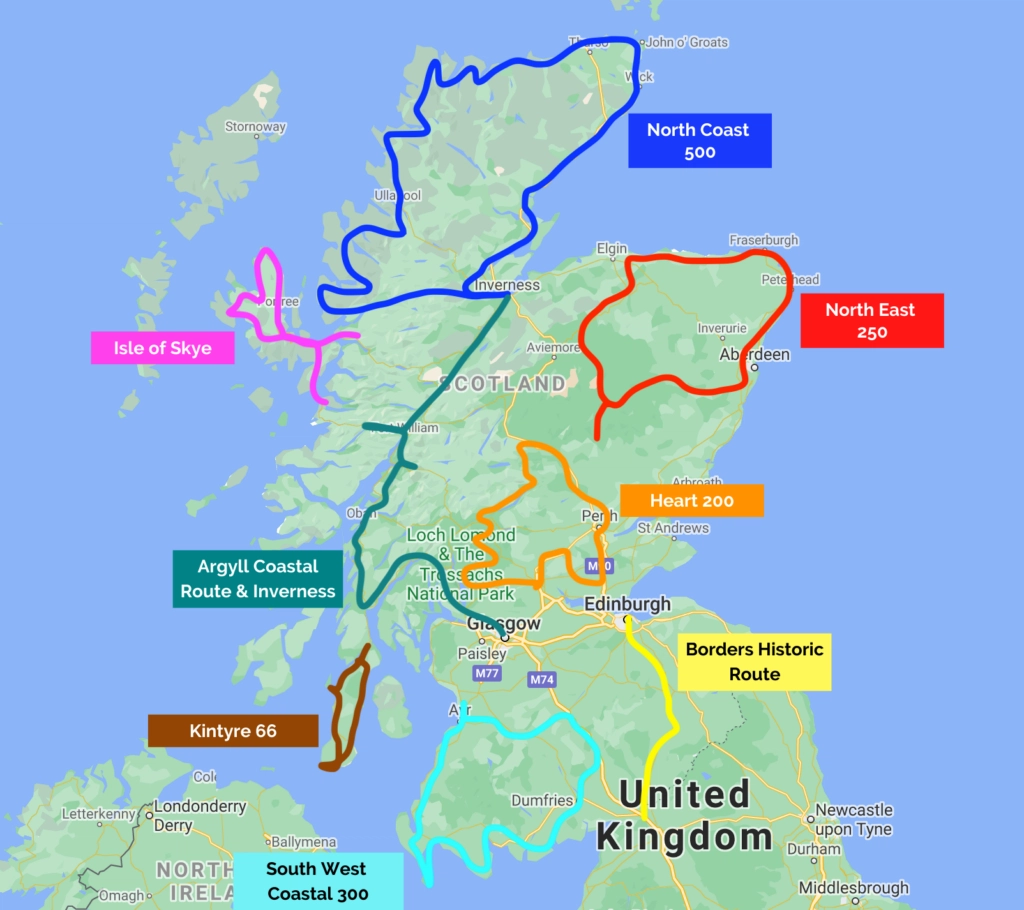 When to Take a Scottish Road Trip
Scotland's weather is generally moderate but changeable. As the topography of Scotland varies greatly, you'll notice differences between highland and lowland weather, as well as coastal influences.
Spring
Late spring is a great time for planning a trip to Scotland. The countryside comes alive with wildflowers and baby animals as the warmer weather beats back winter.
Summer
With summer averages of around 20°c, this is one of the best times for touring Scotland. The downside is that popular routes, attractions and hotels will be busy, so a road trip of Scotland in summer will require a little more advance planning.
July and August are also the worst months for the infamous biting midges, especially if you're planning on camping in a motorhome or tent on the west coast, where they are generally at their worst.
Autumn
A wonderful time for driving holidays in Scotland, the fall colors are some of the most dramatic in the world. Autumn is also deer rutting season, with lots of opportunities around the Highlands to see this mighty display.
Winter
Plan trips to Scotland during the colder months for winter sporting opportunities, dramatic scenery, and the possibility of seeing the Northern Lights, or 'Mirrie Dancers' as they are sometimes called in Scotland.
There are an average of 15-20 snow days a year, rising to over 100 snow days in the Highlands – head to Aviemore in the Cairngorms if you're looking for the white stuff, or just enjoy this fantastic winter destination for the scenery.
Is this your first time visiting the UK? Get all the information you need in our United Kingdom Travel Guide, including what to pack, the best time of year to go, getting there, and practical tips to help you have the best trip!
Scottish Outdoor Access Code
Whenever and however you visit Scotland, always follow the Scottish Outdoor Access Code. The code helps you to get the best from your Scotland itinerary and ensures that the flora and fauna of this beautiful country are not harmed.
Scotland's Top Eight Road Trips
Whether you're driving in Scotland in a car, motorhome, campervan or riding a motorbike, our road trip itineraries give you a basic route to follow and highlights to visit.
The highlights for each itinerary can be followed with the map – they are in the order in which you travel. Scotland is packed full of bucket-list things to do along these routes, use a navigational app to explore each area in more detail.
RELATED POST: The Ultimate Guide to Motorhoming & Campervanning in Scotland
The North Coast 500
Inverness – Wick – John o 'Groats – Thurso – Durness – Lochinver – Ullapool – Gairloch – Applecross – Inverness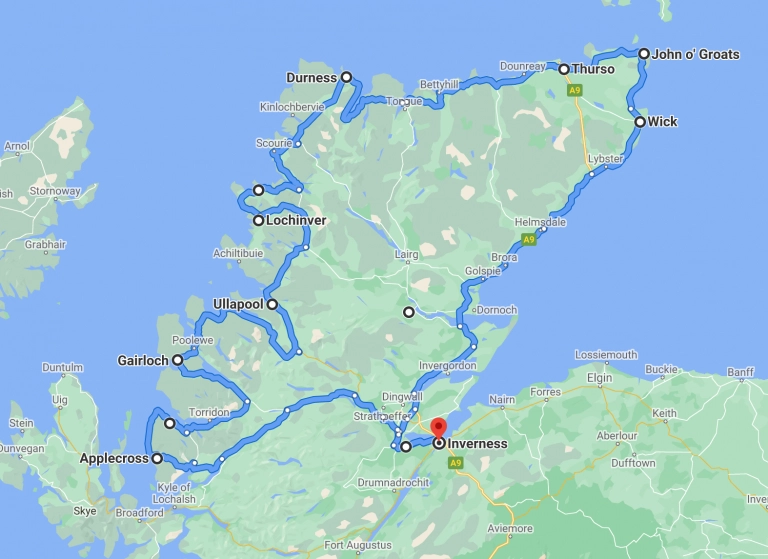 Considered by many to be one of the best road trips in Scotland, the North Coast 500 really is the ultimate Scottish Highlands road trip, taking in windswept beaches, ancient ruins, and castles in stunning landscapes.
The Highland Tourist Route is one of the few road trips in Europe that is as much about the destination as the drive, Scotland's very own Route 66. It is possible to do the NC500 in seven days, but there wouldn't be much opportunity to stop and explore the deep and closely held history and raw nature of this visceral place.
This Scotland Highlands road trip itinerary could be a 10 day Scotland road trip, but 14, or even 21 days, is a much better timeframe to fully appreciate this special part of the country.
You can tackle this Scottish highlands itinerary either way by starting from Inverness. Our itinerary assumes you will head north up the east coast. Check your map regularly for Scottish attractions, natural wonders, glorious beaches, and historic points of interest, some of which will require a detour from the route.
If you're visiting in late autumn or winter, Applecross, Lochinver, and Ullapool are all top places to see the Northern Lights.
RELATED POST: North Coast 500 Route Planner + Highlights, Map & Tips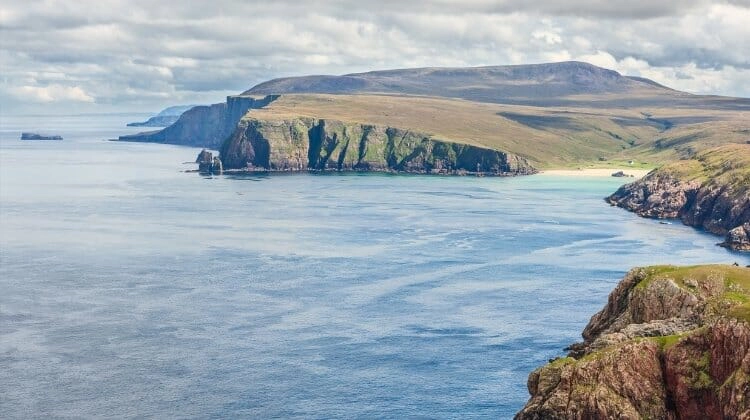 Top Fifteen Highlights
Follow the age-old tradition of hunting the famous Loch Ness monster. Hire a boat and head out onto the water with a picnic and your camera. You might not see Nessie, but you'll enjoy stunning scenery, clear air, and space to unwind in one of Scotland's most beautiful places.
Visit the haunting battlefield of Culloden, the site of the final and bloody confrontation of the Jacobite rising and defeat of Charles Stuart's army in 1745. You can find out more about this seminal time in the history of Scotland at the nearby Culloden Visitor Centre.
Explore the dramatic 15th century ruins of Castle Sinclair Girnigoe, perched high on a cliff above the steely North Sea.
Love the challenge of bagging any of the 37 Munros (mountains over 914m) along the route. If they're a little too high, try bagging one of the 43 Corbetts or 38 Grahams (mountains over 762m), or just enjoy viewing them from the winding roads.
Admire the lofty grace of Dunrobin Castle, the historic home of the Earls and Dukes of Sutherland, which dates from around 1275.
See the mysterious Hill O'Many Stanes, where 200 thin stones were laid out in a radiating pattern over 4,000 years ago …and no one really knows why.
Enjoy the sea air and a five mile hike from John o'Groats to Duncansby Head, the most north-easterly point on the British mainland, and continue along the spectacular coastal path to see the two dramatic pointed sea stacks.
Visit the Castle of Mey, which was restored by The Queen Mother when she bought it in 1952 and saved it from abandonment. A fascinating glimpse into a castle that served as a holiday retreat for the royal family, and with wonderful gardens, this is a truly beautiful place.
Explore the various and fascinating brochs on the route. The broch is an imposing stone tower and ancient dwelling, built as early as 500 BCE, found only in Scotland. Dunbeath Broch and Nybster Broch are both excellent examples and are close to the Caithness Broch Centre, where you can learn more.
Take (another) bracing walk in the wild and untamed landscape of Dunnet Head, the RSPB nature reserve and the most northerly point in mainland Britain. If you're lucky, you might see puffins in this noisy sea-bird nature reserve, especially if you visit during the breeding season, from late spring to early summer.
Enjoy visiting and tastings at the whisky distilleries on the route, including Glenmorangie, famous for its single malt since 1843. You'll find many more distilleries along the way, just one of the pleasures of touring the Scottish Highlands!
Visit the glorious beaches, bays, and coves of the north coast, including the most north-westerly point, the raw and wild Cape Wrath (only accessible by ferry or minibus) the Smoo Cave, a sea cave complete with its own waterfall, and Sandwood Bay (hike only, no vehicular access) for the incredible sight of the Am Buachaille sea stack, a remnant of when the Highlands and North America were connected, millions of years ago.
Go whale watching from Gairloch, you might also see dolphins, porpoises, and sharks, as well as seals, otters, puffins, and perhaps even the white-tailed eagle. The best time to see whales on the west coast of Scotland is from mid-June to late September.
Drive the legendary Applecross Pass, one of the best and highest roads in Scotland. Bealach na Bà is a narrow slip of a road, with hairpin sharp bends and steep gradients – not one for the faint-hearted, but absolutely worth it!
Take to the sea in a canoe, in one of the many lochs and inlets along the route. Enjoy a different perspective and get up close with the local wildlife
Are you planning a motorhome trip to Scotland?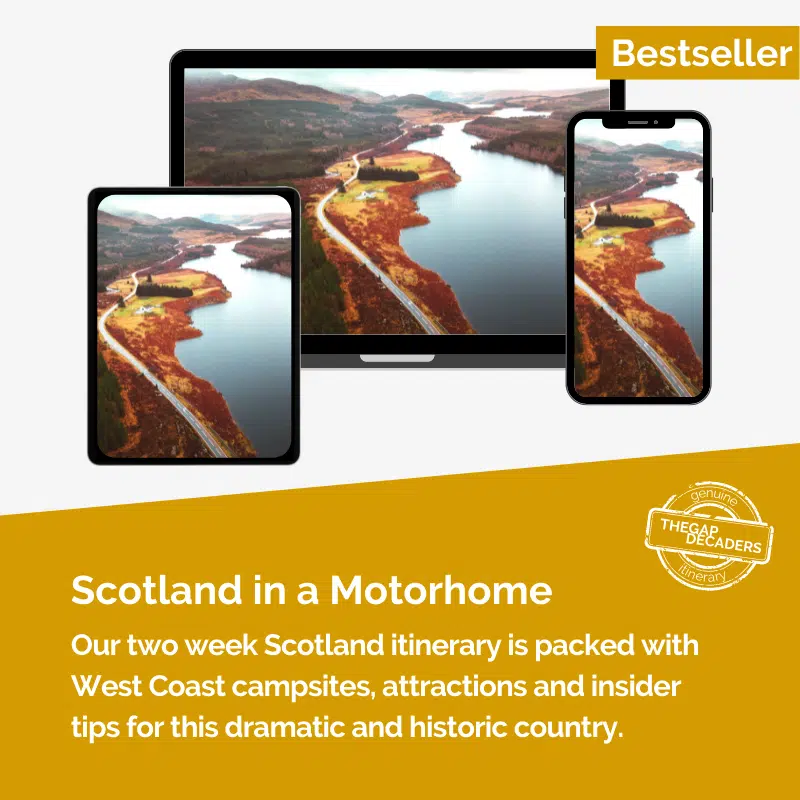 Grab our two week Scotland itinerary, packed with campsites, attractions, and insider tips.
Get up every morning knowing your day is planned with driving routes, campsites, and attractions marked out for you on your interactive map.
Make the most of your holiday and let us do the planning for you!
The North East 250
Aberdeen – Peterhead – Fraserburgh – Portsoy – Spey Bay – Glenlivet – Braemar – Aberdeen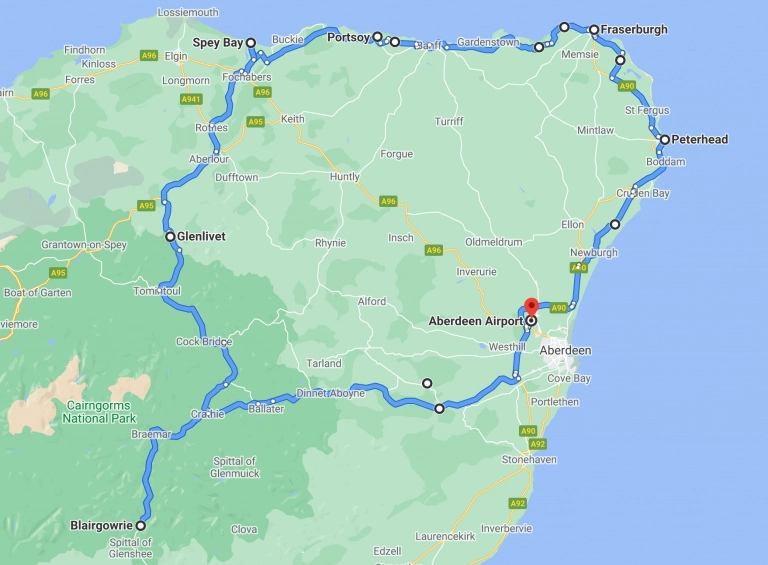 If you have just one week in Scotland, the North East 250 is the perfect 7 day self-drive tour of Scotland for lovers of coastlines, mountains and whisky.
Designed to be joined from Aberdeen airport, you can go clockwise or anti-clockwise and wend your way through the dramatic countryside and towns of Speyside, Royal Deeside, Cairngorms, the east coast, and the Moray Firth coast. This route also picks up most of the major attractions from the Deeside Tourist Route.
The most stunning bit of this route is the stretch from Tomintoul to Blairgowrie, which makes up a large part of the Snowroads scenic route. This stunning road through the eastern Cairngorms officially starts in Grantown-on-Spey, before traversing the highest public road in Britain, to Blairgowrie.
The Snowroads don't need to be driven in a hurry. There are steep hills, blind summits, tight bends, and single-track roads with passing places – take extra care if you're in a large motorhome.
This tourist route is fairly new, launched in 2017, and is not always signposted as such. As with all road trips, keep a close eye on whichever mapping and navigation tools you use to work out what's on the route and what will require a little detour.
Our itinerary takes you north from Aberdeen towards Peterhead, but you can do the route whichever way you wish. If you had a few more days, you could also pick up the Perthshire Tourist Route from the most southerly point of the NE250 and continue south for a short but spectacular drive.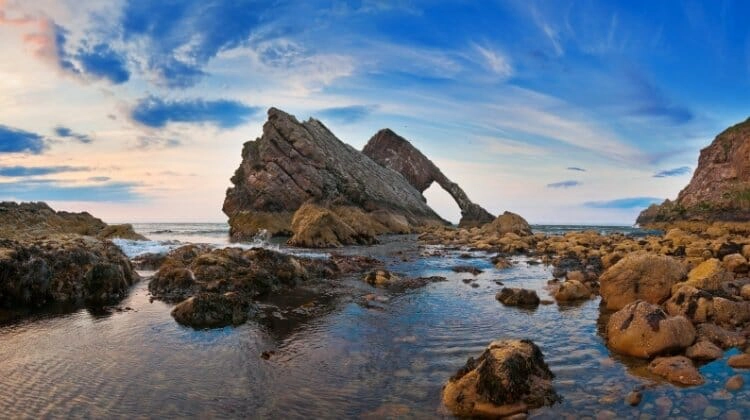 Top Ten Highlights
Admire the powerful architecture of the glittering city of Aberdeen and its rich maritime history.
Enjoy the whisky distilleries on the route, including Glenlivet, Tomintoul, Strathisla and Royal Lochnagar.
Partake in some dark tourism at the fascinating Peterhead Prison Museum, which was an operational prison until 2013.
Visit the truly brilliant Museum of Scottish Lighthouses at Fraserburgh, where you can tour Kinnaird Head Lighthouse, the very first lighthouse built on mainland Scotland in 1787.
Love the bracing air and dolphin spotting from the clifftops near Portknockie, where you can also see the iconic Bow Fiddle Rock, and sometimes the Northern Lights.
Enjoy Cullen Skink in Cullen! The thick Scottish soup made of smoked haddock, potatoes, and onions is a delicious local specialty.
Visit the stunning ruins of Elgin Cathedral. Built in 1224 and known as the 'Lantern of the North', it was one of the most spectacular medieval cathedrals in Scotland.
Drive through the magnificent Cairngorms National Park, home to deer, eagles, and atmospheric Corgarff Castle.
Enjoy some of the best outdoor activities Scotland has to offer, including white water sports, climbing, hiking, cycling, and much more.
Spend a day at the splendid royal castle of Balmoral, home to the nation's Queen and her family since 1852.
Make sure you have travel insurance you can trust when visiting England. We recommend True Traveller for their 5-star TrustPilot reviews, variety of cover options, best activities cover as standard, great prices, and excellent service.
The South West Coastal 300
Prestwick – Ballantrae – Cairngaan – Isle of Whithorn – Kirkudbright – Dumfries – Lockerbie – Moffat – Dalmellington – Prestwick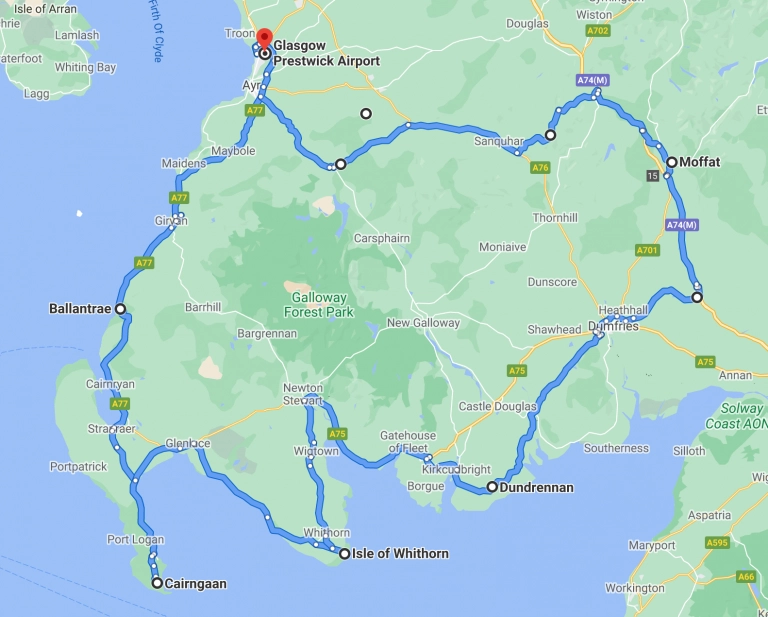 The South West Coastal 300 is a road trip for nature lovers and history buffs. With stunning coastlines, lush forests which stretch over rolling hills, and dramatic moorlands, this quiet corner of Scotland will woo you until you fall in love with its gentle charms.
This is a well-located road trip in Scotland for those driving north from the rest of the UK and can be joined at Lockerbie, within a 20 minute drive of the Scottish border.
The route is also easily accessible from Glasgow Prestwick airport, or from Glasgow International Airport if you fancy a few days in the cultural and welcoming city at the start or end of your visit to Scotland.
Our itinerary assumes you will travel south from Prestwick along the coast, but this route can be driven either way – at times it also crosses the Galloway Tourist Route which runs through the middle of Galloway Forest Park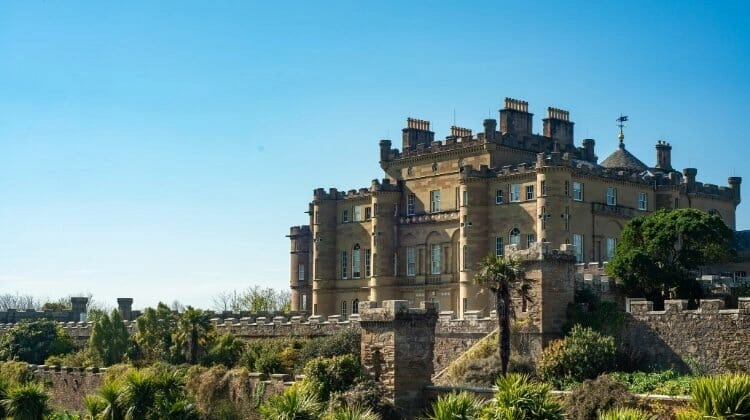 Top Ten Highlights
Dip into Galloway Forest Park, the only Dark Sky Park in Scotland, and a top spot to see the Aurora Borealis, or Northern Lights.
Our favorite beach on this road trip, the small but perfectly formed Dunure Beach has dark sand and shingle with great rock pooling and stunning views of Ailsa Craig from the ragged ruins of Dunure Castle.
Admire the dramatic clifftop Culzean Castle, designed by Robert Adam in the late 18th century and full of treasures, opulence and history.
Climb to the Robert Louis Stevenson-designed Mull of Galloway lighthouse, at the southernmost tip of Scotland on the wild Rhins of Galloway peninsula. Go at dusk for spectacular sunsets.
Visit the charming Isle of Whithorn (no longer an island) to see the ruins of the chapel built by St Ninian, who founded the first Christian church in Britain around AD390.
Spend a day in lively Kirkudbright (pronounced kir–coo–bree) and follow the Arts and Crafts Trail. Home to generations of creatives, 'the artists town' has a flourishing community of painters and craftworkers. You might also hear bagpipes here as they have lots of parades.
Head for Kirkbean to walk on the vast empty expanse of Southerness beach, with breathtaking views across Solway Firth to the Lake District. Visit Southerness Lighthouse at the western end of the beach, one of the oldest in Scotland.
Find your inner child at Moat Brae, the inspiration for JM Barrie's famous character, Peter Pan. The author lived in Dumfries from 1873 to 1878 and called the gardens 'enchanted lands'.
Stop off in Moffat for a spot of hiking on the scenic Southern Upland Way or the most northerly point on the Annandale Way, both of which pass through this pretty and historic town.
Visit the Scottish Dark Sky Observatory at Dalmellington to use their powerful telescopes to observe the night skies – stargazing without light pollution is an incredible experience.
The Argyll Coastal Route & Loch Ness
Glasgow – Tarbet – Inverary – Lochgilphead – Oban – Glencoe – Fort William – Glenfinnan – Inverness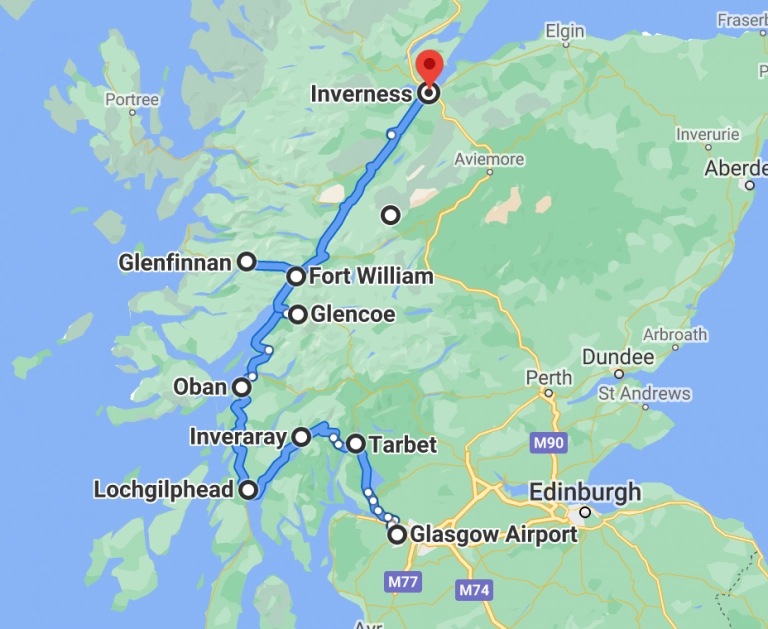 The official Argyll Coastal Route ends in Fort William, but we couldn't leave you there, with the magnificent Glenfinnan to the west and the superb A82 to the east, waiting to take you to Inverness.
From sea shores, loch-sides, and mountain tops, the ultimate west coast of Scotland road trip is for seafood gourmets, sunset lovers, and those that want to get under the skin of Scotland and feel its turbulent history in the air and glens of the incredible landscapes.
Starting in Glasgow and finishing in Inverness allows you to make the most of this linear route as you cross the Highland Boundary Fault and enjoy the gentle lowlands giving way to the dramatic and wild highlands.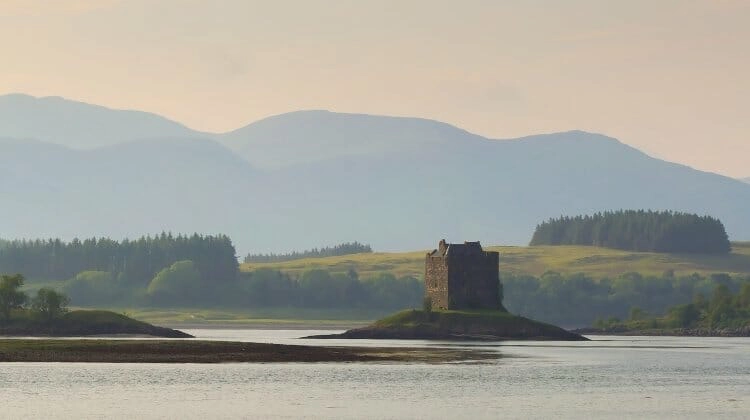 Top Fifteen Highlights
Be intrigued by the gritty, yet cultured, city of Glasgow, home to stately Victorian architecture and the sublime designs of Charles Rennie Mackintosh.
Visit the viewpoint at An Ceann Mor, in the Loch Lomond and Trossachs National Park, to get a sense of the sheer size and incredible beauty of Loch Lomond.
Enjoy the fresh seafood available everywhere along this route. Of particular note, the original Loch Fyne Oysters Ltd have been selling fresh oysters at the roadside since 1978 and you can now enjoy them in the bar or to take away from their delicatessen.
Stop off at Inveraray to visit the Inveraray Jail and Inveraray Castle, home to the Duke of Argyll and Chief of Clan Campbell.
Learn about Scotland and some of the Highland's darkest hours at Auchindrain, a living museum and Scotland's last inhabited Highland farming township before the Highland Clearances, which took place between 1750 to 1860.
Visit Kilmartin Museum to find out about the 800 cairns and monuments that dot the landscape of Kilmartin Glen and see fascinating 2,000-year-old artifacts from local archaeological digs. In the glen itself, you can enter some of the cairns, see carved gravestones and reach the top of what remains of Dunadd Hill Fort, where the first kings of Scotland were inaugurated.
Spend a fantastic day wildlife watching from Easdale Island. With whale spotting trips, excursions to the Corryvreckan Whirlpool, and a tour of a local seal colony there's lots to do, as well as keeping your eyes peeled for porpoises, dolphins, eagles, and otters along the way.
Oban Distillery is one of the smallest and oldest distilleries in Scotland and makes whisky that reflects the character of its coastal location – definitely worth a stop!
Stopping to take photographs of Castle Stalker, from the shores of Loch Linnhe. Located on a tidal island to the north of Port Appin, this iconic castle and its surroundings make for atmospheric and moody photographs.
Explore Glen Coe, the site of the Massacre of Glencoe in 1692, when members of the Campbell clan murdered members of the MacDonald clan on the orders of the English Crown. Or follow the Glen Coe Geotrail to learn more about the ancient volcanic history of this other-worldly place. Shaped by glaciers and fiery volcanic explosions millions of years ago, Glen Coe is a landscape full of natural wonders.
Spend some time in the Lochaber area, dominated by Ben Nevis and known as the outdoor capital of the UK. Activity lovers will be in their element here; you can mountain bike, hike, climb, abseil and enjoy all manner of water sports on the loch.
Be in awe of Neptune's Staircase, the longest staircase lock flight in Scotland. This flight of eight locks on the Caledonian Canal is an amazing feat of engineering that raises the canal by 19m over 1/4 mile. It takes around 90 minutes for a boat to travel the locks. This is the perfect spot to practice your 'gongoozaling' – the activity of watching boats and activities on canals for pleasure!
Visit the magical Glenfinnan Viaduct. Made famous by the Harry Potter films, this railway viaduct has carried trains on the West Highland Line since 1897. Glenfinnan is also the spot in which Bonnie Prince Charlie called for the local clansmen to assemble in 1745, proclaiming the throne of Great Britain to be denounced and rightfully returned to his family, the Stuarts.
Head east and pick up the legendary A82 road. Around the Bridge of Orchy, you'll drive a section of the infamous Skyfall road, from the Bond film of the same name, and one of the most dramatic and scenic drives in Scotland. Time for a photo opportunity!
Make a stop at the very pretty village of Fort Augustus, the gateway to Loch Ness and the most southerly tip of this famous body of water. It is also the point where the Caledonian Canal leaves Loch Ness, cutting through the small village on its way south.
United Kingdom Road Trip Ideas
Isle of Skye
Ardelve – Broadford – Portree – Trotternish – Duntulm – Dunvegan – Armadale – Mallaig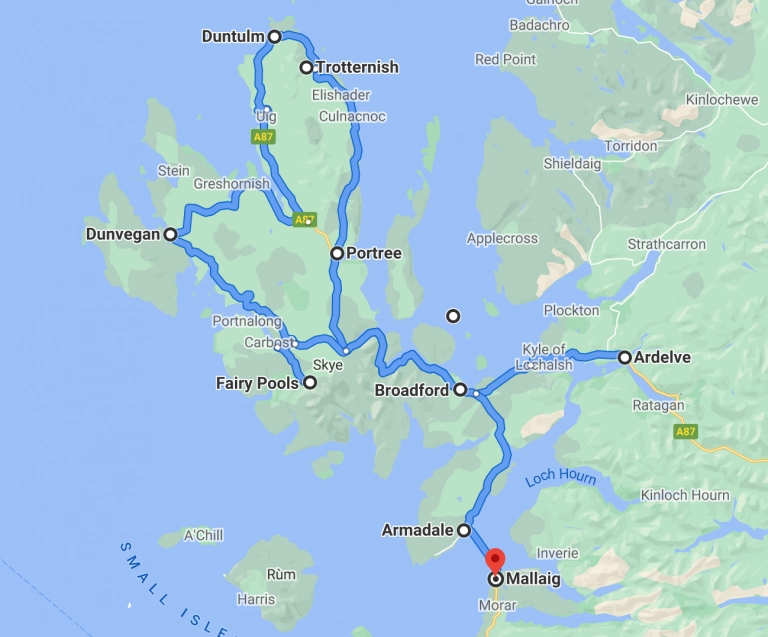 Surrounded by sparkling seas where towering cliffs defend the island from crashing waves, Skye is a real balm for the soul and one of the best places to visit in Scotland by car.
This road trip surely has to be one of the most picturesque in Scotland, with jagged mountains, heather-carpeted moors, and myths and legends aplenty. There's are things to do on Skye too, so expect to be busy on this road trip!
You can drive to Skye from Inverness in around two and a half hours. From Glasgow, it will take five to six hours. Just getting to Skye is an incredible trip in its own right, maximise your time by flying into Inverness and out of Glasgow (or vice versa).
Check out the Argyll Coastal Route and North Coast 500 itinerary for ideas of what to do on the way to the Isle of Skye.
Use the Skye Bridge to cross Loch Alsh, or go over the sea to Skye the old-fashioned way and get a CalMac ferry from Mallaig. Our itinerary assumes you will drive from Inverness over the bridge and get the ferry back to the mainland, but you can follow the route in either direction.
Skye has to be one of the busiest places in Scotland in summer, so go out of season or head out of the main tourist areas of Portree, Trotternish, and Dunvegan to find solitude and space.
RELATED POST: Why We Think These Are The Best Driving Roads in Europe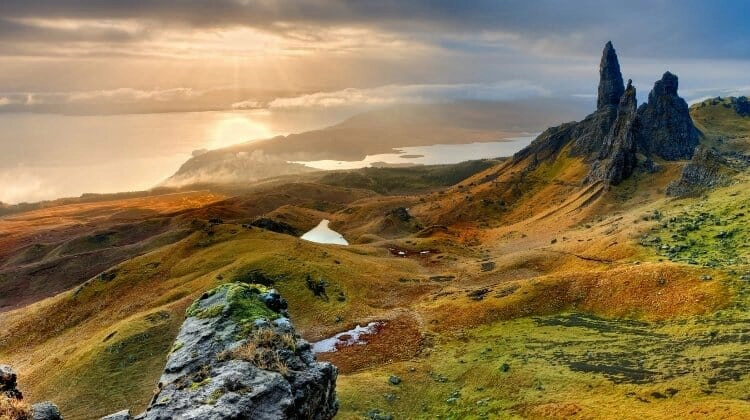 Top Ten Highlights
Not on Skye, but just a few miles before the Skye Bridge, is Eilean Donan Castle, one of Scotland's most iconic images and one of the most photographed castles in the country. Situated on an island at the point where the three great sea lochs of Alsh, Duish, and Long meet, the striking castle is surrounded by magnificent scenery and is full of history.
The 2.3 mile hike up to the Old Man of Storr on the Trotternish peninsula is one of the must-dos on Syke. The 'Old Man' is a large spike of rock that stands high and can be seen for miles around. Created by an ancient landslide, the Storr is one of the most photographed places in Scotland.
Much less known, but no lesser for it, is Rubha nam Brathairean (Brothers' Point), a dramatic headland that marks the easternmost point of Trotternish. Not far from here, you'll also find Kilt Rock and Mealt Falls – epic views which you can get to within a few minutes of walking from the car park.
Visit The Quiraing for a great 4.5 mile hike with spectacular landscapes and far-reaching views, or get a feel for this strangely named area from the car park.
Visit Skye's most famous historic building, Dunvegan Castle, the seat of the chief of Clan MacLeod. In a beautiful position at the edge of Loch Dunvegan, the castle gardens are a hidden oasis of beautiful plants.
Catch an amazing sunset from Neist Point, where there is also a lighthouse of the same name. The most westerly point on Skye, this beautiful spot also affords fantastic views of the Outer Hebrides.
Stop off at the world-famous Talisker Distillery for a tour that finishes with a wee dram of their peaty single malt.
Try a spot of wild swimming (we would advise a wet suit!) in the bracing Fairy Pools, beautiful crystal clear pools, and waterfalls at the foot of the Cuillin mountains, on the river Brittle. Take the 1.5 mile walk from the car park to find this series of magical pools, formed 50-70 million years ago!
Take one of the most scenic Scotland roads from Broadford to the village of Elgol, for incredible views of the dark and brooding Cuillin mountains.
Get out on the water in a canoe or take a boat trip to get acquainted with local wildlife. You're likely to see seals. dolphins, porpoise and lots of different species of sea birds, as well as find hidden coves, cliff waterfalls, and sea caves.
Borders Historic Route
Edinburgh – Dalkeith – Galashiels – Selkirk – Hawick – Langholm – Gretna Green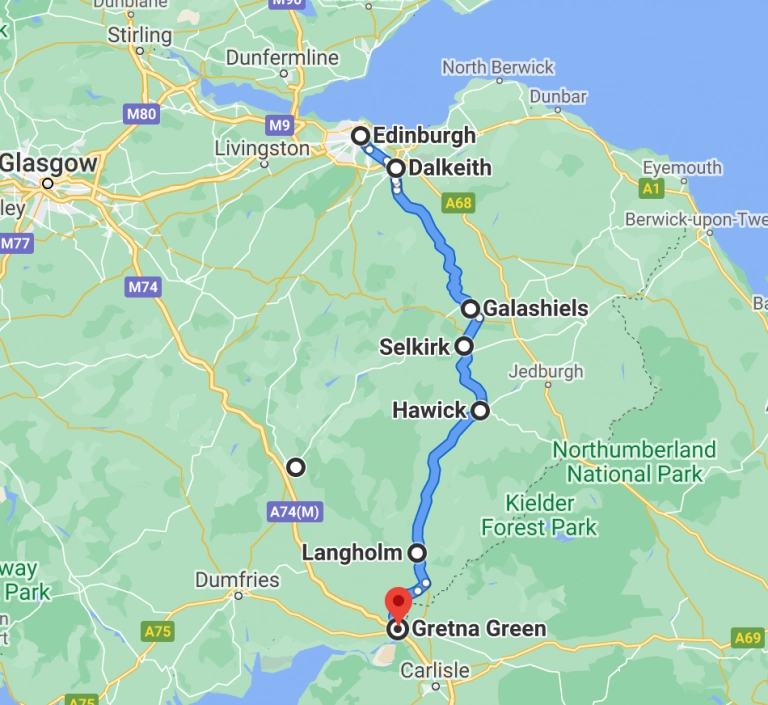 This Scotland road trip from Edinburgh will take you through the lush and hilly countryside of the lowland Scottish Borders, through charming villages to famous Gretna Green, and the border with England.
Learn about Scottish industrial heritage and the vibrant arts and crafts scene, still alive and kicking in this mostly rural region.
This is a perfect road trip if you plan on spending time in historic Edinburgh and want to see a bit of Scotland as part of your trip. If it's a one-way drive, Newcastle Airport is an hour and a half away by car from Gretna Green, making this an ideal linear route.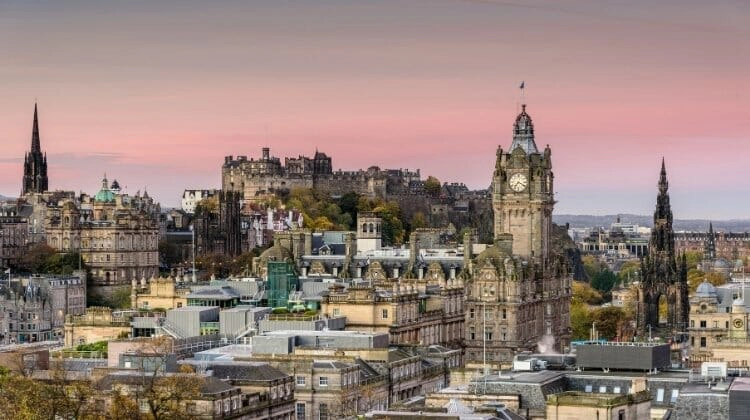 Top Ten Highlights
Visit historic Edinburgh, the capital city of Scotland. With wonderful medieval and neoclassical architecture and a great vibe, this is a city to spend at least a day in.
Enjoy a locally brewed craft beer at Stewart Brewing, an independent craft brewery on the outskirts of Edinburgh. You might even see the team hard at work brewing while you enjoy your beer!
Stop at Dalkeith Country Park for gentle walking and cycling the trails through the 1,000-acre estate and working farm. You might spot Roe deer, otters, buzzards, foxes, badgers, hares, and rabbits here.
Visit Lady Victoria Colliery, one of the best and last surviving Victorian collieries in Europe, and now the National Mining Museum of Scotland. Explore the machinery used to mine and take coal to the surface, imagine what a miner's life was like and experience the sights and sounds of a working pit on a fantastic tour of the pit head.
Go back in time to Robert Smail's Printing Works in the pretty village of Innerleithen. Try your hand at typesetting, and discover the origin of everyday phrases such as 'mind your Ps and Qs' as you discover how printing was carried out by highly skilled printers, with individual letters of type set by hand, presses operated with foot treadles and power generated by a waterwheel.
If you love gardens, then Harmony Garden in Melrose is a horticultural delight and a tranquil escape from life on the road. With colourful borders, beautifully manicured lawns and a thriving kitchen garden, Harmony is perfectly in tune with nature. An added bonus are the superb views of Melrose Abbey and the nearby Eildon Hills.
Admire the creativity and skill of the glassblowers at work in Lindean Mill Glass. This innovative glass studio was established in 1978 by David Kaplan and Annica Sandström, whose work has been exhibited at the National Museum Scotland in Edinburgh and the V&A in London.
Take a mill tour to see Scottish tartan being woven from scratch at Lochcarron of Scotland in Selkirk, one of the biggest names in the Scottish Borders' textile industry, who have been weaving high quality tartan for over 100 years. The Dress Act of 1746 attempted to bring the warrior clans under government control by banning the tartan along with other aspects of Gaelic culture.
Continue your textiles education at the Borders Textile Towerhouse and discover more about the area's role as a producer of sought-after fabrics. Designers such as Chanel, Dior and Vivienne Westwood have used fabric produced in the Borders in their designs for many years.
Discover exciting and tumultuous borderlands history at Gilnockie Tower, a fine example of a defensive peel tower which dates from the 16th century. Located on the River Esk, its home to the Clan Armstrong Centre, the ancestral home of the Armstrong Clan and is packed with fascinating clan heritage.
Heart 200
Stirling – Trossachs Pier – Killin – Blair Athol – Pitlochry – Perth – Kinross – Crief – Stirling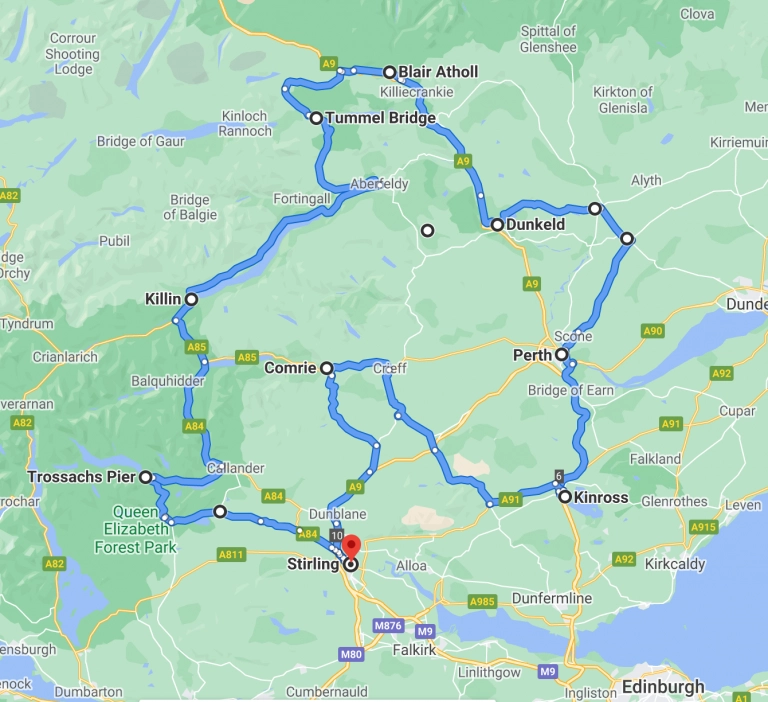 The new kid on the Scottish road trip map is Heart 200, a two hundred mile plus romp around the centre of Scotland. This route offers the best of all the other routes combined as you travel through Scotland's iconic, ever changing landscapes.
Chuck in the historic cities of Perth and Stirling, and you've got a road trip perfect for first time visitors to Scotland, or those that want to see the best of this glorious country.
Divided into six sections, this road trip covers the forests of the west, the Highlands to the north, the rivers of the east and the historic south, along with Stirling and Perth.
Along the route are places of historical interest, world-class gold courses, ancient castles, loch and river based water sports for adrenalin seekers and a few whisky distilleries, of course!
You'll explore the remarkable history and culture of the region, from antiquity to the modern day, and learn more than a few surprising insights along the way.
Over millennia, Scotland has made its mark on history thanks to famous figures ranging from the ancient Celts and the Roman Empire to King Robert the Bruce and Mary Queen of Scots, via Bonnie Prince Charlie, Rob Roy MacGregor, Robert Burns, Sir Walter Scott and Queen Victoria, all of whom have connections to the heart of Scotland.
For a longer trip pick up the Fife Coastal Route, which follows the shore of the Firth of Forth from Kincardine to Dundee, where you can head back inland to Perth. This route takes in pretty fishing villages, historic golf courses, castles and distilleries along 77 miles of meandering coast road – well worth adding on to your itinerary.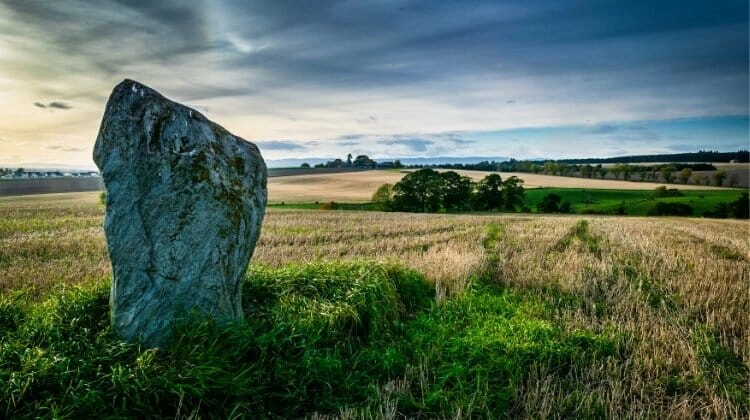 Top Ten Highlights
Visit the imposing Doune Castle, a popular film set. Used as a set for Monty Python and the Holy Grail, as Castle Leoch in Outlander, and as Winterfell in Game of Thrones, this medieval stronghold could tell a few stories!
Find out everything you ever wanted to know about sheep and wool at The Scottish Wool Centre in Aberfoyle, with live sheep shows and hands-on demonstrations of spinning and working sheepdogs.
Stop at Killin, a small village at the southern point of Loch Tay. Famous for the Falls of Dochart, a spectacular series of rapids where the River Dochart rushes towards the Loch at the confluence of the rivers Dochart and Lochay, the best view is from the Bridge of Dochart in the village. This is also a great place to base yourself for local hiking.
Take in the iconic Queen's View along Loch Tummel, which is named after Queen Victoria, who visited the region in 1866. The vantage point at the Forestry Commission's Visitor Centre offers a breathtaking vista of Schielhallion, one of Scotland's most famous mountains.
Visit in August for the Kinloch Rannoch Highland Games, which always take place on the third Saturday of the month. Hosted by the local community, you can watch caber tossing, hill racing, and lots more traditional Highland games events, as well as listen to the bagpipes being played.
Aberfeldy makes a good base for exploring local attractions including the Tay Bridge, Black Watch Monument, 16th century Castle Menzies, Cluny House Gardens, Lundin Farm Stone Circle, and Dewar's Aberfeldy Distillery.
A mecca for thrill-seekers, the white water rapids on the River Tay at Grandtully offer opportunities for kayaking, rafting, and canyoning, with lots of local companies providing access and equipment, whatever your level of skill or knowledge.
Historians should stop at the Gorge of Killiecrankie, the site of one of the bloodiest battles during the Jacobite Risings in 1689. Take a walk up to the viewpoint at Soldier's Leap, where a Redcoat soldier is said to have jumped 18 feet across the ravine to escape the pursuing Jacobites. Salmon can often be seen jumping around the falls here and keep an eye out for red squirrels and woodpeckers which are quite prolific during fall, when the colors are spectacular.
Admire the listed historic house of Scone Palace, situated near the village of Scone and the city of Perth. Scone Palace was the crowning place of Scottish kings where Macbeth, Robert the Bruce and Charles II were once crowned. Nowadays, this red sandstone palace is among the very finest surviving examples of the late Georgian Gothic style in the United Kingdom.
Visit the wildlife at Blair Drummond Safari Park, near Stirling. Widely acknowledged to be one of the best safari parks in the UK for breeding and conservation (and the only one in Scotland), the park is set across 120 acres, and is home to 350 animals including lions and southern white rhinos.
Kintyre 66
Kennacraig – Tayinloan – Isle of Gigha – Machrihanish – Mull of Kintyre Lighthouse – Campbeltown – Carradale – Kennacraig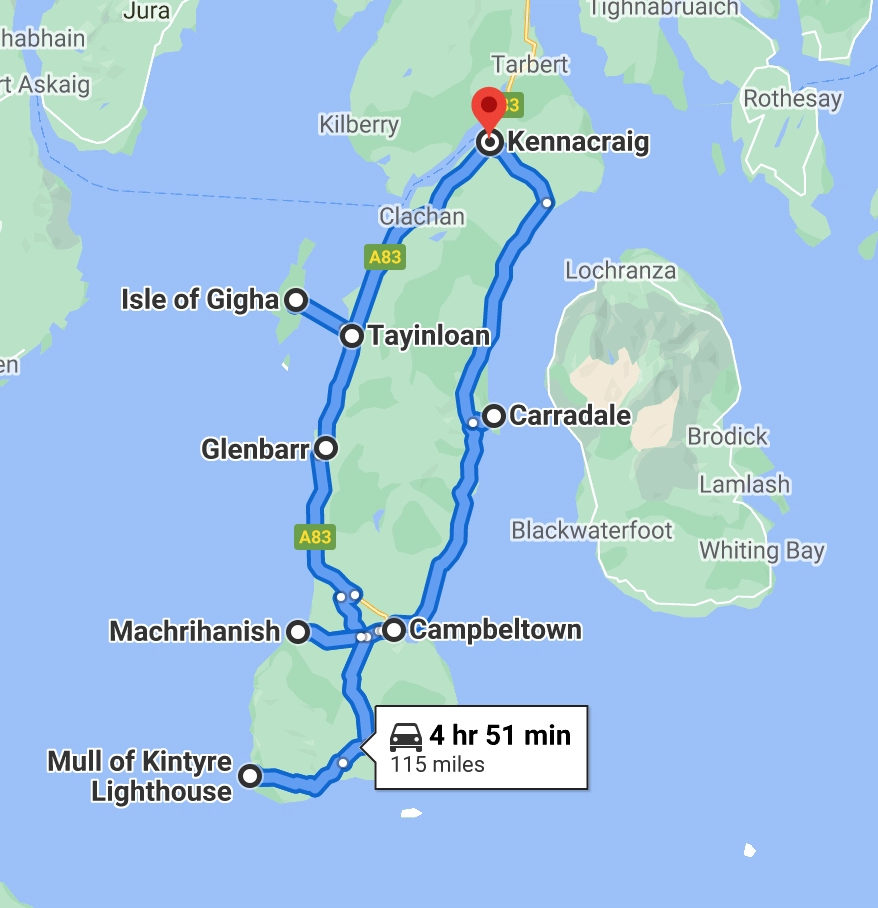 Another newcomer to the Scottish road trip scene is Kintyre 66, or K66, as it's becoming known. If you've ever watched Paul McCartney and Wing's video of the song 'Mull of Kintyre' and been inspired by the landscape, then this trip is for you.
An easy hop from Glasgow Airport, the K66 is perfect for a long weekend. Start in Tarbert, a pretty village at the top of Kintyre. Just a narrow strip of land a mile wide connects the peninsula to the mainland, making Kintyre Scotland's only mainland island.
The landscape and beaches are pristine and unspoiled, the seas huge, the night sky clear and the wildlife abundant – this really is a trip for outdoor lovers. Kayaking in the turquoise waters is a popular past-time and hiking some of the incredible trails, with their spectacular views, is a must.
Local produce and food are also a highlight of this trip, with seafood at the top of the list. You'll also find whisky and gin distilleries and several breweries in Kintyre, making sure that local food and drink sustain all your activity!
The official K66 is, unsurprisingly 66 miles long, but we've added on the far south of Kintyre to include the iconic Mull of Kintyre lighthouse.
The single-track route there meanders over the rolling moors before helter-skeltering down a steep cliff to the lighthouse – don't be put off, it's an amazing drive with stupendous views right across to Ireland.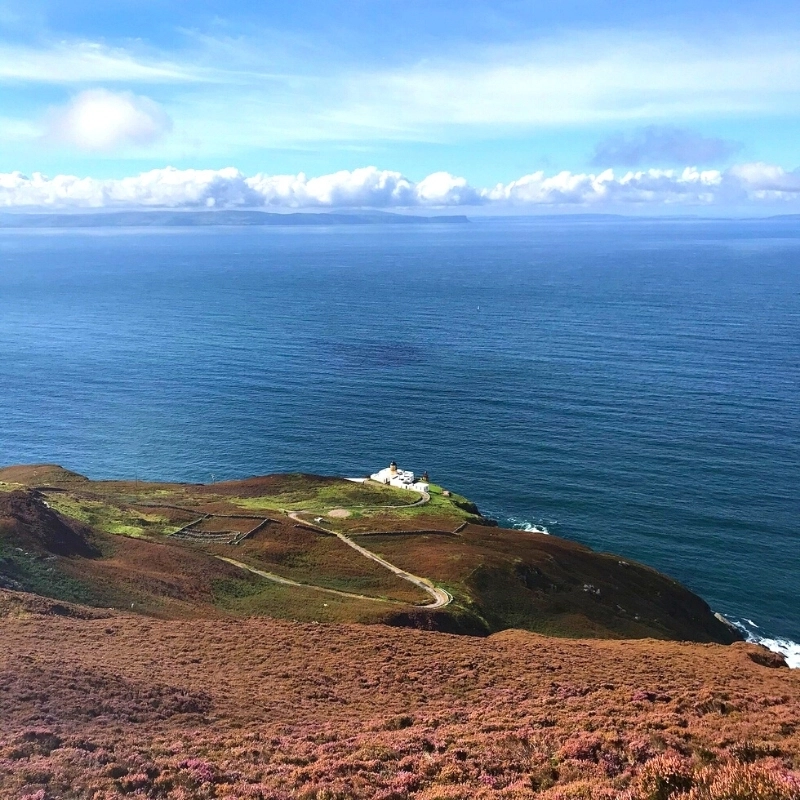 Top Ten Highlights
A visit to the Beinn an Turc Distillery near Torrisdale to sample their Kintyre gin is a must! This sustainable distillery, which uses its own power generated by a hydroelectric plant, creates a delicious gin using botanicals and water from their own land.
Head to Saddell Bay to see GRIP, a cast iron sculpture created by British artist Antony Gormley to mark the Landmark Trust's 50th anniversary. The human form stares out over the Kilbrannan Sound to Arran from the rocks below Saddell Castle. Originally, the sculpture was placed for just a year, but thanks to a generous donation, it will remain indefinitely.
Visiting the glorious beaches of the peninsula is a real treat. Unspoiled and often with no one else around, some of the best beaches in Scotland can be found here. Our favorites are Carradale Bay and close-by Torrisdale Bay.
At the very north of Kintyre is the colorful and lively harbor town of Tarbert. With plenty to do, including Tarbert Castle, which sits high above the town, this is a great place to spend a day
The enchanting Isle of Gigha can be reached in just 20 minutes on a ferry from Tayinloan and is a fantastic day trip destination. Kissed by the gulf stream, the beautiful Achamore Gardens feel exotic, whilst in contrast, a hike up Creag Bhan, the highest point on the island, showcases the best of the raw and wild landscape.
Westport boasts a sandy beach, perfect for surfing. There is a surf school in the village where you can hire equipment and take lessons if this is your first time on a board. You'll need a wet suit, whatever the weather – the water in these parts is pretty chilly!
Just down the coast is Machrihanish, a village most famous for its iconic beach-side golf course.
An absolute must-do is a visit to the Mull of Kintyre Lighthouse, on the very far southwest tip of the peninsula. The views are pretty special and the drive there is dramatic, but not for the faint-hearted.
The ruins of Skipness Castle lie at the far north of the peninsula. The castle was originally built in the early 1200s by the MacSweens. It later fell to Clan MacDonald and has been rebuilt several times over the centuries.
The seafood caught, prepared, and served on Kintyre is out of this world. Fresh from the boat in the morning, you'll find scallops, mussels, lobsters, crabs, langoustines, and clams on every menu. Another local taste is Gigha halibut, which you can enjoy in the West Loch Hotel, on the A83 out of Tarbert.
Scotland Road Trip Resources
Here are the websites and services we personally use and recommend for traveling in Scotland.
Information About Driving in Scotland
Whether you're road tripping Scotland in a car, camper, or motorbike, make sure you've got all your documents handy and your spare tire is in good condition.
If your Scotland road trip itinerary is longer than a few weeks and you're planning on using your own vehicle, you may want to consider a service before you go, and breakdown cover is probably a good idea.
Remember to drive on the left during your UK trip!
Drivers from non-EU countries may require an International Driving Permit. The general rule is that if your license is not in English, then an IDP will be required. Check with your hire company or embassy if you're in doubt.
If you're not a British citizen, you should carry your passport or ID card at all times as you road trip around Scotland.
You must have at least 3rd party insurance for your vehicle. Update August 2021 – you no longer require a green card to prove you have vehicle insurance cover when if your vehicle is registered outside the UK.
Your car must be considered roadworthy in the country in which it is registered.
Your headlights must be adapted for driving on the right if you're vehicle is registered outside the UK.
Unlike France, the UK does not have laws that require you to carry certain equipment in your car, but that doesn't mean that you shouldn't. Being prepared in the event of an accident or a breakdown is invaluable. Ideally, you should carry a reflective jacket, a warning triangle, a first-aid kit, and a fire extinguisher.
If you're hiring a car, book well in advance and use a care hire booker like Rentalcars.com who will provide the best deals from all the top car hire companies. How? Because they have such a large market share, they've got way more buying power than individuals and can negotiate much harder on price.
Understand insurance options, mileage limits, and fuel policies before booking.
Check the car for damage on collection and make sure anything you spot is noted, and the same again when you drop it off.
RELATED POST: Driving in Europe – Everything You Need to Know
Are you looking for more road trip inspiration? Check out these top posts…
Armenia, a small yet captivating country nestled in the Caucasus offers a wealth of picturesque landscapes, ancient monasteries, and a deep-rooted cultural heritage. An itinerary through Armenia promises to deliver unforgettable experiences, making the most of the country's fascinating landmarks and vibrant cities. We spent a month exploring this tiny country that packs a real punch in terms of adventure and raw nature. In this Armenia travel guide, we'll share the perfect Armenia itinerary, insider tips, must-see destinations, and practical advice to help you plan your own epic adventure.
Love it? Pin it!