Hi there, thanks for visiting!
We're Phil and Izzy. We've been on the road in our motorhome for the last two years and are passionate about helping people create unforgettable memories.
Whether you're a motorhomer, road tripper or you're looking for a bit of adventure, we have personalised destination advice, road trip guides, travel tips and motorhome specific information to help you make the most out of every trip. Read more…
If you love our site and find our information and tips useful, please consider buying us a cuppa to support us, it really is appreciated.
What are you looking for?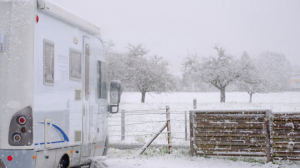 Living in a Motorhome
Travelling and living in a motorhome in winter can be really special – think a cosy van, snuggly blanket and hot chocolate from your whistling kettle, along with clear crisp winter sun days and blissfully quiet campsites. To really enjoy winter in a motorhome, your van and gear need to be properly prepared. We'll show you how!
Read More