Spain is a country of contrasts, from the lush green landscape of the northern provinces and their wild Atlantic coast to the desert of Almeria and the gentle coves of the Mediterranean. With a balmy year-round climate, Spain is a popular destination in summer and winter alike.
Find out everything you need to know before you visit Spain, including trip highlights, travel tips, road trip guides and city itineraries, with our Spain visitor's guide.
Intro to Spain
Spain is a cosmopolitan and forward-thinking country, and full of modern and ancient treasures. The Moorish architecture of Andalucia is breathtaking and some of the best preserved in the world.
The Gaudi legacy in Barcelona is fantastical and a perfect reflection of one of Europe's most lively and vibrant cities. And in Madrid, the Prado is a stunning testimony to Spanish art and culture. Alongside these treasures, you'll also find world-class gastronomy and wine to rival France, without the snobbery or price tag!
Much of Spain lives on the coast, with huge swathes of inland Spain un-populated. It is the second most mountainous country in Europe, with the Spanish Pyrenees, Picos de Europe in 'Green Spain', and the Sierre Nevada offering the biggest mountains, with numerous smaller ranges around the country. The opportunities for activities like hiking, cycling, and water sports are immense.
Spain has a well-deserved reputation as a country larger than life and Spain's people live it to the max. Every town and village has its own official fiesta (party) when the wine flows and the tapas are plentiful.
Two of the most famous fiestas in Spain involve being chased by a bull (San Fermin), or throwing tomatoes at strangers (La Tomatina) – but this is Spain, in all its loud and colorful glory.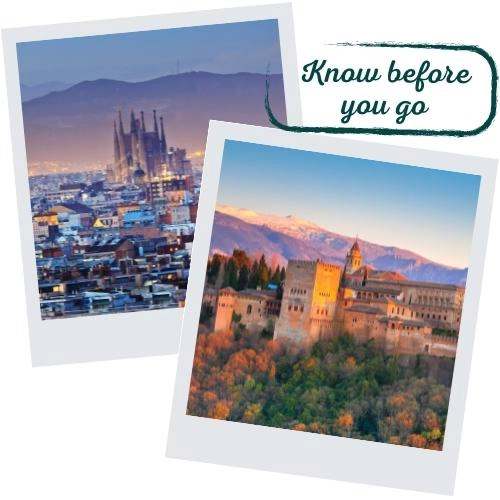 Best Time to Visit Spain
Spain is warmer than the UK all year round, but inland and in the mountains in winter nights can be chilly and in the north, you may well see snow. In the summer it can be blisteringly hot, especially in the cities.
Spring and autumn are wonderful times to visit – from April until June you'll enjoy near perfect temperatures, with only a light top needed in the evenings, but remember that Semana Santa (Easter week) will be incredibly busy with costs rising accordingly. September and October offer warm sunshine, with the earth and sea still warm from the heat of August.
Winter in the Andalucian and east coast cities is generally mild (other than in mountainous Granada) and in Barcelona and Seville you'll find fantastic Christmas markets.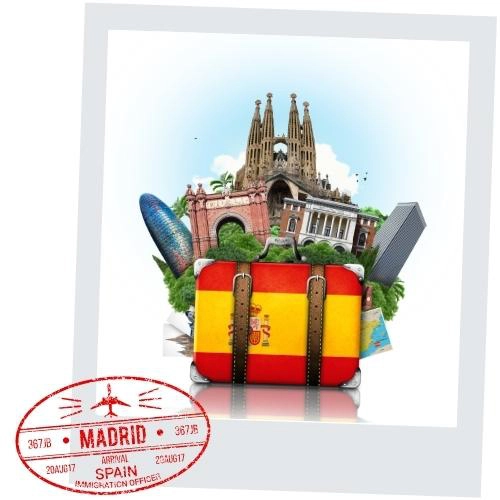 Spain Packing Tips
Pack layers for shoulder season trips and loose cotton or linen for summer.
Include one longer dress or linen trousers/pants or longer shorts, and something to cover your shoulders, if you want to enter religious buildings.
Sun protection, sunglasses and a cap or hat are a must in summer.
Winter visitors should bring a waterproof or showerproof jacket and a few warm layers for colder days, especially if visiting mountainous areas or northern Spain.
Bring at least one warm top for summer visits, and a couple for autumn and winter visits, plus thermals if you're planning to visit the mountains.
Make sure to bring a waterproof jacket, or showerproof top, even in summer.
If you're visiting Spain's historic towns and cities, make sure to pack trainers or comfy walking shoes. Cobbles can be tough on the feet!
Technical gear that washes easily and dries quickly is a great option if you're road tripping or moving about a lot.
Don't forget an easy-to-manage day bag, such as a rucksack or day sack.
Spain Highlights
Spain Road Trips
Spain City Itineraries
Spain Motorhome Resources
Things to Know About Visiting Spain
Many businesses close for siesta between 12.30 or 1pm until 5pm and then open again until 8pm. This can vary a little from town to town but fundamentally the afternoon is for relaxing and spending time together as a family.
Spain celebrates fourteen public holidays a year, many religious in origin, and a whopping 32 regional holidays. You can check out the dates here, and plan in advance to ensure the attractions you want to visit will be open.
Sundays are truly sacred days in Spain. Many people will go to church but it is the extended family lunch, hosted by the matriarch, which is the most important part of the day. Very few, if any, shops are open on Sundays and many museums will also be closed.
Spain is not a pet-loving country like the US or UK and you'll see more strays than you're used to, and a bit of dog poo on the pavements too, although in recent years this has improved.
Spanish people talk LOUDLY and over each other constantly. It is not a fight breaking out or a lover's tiff, it's just everyday conversation. How four people together all talking at the same time can ever take in what the other is saying is a mystery, but they seem to manage it!
Spain is not as 'finished' as you might be used to. There are lots of failed projects around and many, many half-built houses and buildings. This is because of the financial crash in 2008 and the subsequent bursting of Spain's property bubble.
Whether you like it or not, bullfighting is a huge part of Spanish life and culture. Bullfighting is seen as heroic, a test of wills involving courage, intelligence, and elegance; matadors are national heroes. The bullfighting season runs from March to October with fights usually taking place on Sunday afternoons.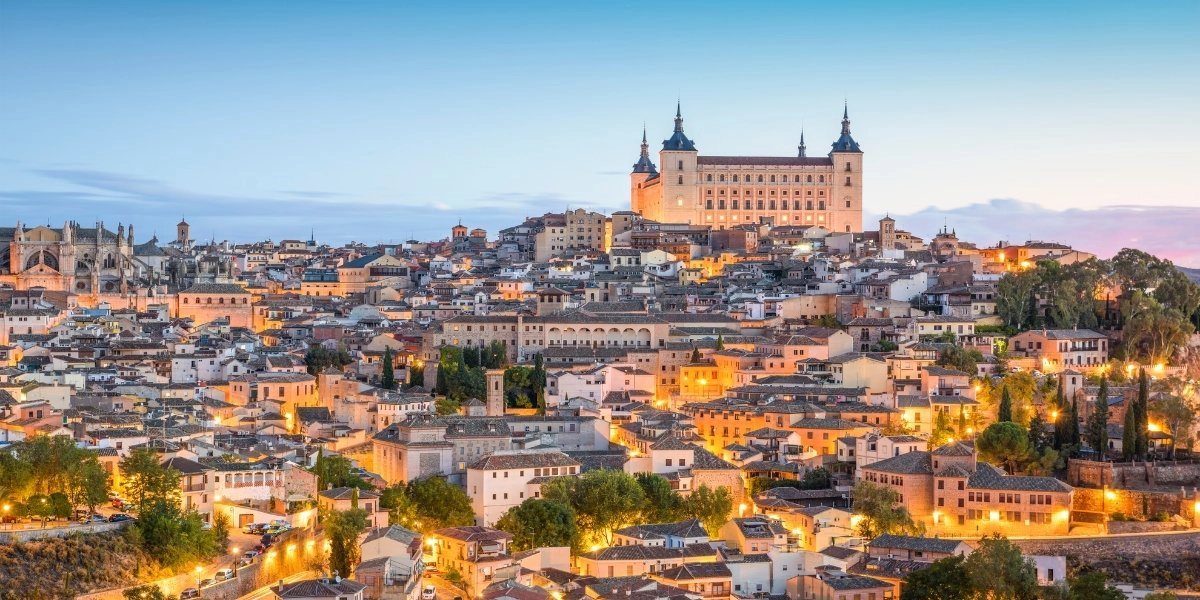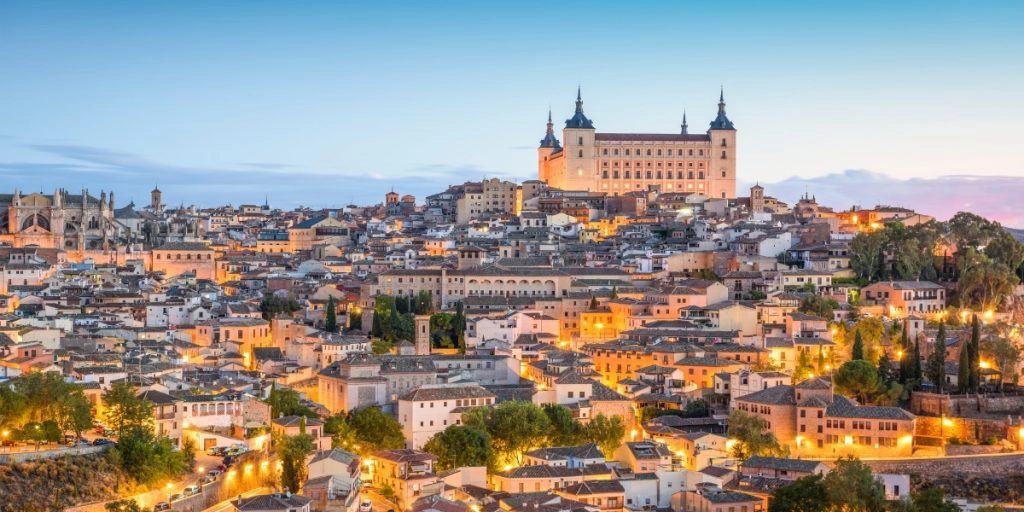 Spain Travel Resources
Getting There
Fly into one of 29 international airports, with Madrid and Barcelona serving the most routes.
Driving
Drive from Europe or the UK into Spain or hire a car in the country.
Need a Visa?
Some countries citizens need a visa to visit Spain – find out if you need one here.
Travel Insurance
Cover medical expenses, delays and lost luggage.
Places to Stay
Find hotels, guesthouses, AirBnBs, hostels and homestays.
Tours & Activities
Find city guides, ancient site tours, day trips, sailing and extreme sports.
Essential Travel Products for Your Spain Trip
New On the Blog…