This post may contain affiliate links, from which we earn an income.
Motorhome & Campervan Holidays in France
France is so easy to get to in a motorhome or campervan. Just hop across the channel and you're in another world. Find all the best destinations for motorhome and campervan holidays in France here.
For many people, France is the best place to road trip and holiday in a motorhome or camper van in Europe – us included, we have been living and travelling in our campervan in France and Europe for the past two years.
In this guide to motorhome destinations in France, you'll find information about all the best places to travel to in a motorhome or campervan in France plus tips about where to stay in France in your home on wheels!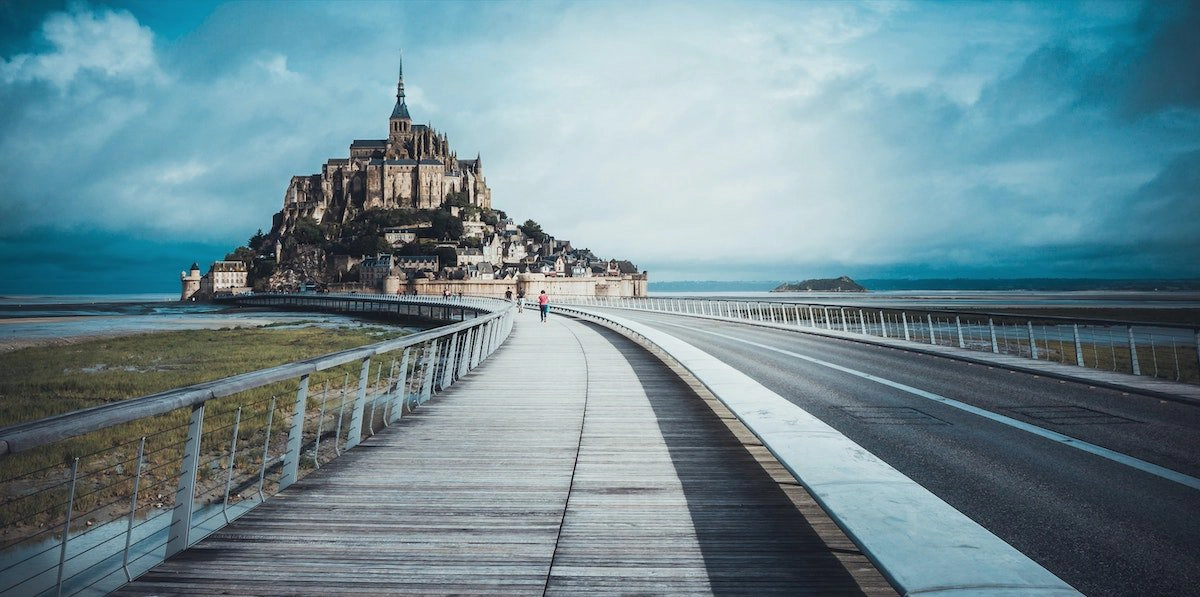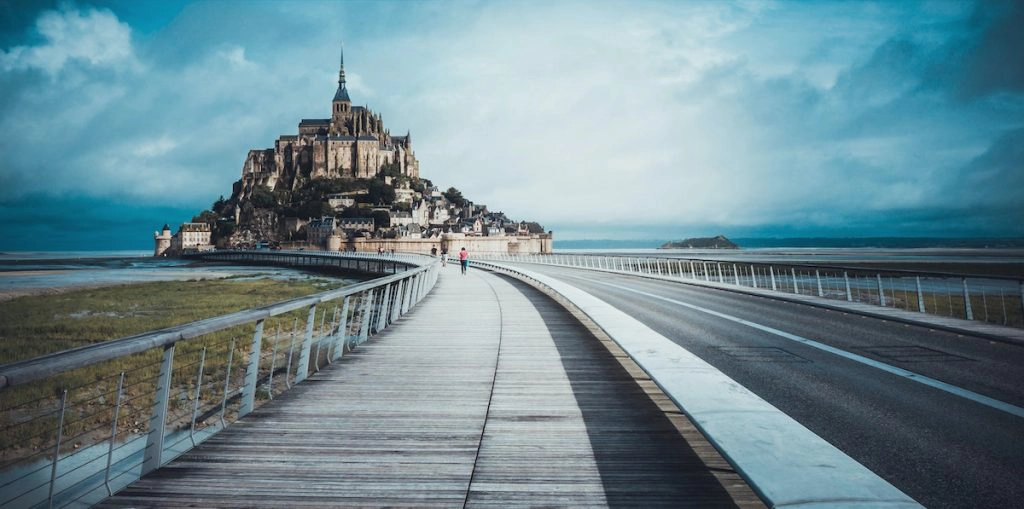 The proximity to the UK, ease of getting your vehicle there and the welcome motorhomers receive makes it a favourite place for motorhome travel. Read on for a quick spin around the diverse regions to find the best French holiday destinations, off the beaten track destinations and some great ideas for fantastic motorhome holidays in France.
If you're looking for France campervan hire or motorhome rental, check out Auto Europe, who have over 50 pick up locations and a large fleet, for special offers and deals. For help planning a route, read this comprehensive guide to motorhome road trip planning.
Where to Stay in France
Campsites in France for Motorhomes
There are thousands of France motorhome and campervan sites. From five star luxury on the Cote 'd Azur to caravan and motorhome club sites in France and rustic and rural in the Auvergne, you'll find a site and pitch that's perfect for you as you're touring France. Book the best French campsites with Eurocampings for the best deals on over 2,700 campsites in France.
Use your ACSI CampingCard (which gives you 60% discount at European campsites out of season) for out of season per night deals and discounts and to help you search for the best motorhome sites in France, wherever you're heading. Check out our pick of the best motorhome campsites in France and Europe.
French Aires
Whoever first suggested the network of aires scattered across France deserves a medal. All around this welcoming country, you'll find motorhome aires where you can stay overnight for just a few euros (sometimes free) and be provided with fresh water, waste services and sometimes electricity.
Often run by the local municipality and occasionally commercially, aires draw people to towns and villages that would otherwise see no tourist traffic. Use the All the Aires book or Park4Night to find these great alternatives to campsites for motorhomes in France.
Is this your first time visiting France? Get all the information you need in our France Travel Guide, including what to pack, the best time of year to go, getting there and practical tips to help you have the best trip!
Wild Camping for Motorhomes in France
There are lot of opportunities to wild camp in France. Follow the rules, pick your spot and be respectful and you'll be able to road trip the whole country without needing to stay on a site. Use Park4Night or one of the other wild camping apps to find the best spots.
France Passion
A scheme unique to France, you pay £30 for the book, maps and online access and can stay at any one of over 2,000 vineyards and farms, some even have a swimming pool! France Passion will get you off the beaten track and meeting local people, many of whom have hands on roles in producing the food and drink of the regions and pride themselves on their welcome and customer service.
Are you planning a motorhome trip to France?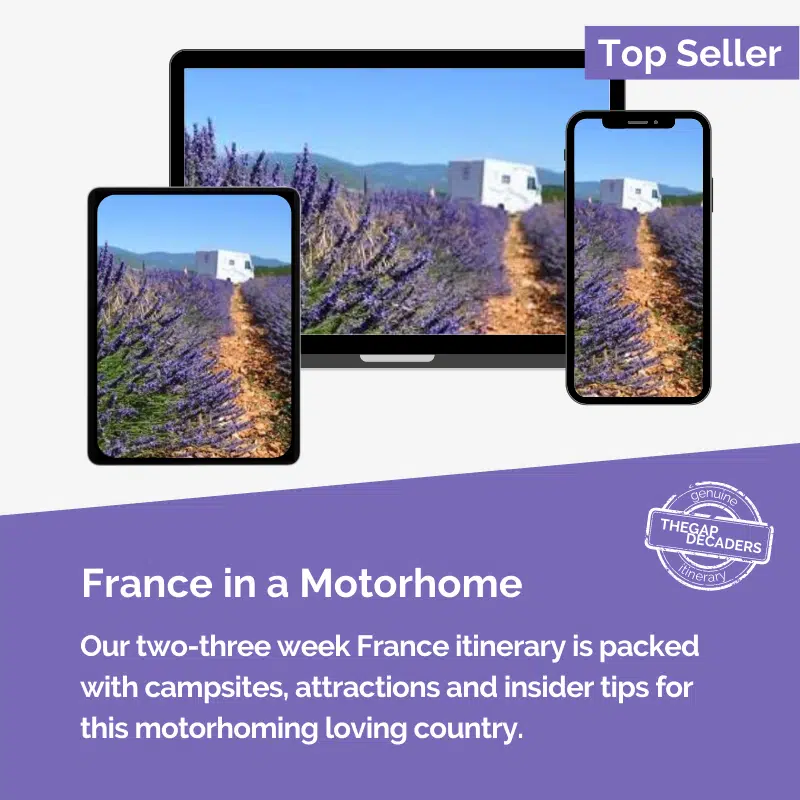 Grab our 14-21 day France itinerary, packed with campsites, aires, attractions and insider tips.
Get up every morning knowing your day is planned with driving routes, overnight stops and attractions marked out for you on your interactive map.
Make the most of your holiday and let us do the planning for you!
---
Map of French Regions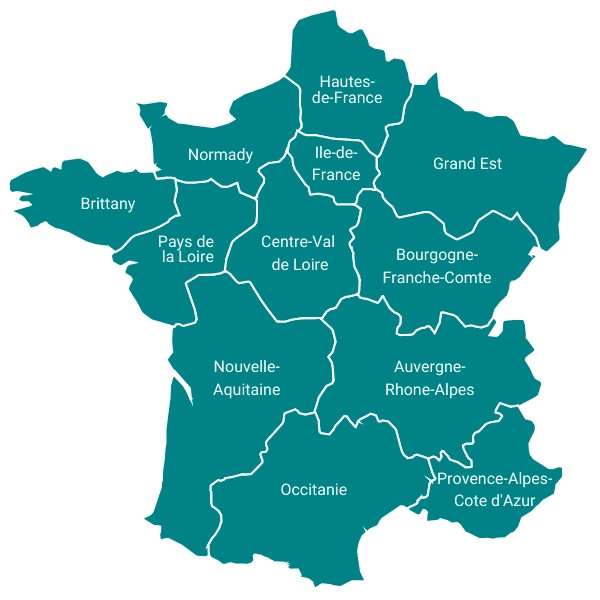 Auvergne-Rhone-Alpes
A huge region, the Auvergne-Rhone-Alpes stretches from the high hills and plateau of the Massif Central in the west to the highest point of the French Alps in the east. Luckily driving a motorhome in France is easy, as Lyon from Calais will take you around seven to eight hours on the autoroute.
Get to Dijon and set your sat nav to non-toll roads for the best scenery as you head into the region. Lyon, considered one of the most beautiful cities in France, is also a great staring point for this region if you're looking for motorhome hire or campervan rental as Motorhome Republic have lots of collection options from the airport.
Divided by the mighty Rhone river and with the centre of the region being the vibrant city of Lyon, there is great diversity here and four distinct climates. The further south you head, the more you will notice the flora, fauna and climate taking on a Mediterranean feel.
Come here if you like…
Mountains – there are literally hundreds in this region, across the mighty Alps and Mont Blanc to the medium-high extinct volcanoes of the Massif Central.
Being active – from extreme sports like paragliding to white water adventures and the more day to day skiing and hiking, this region is a paradise for anyone who appreciates activity in the great outdoors.
Gastronomic delights – Lyon is not only one of the most beautiful cities in France, it is the food city of this gastronomic country. Regional dishes are influenced by the mountains and tends to be hearty and wholesome. Melted cheese is a favourite from fondue to the divine raclette, just one of many dishes made with melted cheese and potatoes!
Water sports – with Lake Geneva, Lake Annecy and Lac de Bourget in the region, summer sailing, wind-surfing, paddle boarding and kayaking are on the doorstep.
Bourgogne-France-Comte
This beautiful region of France is famous for its rich history and wine. Sometimes abbreviated to BFC, this area is around a five to six hour drive from Calais on the A26, making it a great area for a one week motorhome itinerary.
Part of this area is the old historic region of Burgundy, once the heartland of France and known for its' wines, such as Beaujolais and Chablis. With a mix of low agricultural lands and the fabulous mountains of the Jura, BFC is sparsely populated and sees relatively little tourist footfall.
Come here if you like…
Great food and drink – the home of the unique Vin Jaune, Boeuf Bourguignon, Coq au Vin, Comte cheese and Dijon mustard is a powerhouse of French cooking, particularly where the use of wine is required!
Atmospheric historic cities – Beaune and Dijon are just two gorgeous cities in this region, packed with history, Gothic and medieval architecture with a typical French ambience.
Breathtaking castles – there are well over thirty well-preserved chateaux in this region, find the best of them here.
Off-the-beaten-track places – you won't find hordes of tourists here, especially if you head to the Jura mountains for fantastic hiking and their magnificent cirques.
Brittany
The rugged peninsula of western France, Bretagne, is an ideal place for a two week motorhome itinerary. With Rennes, the capital of the region, being just an hour's drive from St Malo, it is literally a hop over the channel. Two to three hours from Cherbourg and five to six from Calais, this is an accessible area wherever your start point and route.
With a wild and dramatic coastline and with an undiscovered feel beyond the well-known tourist spots, Brittany offers a shared Celtic culture, ancient mysticism and every type of beach imaginable, as well as the incomparable Mont Saint Michel, one of the most beautiful landmarks in France.
Come here if you like…
Beautiful gardens – also known as the Garden Coast, Brittany has some of the best gardens in France. From English country borders to exotics, there's something here for every green-fingered visitor.
The Îles de Glénan – a stunning archipelago off the Brittany coast, perfect for a day trip.
Delicious cider – Brittany is cider country. With more than 600 apple varieties grown in the region, there's a cider to suit everyone's tastes.
Customs and tradition – the pan-Celtic tradition is very evident here; the Breton language is spoken with pride and wide-spread cultural festivals celebrate Celtic music and dance.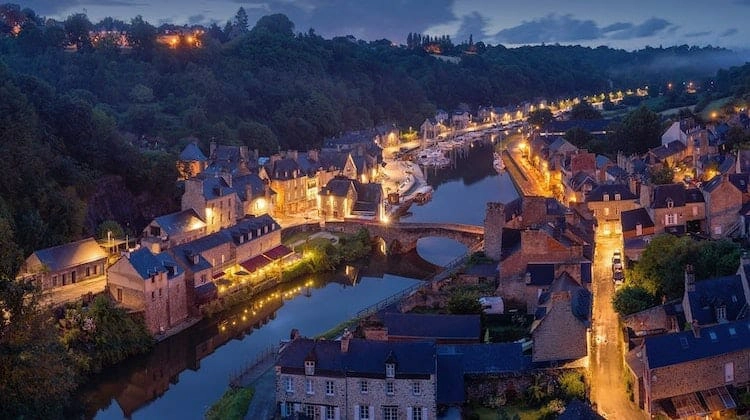 Centre-Val de Loire
Centre-Val de Loire is a landlocked region, located to the south-west of the French capital Paris. As the name suggests this region is all about the magnificent river Loire. Just four to five hours from Calais to the capital of Orleans, and an an hour less from Caen, this region is a popular holiday destination and would be ideal for a motorhome road trip following the river.
Fine historical cities and towns, many of which stand on the banks fo the Loire, offer superb Renaissance religious buildings and architecture and of course, the fabulous and extravagant chateaux the region is best known for.
Come here if you like…
Delicious white wine – Touraine, Vouvray, Pouilly-Fume, Sancerre and Valencay are just some of the well-know whites produces in this region. Take a vineyard tour and make sure to enjoy a tasting afterwards!
Beautiful chateaux – one of the main attractions of the region, the chateaux of the Loire Valley are world famous. There are over eighteen chateaux in this region alone, find ten of the best of them here.
Historic cities – from Joan of Arc's home city of Orleans to the royal chateau of Blois and Tours with it's beautiful old town, the cities of this region are must-sees.
Bird watching – La Brenne natural park is the hidden gem of Centre-Val de Loire. To the south of the region, this huge park containing over a thousand lakes is a wetland paradise for twitchers. Over 260 species have been recorded here, and over 150 species are known to breed here.
Grand Est
Grand Est borders Germany, Luxembourg, Belgium and a small part of Switzerland so its not surprising that this region has multi-cultural influences. One of the easiest regions in France to get to if you're arriving in Calais, a four hour drive will take you to the heart of the rolling Aube, for the fantastic champagne route. In six hours you can be in Strasbourg, the capital of the region and home to one of the best Christmas markets in Europe.
Previously known as Alsace-Champagne-Ardenne-Lorraine, the region is an intriguing mix of vineyards, the low lying Vosges mountains and some of the prettiest towns in France, found in the Alsace department. In some less-visited and remote wooded parts of the Vosges, lynx, boar and wolves can still be found in the wild, making the rich nature and bio-diversity of the area of particular interest.
Come here if you like…
Medieval cathedrals – Grand Est is home to some of the most beautiful cathedrals in Europe, many are UNESCO World Heritage sites.
Champagne and wine – the vineyards of the Champagne and Alsace departments are a must if you're a wine lover, with Lorraine producing lesser known but no less delicious wines to rival Alsace. The wine route of Alsace is perhaps the best known, but there are others to be explored.
War history – the moving Verdun & Argonne battlefields and war graves cemeteries of WWI can be found here, along with the WWII Maginot Line forts. The Surrender Room in Reims is where German forces surrendered to Eisenhower in May 1945, brining an end to the long war.
Accessible hiking and cycling– easier on the heart and lungs, the hiking routes of the Vosges are a pleasure. With stunning rolling scenery and trails to take you through historic villages and make the most of the views, hiking in the Vosges is accessible to all. Cycling in Alsace takes you to the heart of the region, and the smells and sounds of the many vineyards will fill the air as you cycle through the lush, rolling countryside.
Hautes-de-France
This is is the most northerly region of France, to the north of Paris and home to the port city of Calais, meaning it's on your doorstep. Not a major tourist region, the area is known for the battlefields of WWI, most notably the Somme, a four month battle in which over a million people lost their lives.
Visiting this region is inescapably poignant and most people come here predominantly for the memorials and war sites. But there is more to see here, including the incredible beaches, elegant resort towns and pretty fishing villages dotted along the unspoilt and beautiful Cote d'Opale, or Opal Coast.
Come here if you like…
Battlefield tours – the battles of Flanders, the Somme, Vimy and Ypres were all fought on the soil of the Hautes-de France by French, British, Canadian, Australian and African troops. The memorials and cemeteries marking these make for moving visits.
Mining history – much of the infrastructure in the northern parts of the region has been shaped by mining, a now redundant industry in this part of France. Visit the UNESCO listed Nord-Pas de Calais Mining Basin for a fascinating insight into the industry and a miner's life in the pits.
Beautiful belfries – tall and often ornate clock-towers attached to civic buildings, belfries are common in the region and were built to symbolise the power of the local alderman and councillors. The Belfries of Belgium and France is a UNESCO World Heritage listed site and features Roman, Gothic, Renaissance and Baroque styles of architecture.
Seaside resorts – littered along the coast, the resorts of le Touquet, Dunkirk, Boulogne-sur-Mer and Neufchatel-Hardelot are known for great seafood, wind sports and pretty architecture.
---
Motorhoming in France Essentials
---
Ile-de-France
Ile-de-France is the small region surrounding the beautiful city of Paris. The region is home to Paris itself and several other notable cities, the best being the UNESCO fortified city of Provins, the huge forested estates surrounding Fontainebleau and Versailles, the site of the palace of the same name.
A four hour drive from Calais, it is perhaps not the first destination motorhomers think of but it is possible to avoid Paris completely in your motorhome and see see the best bits of this compact region.
Come here if you like…
Big cities – although driving in and around Paris in a motorhome is to be avoided at all costs, you can camp outside Paris and get the train in, just follow this perfect Paris itinerary!
Theme parks – just three and a half hours from Calais, Disneyland Paris is achievable for a long weekend in your motorhome. Check out Park4Night for campsites near Disneyland Paris for motorhomes.
Modern architecture – there are four Le Corbusier villas in Ile-de-France. Villa Savoye in Poissy and Villa La Roche, Villa Jeanneret and Immeuble Molitor in Paris itself.
Royal palaces – The Palace of Versailles has to be one of the most opulent and ornate palaces in the world. Glistening with gold leaf, the interiors of Versailles seem to go on for miles. Stuffed with historic paintings, furniture and artefacts this royal palace is an incredible architectural achievement and a real bucket list Paris attraction. If you find the interiors a bit much, the gardens are truly spectacular.
RELATED POST – One Day Paris Itinerary – Map, Guide & Tips
Normandy
Normandy borders the English Channel and is easily accessible from all the channel ports, the furthest being St Malo around a three to four hour drive. Le Havre is in the region itself and a perfect arrival port which is popular with motorhome travellers. Normandy was a significant medieval empire and controlled much of England and Wales, leaving a rich history for visitors to explore.
The three huge attractions of Rouen cathedral, the Bayeux Tapestry and Mont Saint-Michel are the must-sees of the region. Along with the pretty fishing port of Honfleur and the D-Day beaches, this region has much to recommend and is one of the best motorhome destinations in France.
Come here if you like…
Medieval heritage – Rouen, where Joan of Arc was burnt at the stake, is chock full of medieval architecture and history. The Bayeux Tapestry, telling the story of the Norman invasion of England in 1066 is held in the town of the same name.
Gorgeous gardens – if you are a gardener or painter, then there is no better garden in the whole of France than Giverny, Claude Monet's country home and garden. Gloriously and unashamedly colourful, this beautiful place has provided inspiration to generations of gardeners and painters alike.
WWII history – hundreds of thousands of Allied troops landed on the beaches of Omaha, Gold, Juno and Sword on 6 June 1944. The D Day landings and the Battle of Normandy which led to victory on the western front are commemorated at hundreds of moving cemeteries and memorials in the area.
Impressionist art – known as the birthplace of impressionism after Monet took inspiration in Le Havre and painted 'Impression, soleil levant' ('Impression, sunrise') in 1872. Normandy houses two major collections and has no fewer than fifteen museums dedicated to impressionist art and history.
RELATED POST – Normandy Road Trip: Ultimate 7 Day Itinerary
Nouvelle-Aquitaine
One of our personal favourites for France campervan holidays, Nouvelle-Aquitaine is the largest region of France. From the ports of Caen or Cherbourg, the capital Bordeaux is a good seven to eight hour drive, making this an ideal destination for a two or three week holiday. Alternatively, Bordeaux is another great destination to fly to if you're looking for van hire.
This region in the south west of France is incredibly varied, from the mountains of the Pyrenees and the gently meandering Dordogne valley to the almost continuous beach of the long Landes coastline. Pine forests, vineyards, elegant resorts and rustic villages shape this space, along with great regional food and wine which give life and colour to a seriously enjoyable region of France.
Come here if you like…
Chateaux and castles – head to the Dordogne Valley for the best pick of local chateaux, including the mighty Chateau de Castelnaud and Chateau de Beynac, literally across the river.
Beaches – there are hundreds of miles of soft golden beaches along the coast. Stretching from the glamorous resort of Biarittz in the south to La Rochelle in the north, only interrupted by the river Garonne and Arcachon Basin. If you like sand, head for the largest sand dune in Europe, Dune du Pilat. Climb to the top and enjoy the incredible view of the blue, turquoise and green crystal clear waters of the Arcachon basin as the tide ebbs and flows. You'll also find some of the best caravan sites in France along this glorious coast.
Surfing – people come here to surf the huge Atlantic rollers coming in from the Bay of Biscay and there is an annual world surf competition held in Lacanau-Ocean. If you can't stand up, get a body board or just spend hours deciding whether to float over the next wave or power under it.
Mountains – the eastern Pyrenees are to the south of the region and beyond the towns and cities provide amazing cycling and hiking opportunities.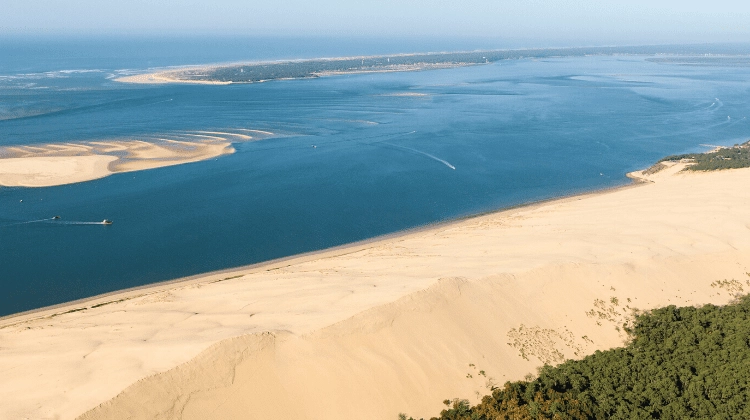 Occitanie
Occitanie (previously known as Languedoc) is one half of the south of France and is a region of huge contrast. A solid ten to eleven hour drive from Caen, Occitanie makes a good destination if you have three or four weeks to travel or, as part of a longer trip. We think it's worth the drive time for the atmosphere, history and beauty you will find in this region.
From the sun drenched Herault of southern France and the Mediterranean coast to the wild and raw beauty of the Cevennes and the majesty of the Pyrenees, the landscape and climate differs greatly. This is a busy part of France, home to Carcassonne and its' renovated La Cite, one of the largest castles in the world, Lourdes and the Pont du Gard. These three top the busiest tourist destinations in Europe list and are best visited outside of July and August.
Come here if you like…
Hiking – the Pyrenees are a more compact and gentle mountain range than the Alps, with lots of easy to moderate hiking and fantastic motorhome wild camping. They are one of our happy places and you can even cross into Spain in your motorhome over the high mountain passes.
Wild swimming – the gorges of the region have some of the best wild swimming and canyoning in France. Tucked into the Montagne Noire or the midi-Pyrenees, the water is crystal clear and refreshing.
Outdoor adventures – head for the Gard and Lozere departments where you'll find nature at its finest. Winding rivers are superb for kayaking and often have small river beaches and swimming holes with perfectly placed rocky ledges to jump from. The Cevennes National Park offers great hiking in a wild and natural environment.
Religious history – The Aude and Ariege have a strong Cathar history and you can see remnants everywhere. Follow the Route of the Cathar's through fortified hilltops, castles, villages and towns for a fascinating insight into a religion that shaped this part of France for centuries.
RELATED POST: South of France Road Trip: Route, Highlights & Tips
Recommended Reading
Motorhome touring in France is a joy and you'll receive a warm welcome to this beautiful and eclectic country. We've spent months motorhome touring France and our advice and top tips for motorhome travel in France include driving, where to stay overnight and off-grid and wild camping to motorhome services and a round-up of the best motorhome destinations. You'll find all the information you need for an amazing motorhome road trip in France.
If you're off to France in your motorhome or campervan, chances are you'll be thinking about wild camping. Find out all you need to know about wild camping for motorhomes in France, finding the perfect spot and staying safe here.
Pays de la Loire
The Pays de la Loire is a region of north-western France which adjoins the region of Centre-Val de Loire. Both regions share many characteristics including the Loire Valley and large numbers of famous chateaux. One difference is the long Atlantic coastline of the Pays de la Loire known as the Vendee. A very popular UK tourist destination due to its proximity to the eastern channel ports, and enjoyed for its gentle waves, sandy beaches and quintessential sea-side resorts.
An easy three to four hours from Caen to Nantes places you the heart of this region, with the Loire Valley to the east and the beaches of the Vendee to the west.
Come here if you like…
Bucket and spade holidays – perfect for family holidays as the Vendee is lined with some of the best French holiday parks offering fantastic facilities. Kids love the beaches for the perfect sand-castle building sand and gentle waves.
Theme parks – the Puy du Fou historical theme park has over 1,5 million visitors a year and is one of the most popular attractions in the whole of France and perfect for a day out if you are travelling with kids.
Beautiful chateaux – one of the main attractions of the region, the chateaux of the Loire Valley are world famous. There are over eighteen chateaux in this region alone, find ten of the best of them here.
Escaping the crowds – yes, you can do that in one of the most popular regions of France! Head for Vallée du Loir, the lesser known cousin of the Loire Valley, and relax in an unspoilt and charming landscape of pretty villages, manor houses and fields of sunflowers.
Seaside resorts – the picture-perfect resorts of les Sables d'Olonne, Saint Gilles Croix-de-Vie and St. Jean de Monts have lots of great restaurants, cafes and street markets in the summer months and are relaxed places to while away an afternoon or evening shopping for trinkets and souvenirs.
Provence-Alpes-Cote d'Azur
A favourite of many, us included, this region, often abbreviated to PACA, covers a large and diverse area. From the sparking Mediterranean Sea to the French Alps and from the river Rhone to the Italian border, Provence-Alpes-Cote d'Azur is the furthest from the UK, taking a whopping twelve to thirteen hours from Calais to Marseille. If you don't fancy that but want to campervan in the south of France, fly to Marseille and rent one!
For the glamorous and fashionable resorts of the French Riviera, the lavender fields and whitewashed towns of Provence and the wilderness of the Camargue, those driving hours are so worth it. The sun baked landscapes, beautiful hilltop towns and villages and the abundant local produce and delicious wines just add to the attraction. If you're looking for somewhere a little less visited, head for the fascinating village of Fontaine-de-Vauclause, source of the river Sorgue which rises deep underground, and nearby Cavaillon, for delicious Charentais melon, only found in Provence. You'll also find some of the best motorhome campsites in France in this region.
Come here if you like…
Glitz and glamour – St Tropez is one of the most famous French holidays. People flock there for its' port where the rich and famous berth their mega-yachts and to enjoy the honeyed stone buildings and pretty squares of a slightly more relaxed and authentic St Tropez. If you want more, head to Monaco or Cannes or one of the ridiculously opulent villas which open their doors to the public. You'll also find some of the best campervan sites in France in this area, giving you great access to the whole coast.
Iconic Lavender – field upon field and row upon row of beautiful and fragrant lavender carpets Provence in June and July. Go early in the day for the best photo opportunities.
Local produce – experience a marchés hebdomadaires (farmers market). Most towns have a weekly market where you will find fresh bread, wonderful fruit and vegetables, pungent cheeses, meaty saucisson sausage, fat olives and pretty much any other fresh food stuff you might want to buy. Alternatively, head to the Menton lemon festival, where 120 tonnes of local citrus fruit is used to build floats and decorate buildings…who knew?
Perfume – in addition to edible produce, Provence is a world renowned perfume producer. The most prestigious perfumeries are concentrated around the town of Grasse. All sell to the general public, and three prestigious maisons (houses) of Galimard, Fragonard and Molinard are also open to visitors.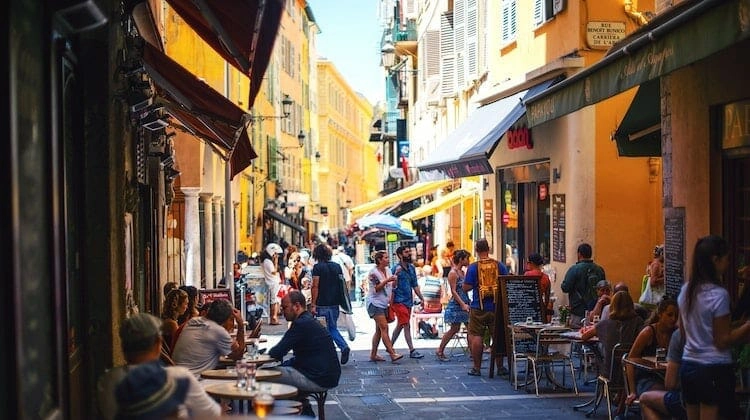 Are you looking for more France travel inspiration? check out these top posts…
Ahhh, France. A country so eclectic and beguiling, it is the most visited nation on the planet. A French road trip is the best way to explore the wonderful diversity and beautiful landscapes of this country. Use our detailed guide and travel tips to find French road trip ideas in every region, and to plan your ultimate France road trip.
Love it? Pin it!