Starkly beautiful, with glistening deep blue fjords, rugged mountains, and waterfalls at every turn, Norway is a country to meander through as you gasp at each new landscape, thrill at every hair-pin bend, and explore cool and stylish cities.
Find out everything you need to know before you visit Norway, including trip highlights, travel tips, road trip guides, and city itineraries, with our Norway visitor's guide.
Intro to Norway
Norway is a vast country with only five million inhabitants, shaped by its Viking history, geography, and unique farming culture, which is still alive and kicking today.
Nearly half of the inhabitants of the country live in the far south in the region around Oslo, the capital city. Norway's other cities may feel small and intimate in comparison to their larger European neighbors, but this only adds to the feeling of community and harmony that exists in the country.
About two-thirds of Norway is mountainous, and its ragged coastline, carved by deep glacial fjords, is home to over 50,000 islands. This makes for incredibly scenic driving roads across bridges, over mountain passes, under fjords, and on ferries. Don't underestimate how long it takes to get anywhere in this country.
Ripe for adventurers, Norway is famous for its hiking and Northern Lights. Head for the Lofoten Islands to combine the two, but be prepared for unforgiving terrain, unpredictable weather, and some of the most breathtaking views you've ever seen.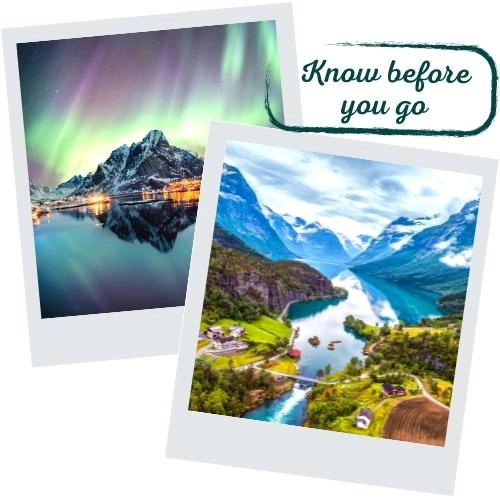 Best Time to Visit Norway
November, December and January are dark months in the north of the country and the days are very short.
If you're travelling to Norway for winter sports, or to see the Northern Lights, then this is the perfect time – just make sure you're well prepared.
The weather starts to warm up, with July and August being the warmest months. Fjord swimming without a wetsuit is possible, and you'll be comfortable during the day in shorts and a t-shirt.
Between (roughly) 14th May and 29th July, you'll experience the midnight sun phenomenon in the far north of Norway.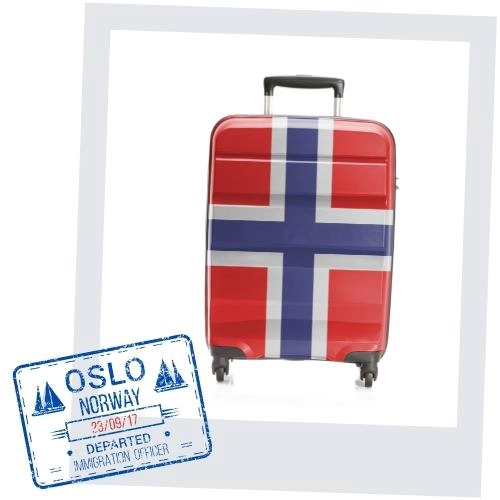 Norway Packing Tips
Pack lots of warm layers and be prepared for all weathers in one day, even in summer!
Winter visitors should bring a quilted down puffer coat, warm layers and sturdy boots.
A warm hat, scarf, gloves and thremals will also be needed for the colder months.
Sun protection, sunglasses and a cap or hat are a must in summer, when it will be warm enough for a t-shirt and shorts.
Make sure to bring a waterproof jacket, or showerproof top, even in summer.
If you're visiting Norway to hike, get the best outdoor gear you can afford. Norway is a tough cookie and you need to be well prepared!
Technical gear that washes easily and dries quickly is a great option if you're road tripping or moving about a lot.
Don't forget an easy-to-manage day bag, such as a rucksack or day sack.
Norway Highlights
Norway Road Trips
Things to Know About Norway
Norwegian (and in fact most Scandinavian) society is based on Janteloven (the law of Jante) which at its simplest describes the way that all Norwegians behave – placing society ahead of the individual, practicing humility, equality, respect, and simplicity. Wealth is not flaunted, people don't criticize others, and egalitarianism is key.
Almost all Norwegians speak English at an intermediate level unless they are older and live rurally.
Norwegians work to live; koselig has no direct translation but influences Norwegian behavior at weekends and holidays. This post by our friends at the Life In Norway blog explains the concept visually.
Norway is on the verge of becoming a truly cashless society and is streets ahead of many other EEA countries. It is completely normal to pay for a €3 iskrem using a card or ApplePay.
Recycling is important here; a pant (pledge) is charged on all bottles. You can return the bottles to the panteroom to get your deposit back or press a button and give your deposit to charity.
Norwegian people like their personal space. They will not willingly sit next to a stranger on the train or bus and prefer not to stand too close to others in queues. This is because there are so few Norwegian people in their huge country that they are used to having lots of room to move!
Most grocery shops will be closed on Sundays. Garages will sell basic groceries but at inflated prices, so better to be prepared and shop on Saturday.
Alcohol in Norway is sold mainly by the state. Beer can be found in most shops but is only sold before 8pm on weekdays or 6pm on Saturdays and not on Sundays. For wine, spirits, or stronger beer, you must visit one of the Vinmonopolet (wine monopoly), known to locals as pole, found in most large cities and towns. Tax is levelled on all alcohol with more than 0.7% by volume of alcohol and is pretty hefty, making booze expensive.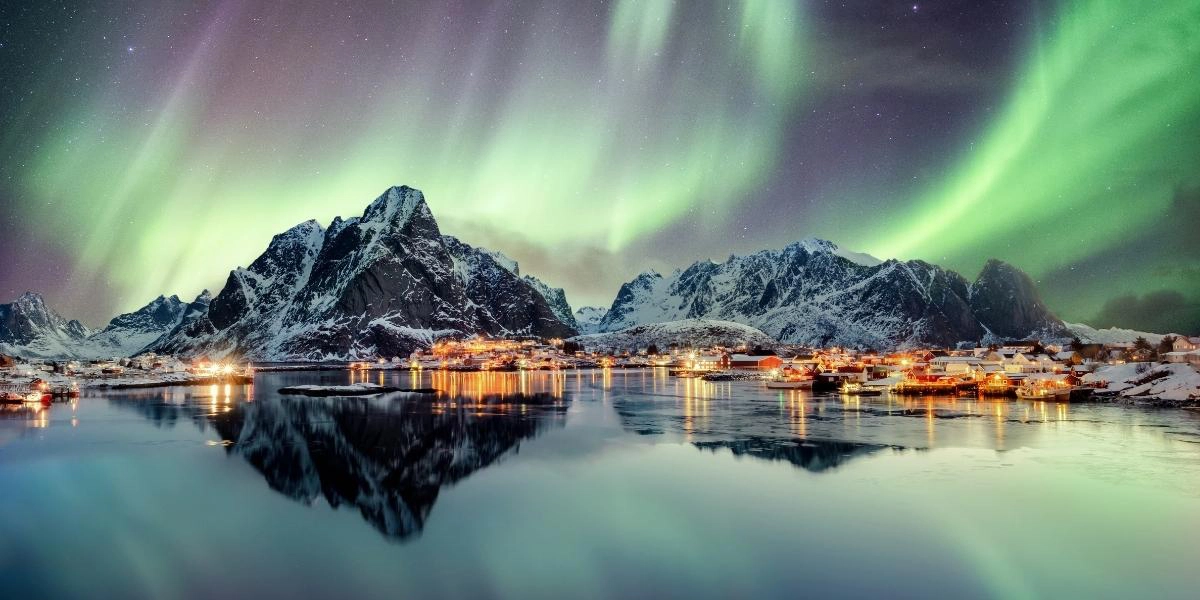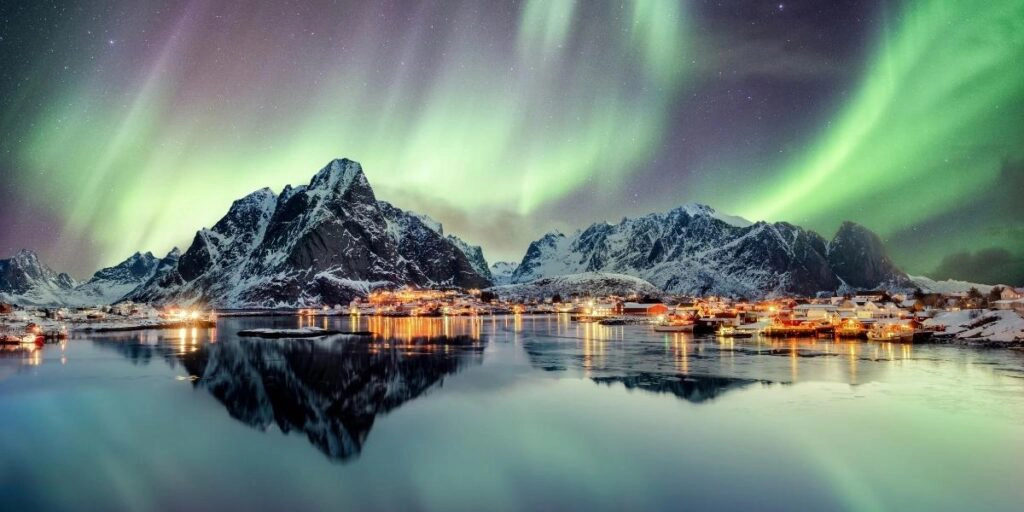 Norway Travel Resources
Getting There
Fly into one of 8 international airports, with Oslo and Bergen serving the most routes.
Driving
Drive and get a ferry from Europe into Norway or hire a car in the country.
Need a Visa?
Some countries citizens need a visa to visit Norway – find out if you need one here.
Travel Insurance
Cover medical expenses, delays and lost luggage.
Places to Stay
Find hotels, guesthouses, AirBnBs, hostels and homestays.
Tours & Activities
Find city guides, ancient site tours, day trips, sailing and extreme sports.
Essential Travel Products for Your Norway Trip
New On the Blog…