Georgia, one of the three Caucasus countries, is nestled between Russia, ancient Persia and Turkey. A melting pot of influences, cultures and magnificent landscapes, Georgia is the perfect destination for adventurers seeking the road less traveled.
Find out everything you need to know before you visit Georgia, including trip highlights, travel tips, and road trip guides, with our Georgia travel guide.
Intro to Georgia
Georgia has a multi-cultural influence from Europe, Turkey, Asia and Soviet Russia, alongside it's own rich history when Georgia was a powerful Georgian kingdom in the middle ages, before being dominated by Turkish and Persian rule, and being annexed by the Russian Empire in the 19th century.
With diverse landscapes which encompass the dramatic Caucasus mountains and sweeping steppe and wine making valleys, every corner of tiny country offers something different and exciting. Whether you're looking for outdoor adventures, cultural enrichment or gastronimic experiences, Georgia will welcome you with open arms.
Georgia is still a relatively undiscovered travel destination with a developing tourism infrastructure, so temper your expectations and don't go to Georgia looking for the same standards of civic safety and cleanliness, food hygiene or road maintenance for example, as you would back home.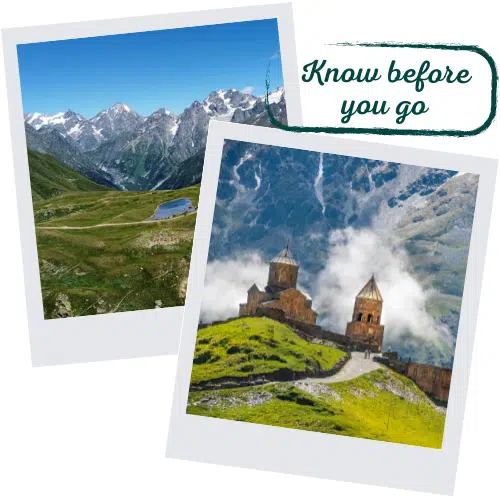 Best Time to Visit Georgia
You can visit Georgia any time of the year, although trips into the mountains generally cease between October and June due to snow and dangerous road conditions.
Spring and fall are wonderful times to visit Georgia, as the kinder weather means traveling is easy and attractions and hotels are quieter.
July and August are the busiest months in Georgia, which means flights, accomodation and car hire will be more expensive, and attractions will be busier. But, the big Caucasus mountains will be accessible, in all their glory!
Travel in winter to enjoy the lowlands and cities, and their surrounding attractions.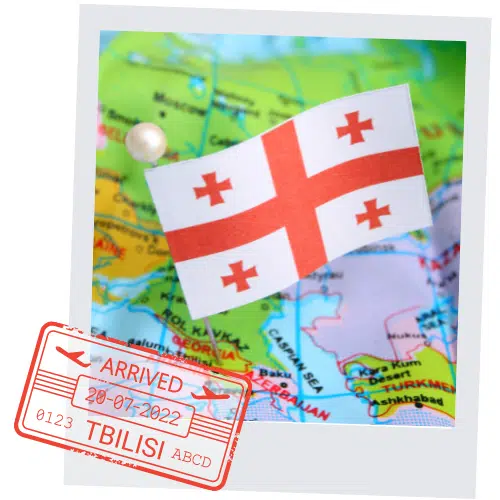 Georgia Packing Tips
The Eastern Orthodoxy religion of Georgia has a big influence in daily life and tends to err on the conservative side. In the cities of Tbilisi, Kutaisi and Batumi, people dress as they do in Europe. In rural areas, women cover up more and you probably won't see shorts of short skirts being worn.
Women should take long pants or a long dress as well as shorter items, so options are available if you travel outside of the cities.
Women are required to cover their hair and be wearing a skirt (a layer over pants is ok) when entering an Orthodox church or a mosque. Headscarves and skirt layers are usually available by the door.
Pack layers for shoulder season trips and loose cotton or linen for spring and summer.
Sun protection, sunglasses and a cap or hat are a must in summer.
Winter visitors should bring a waterproof or showerproof jacket and a few warm layers for colder days, especially if visiting the foothills of mountain areas.
Pack walking boots or shoes for mountain hiking, and bring poles if you like a bit of extra stability.
Technical gear that washes easily and dries quickly is a great option if you're road tripping or moving about a lot.
Don't forget an easy to manage day bag, such as a ruck sack or day sack.
Georgia Highlights
Things to Know About Georgia
The Georgian language is one of the oldest in the world and has its own alphabet. Georgian Script letters look very different from the Latin alphabet, making signs, which are hard to read in a foreign language anyway, almost impossible to read. Most road signs are in Georgian and Latin, and you can try using on online tool like Translitteration or Lexilogos, which have virtual Georgian keyboards.
Georgia has a knack of building its Orthodox Christian monasteries in the most breathtaking of places, and the country has hundreds, possibly thousands, of churches and monasteries of a different eras and architectural styles. You'll need to pack the hiking boots if you want to get to most of them!
Public transport can be challenging – by far the best way to enjoy the glorious landscapes is to hire a car and explore off the beaten path Georgia yourself.
Food in Georgia can be heavy on meat and bread, but it's also a wonderful place for vegetarians to visit, as the use of fresh vegetables and local herbs plays a big part in Georgian cooking.
Hosting guests is considered an honour in Georgia, and if you're lucky enough to be invited into a Georgian home, take a gift, even if it's small. Beware of cha cha, Georgia's homemade, very alcoholic, moonshine, which can take your head off!
Western backpackers and tourists in Georgia are still in the minority. Many tourists are Russian, so a few words of this language are helpful too.
Non-prescription medicines containing codeine are illegal in Georgia, and could cause serious consequences if you're found trying to enter the country with them. If you take prescription medication containing codeine, keep it in the original packaging and carry the doctor's prescription with you.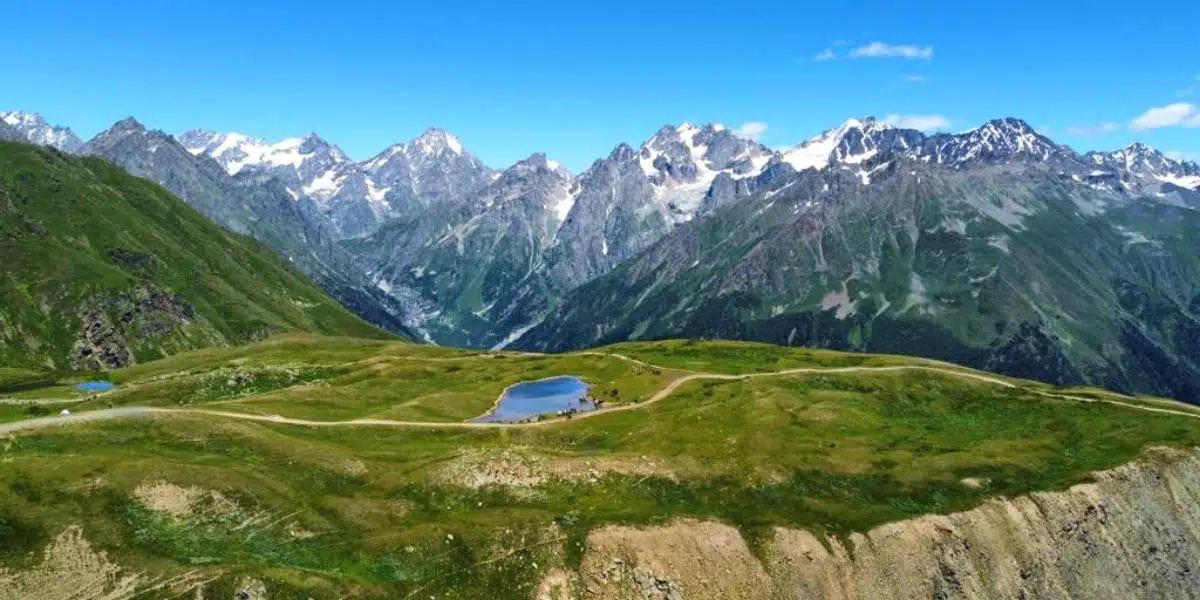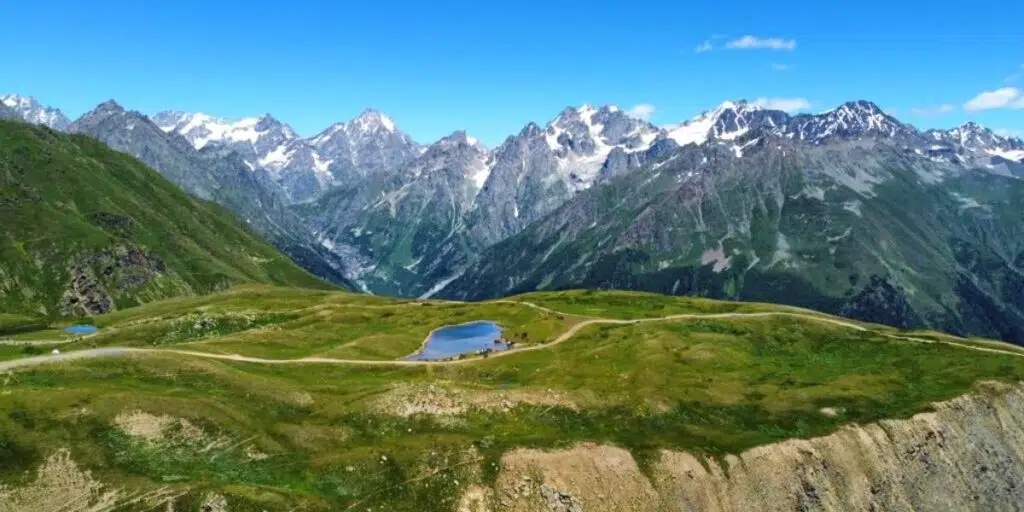 Georgia Travel Resources
Getting There
Fly into one of 3 international airports in Tbilisi, Kutaisi and Batumi.
Driving
Drive from Europe and Turkey into Georgia or hire a car in the country.
Need a Visa?
Some countries citizens need a visa to visit Georgia – find out if you need one here.
Travel Insurance
Cover medical expenses, delays and lost luggage.
Places to Stay
Find hotels, guesthouses, AirBnBs, hostels and homestays.
Tours & Activities
Find city guides, ancient site tours, day trips, sailing and extreme sports.
Georgia Road Trips
Essential Travel Products for Your Georgia Trip
On the blog