This post may contain affiliate links, from which we earn an income.
Review of Jackery Solar Generator
We were curious about whether a portable solar power bank could add that little bit extra to our existing solar set-up, for days when the sun doesn't shine and we don't fancy driving anywhere. Did it work? You can find out here!
Jackery were kind enough to send us their Portable Power Station Explorer 500 to try out (thanks guys!) but all opinions and views are our own.
What's in the Box?
The Jackery Explorer Portable Power Station arrived in three parcels. The first package contained the generator itself and a neat little bag for the provided cables. The second parcel contained the Jackery SolarSaga 100W Portable Folding Solar Panel which harnesses solar power for the generator, and the third box contained the perfectly sized storage bag.
First Impressions
The items were all well packed and arrived quickly. On opening the box, we were pleased by the quality of all three products – they felt solid and well made. Watch our unboxing video below to get a feel for the Jackery.
How Does a Solar Generator Work?
Jackery Explorer Portable Power Station + Jackery SolarSaga Solar Panel = Jackery Solar Generator
A solar generator can technically refer to a solar solution that combines a portable power station with solar panels. It converts sun energy captured by solar panels into electrical power and then stores it in a portable power station for later use. A solar generator is a reliable and clean power source for motorhomes, campers or as an emergency backup if your power goes out at home.
A Jackery Portable Power Station is a rechargeable lithium battery powered generator. Fitted with AC outlet, DC car port and USB charging ports, a power bank like this can keep all your kit charged. A solar generator can charge smartphones, laptops, CPAP machines and appliances like mini coolers, electric grills, coffee makers and even a hairdryer (depending on the model).
The folding solar panel has an integrated MPPT charger to manage the power coming in, even on dull days.
Essentially, this is a portable version of a fitted solar system like you might find in a new motorhome, where the solar panel is on the roof and there is a charging regulator in the van.
In the portable version, the solar panel folds out for easy storage and the battery is totally portable, so you can have power wherever you need it most.
If you're in a motorhome without a fitted solar system, or you're unable to add additional panels (a common problem as the technology changes quickly) to your existing system, a portable power station can give you an extra boost.
The Benefits of a Solar Generator
Have you ever parked up in an idyllic wild camping spot only to have your neighbouring van start up a diesel genny? They are noisy and smell disgusting, and require ongoing maintenance. For those reasons we've never carried one.
A portable solar generator has many benefits including;
Using the Jackery Power Bank
The power bank and solar panel are really well designed, intuitive and easy to use. The power bank and solar panel together weighs around 13 pounds (5.9kg) so is fairly easy to move around. You have a choice of the following power outlets;
On the front of the Jackery is a simple display showing you the % of the unit charged, watts in and watts out. This is backlit for a few minutes when you press the display button.
There is also a handy light on the side of the Jackery which is super-helpful if you're camping – but be aware that the unit isn't waterproof, so you'll need to keep it undercover if it rains.
We use the portable generator to power laptops, phones, a Go Pro and Mavic Mini 2. The Jackery uses pure sine wave inverter technology, meaning it produces cleaner and smoother electricity, so it won't damage laptops or other devices and you'll even be able to charge your toothbrush from it!
The unit is small enough to sit in the foot well of the cab area. From here, we run various USB cables into the habitation area easily.
On a dull day, when we hadn't driven for a couple of days, the Jackery 500 gave us enough juice to run two Macbooks for 6 hours and keep two iPhones charged.
We had plenty of power left for another half a day or so without needing any extra charge.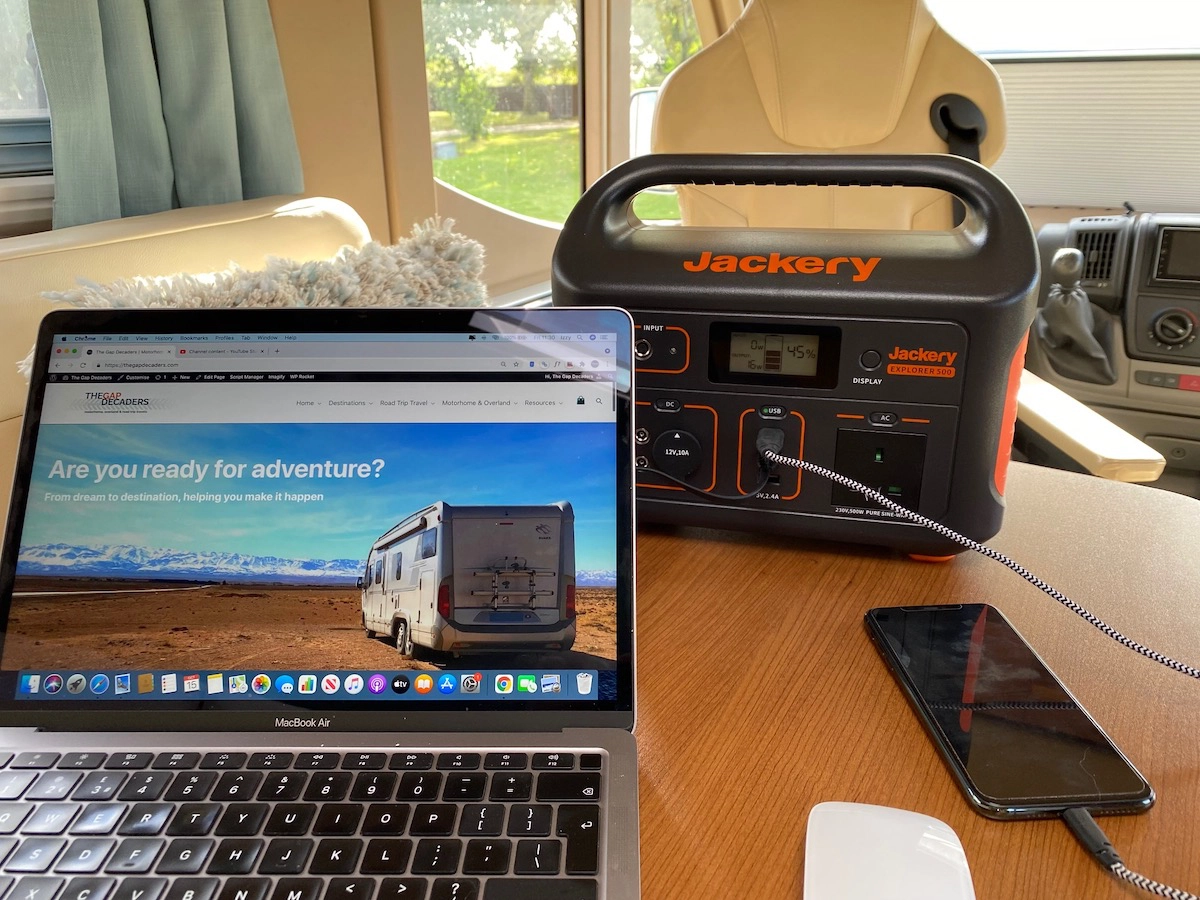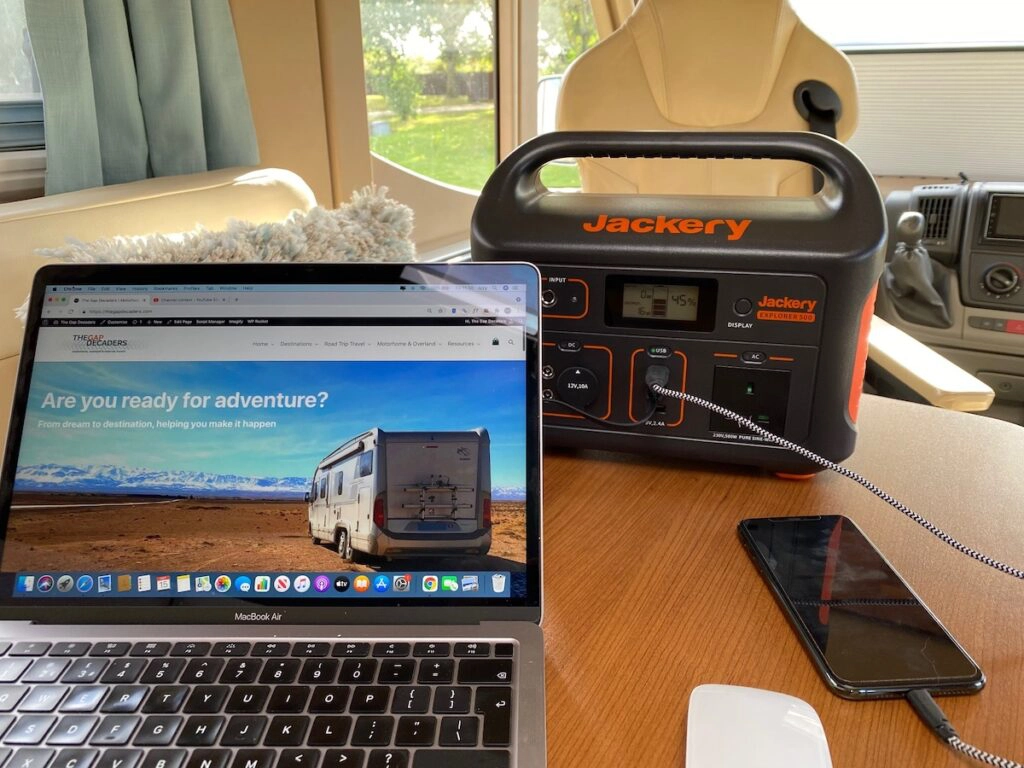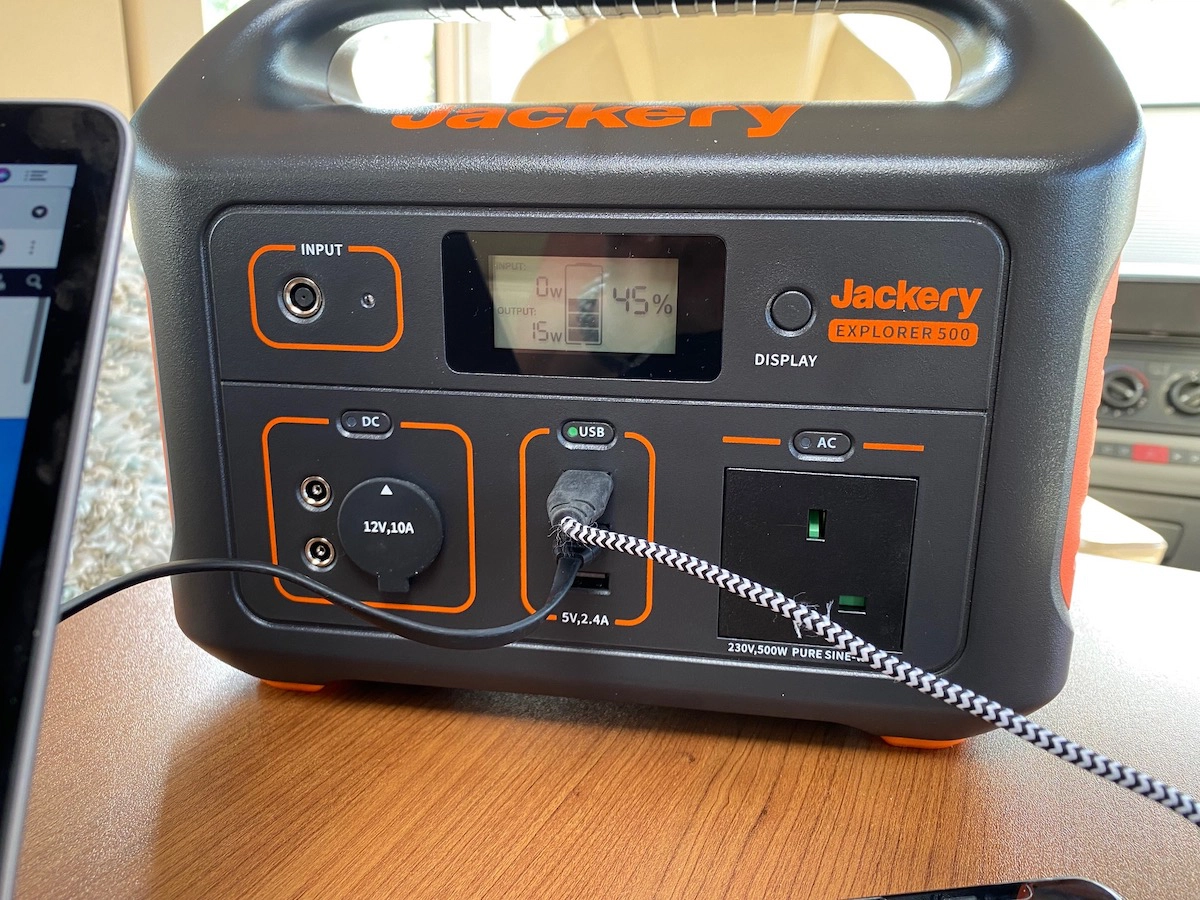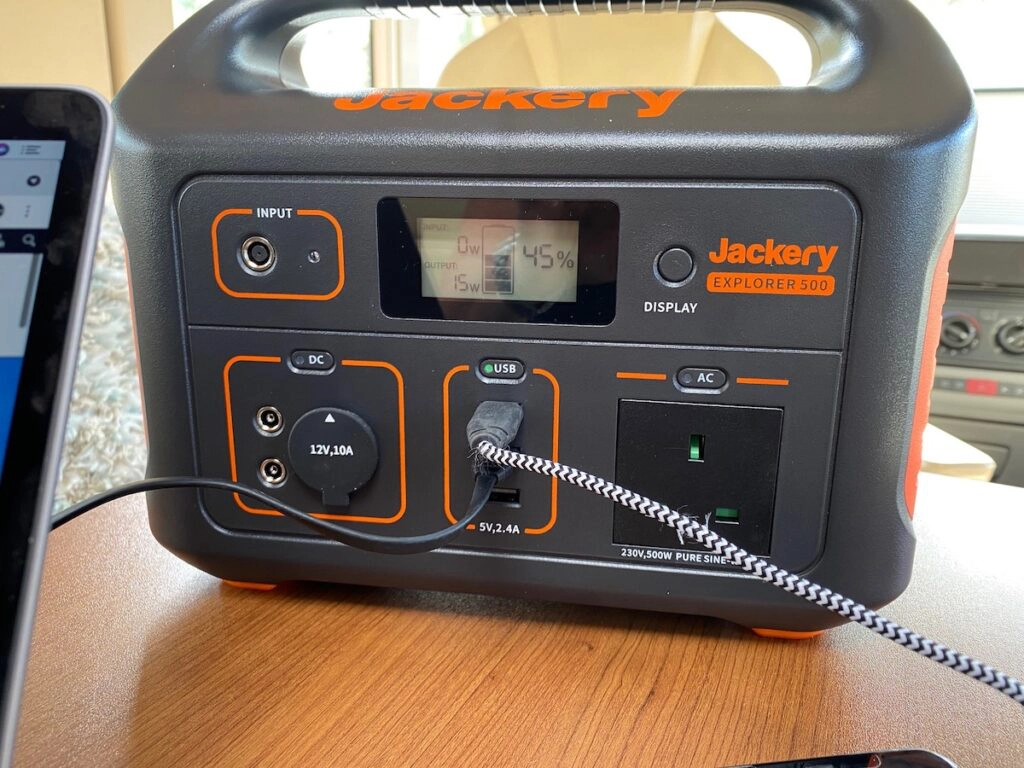 Charging the Jackery Power Bank
One of the best things about the Jackery is the many ways in which you can charge it. We plugged the charger in to a 230v socket in our motorhome as we were plugged in to EHU. This charged the Jackery in around seven hours.
After that, we charged it every day for a few hours using the solar panel (it takes around ten hours to fully charge from the panel) to keep it topped up.
In the unboxing video I mentioned a small controller on the solar panel. The guys at Jackery tell me it's not actually a controller but a USB port, meaning you are able to charge your phone or tablet directly from the solar panel without using the power station – bonus!
We also charged it via the 12v cigarette lighter socket when driving with the lead provided.
If you don't have three pin plug sockets or want to bypass using them (maybe you only have one and use it for something else), you could charge the Jackery on EHU by using a 12v socket with a hella plug adapter. Do not try and charge the Jackery from your leisure batteries – it will drain them and sort of defeats the object!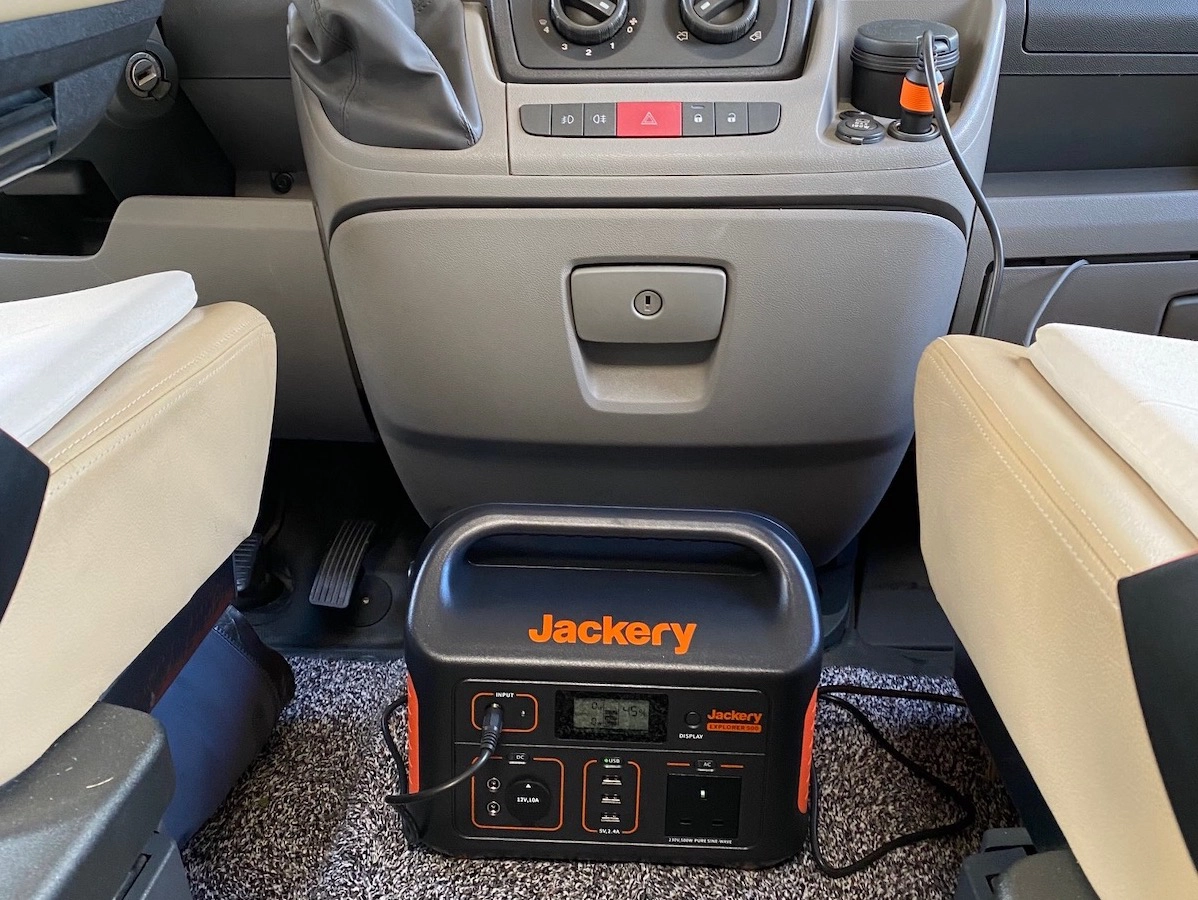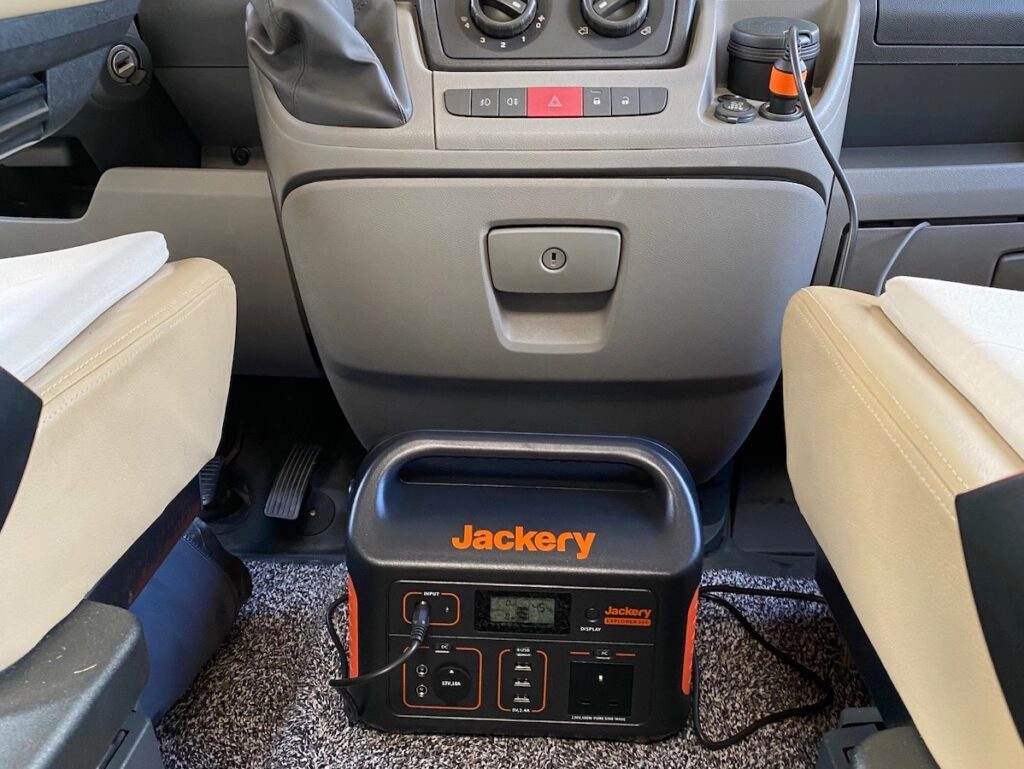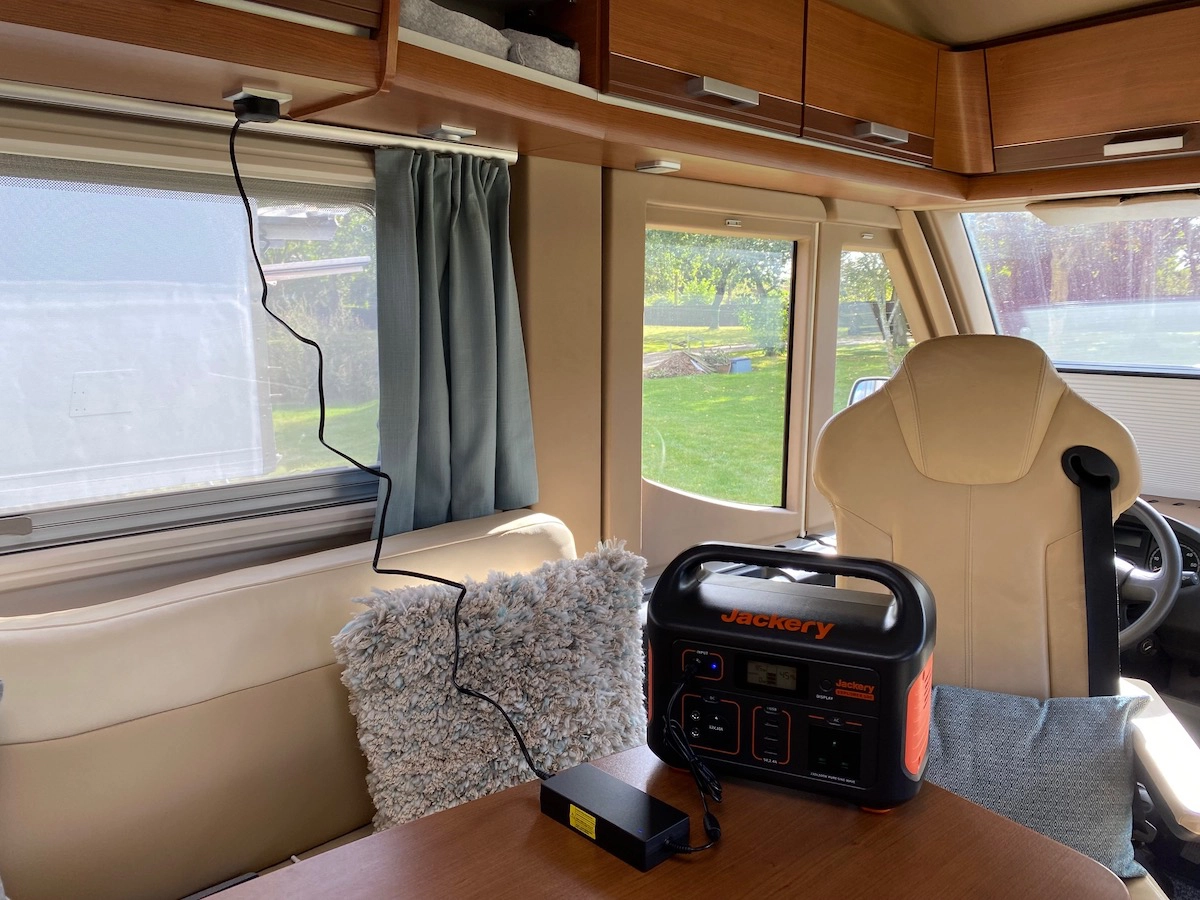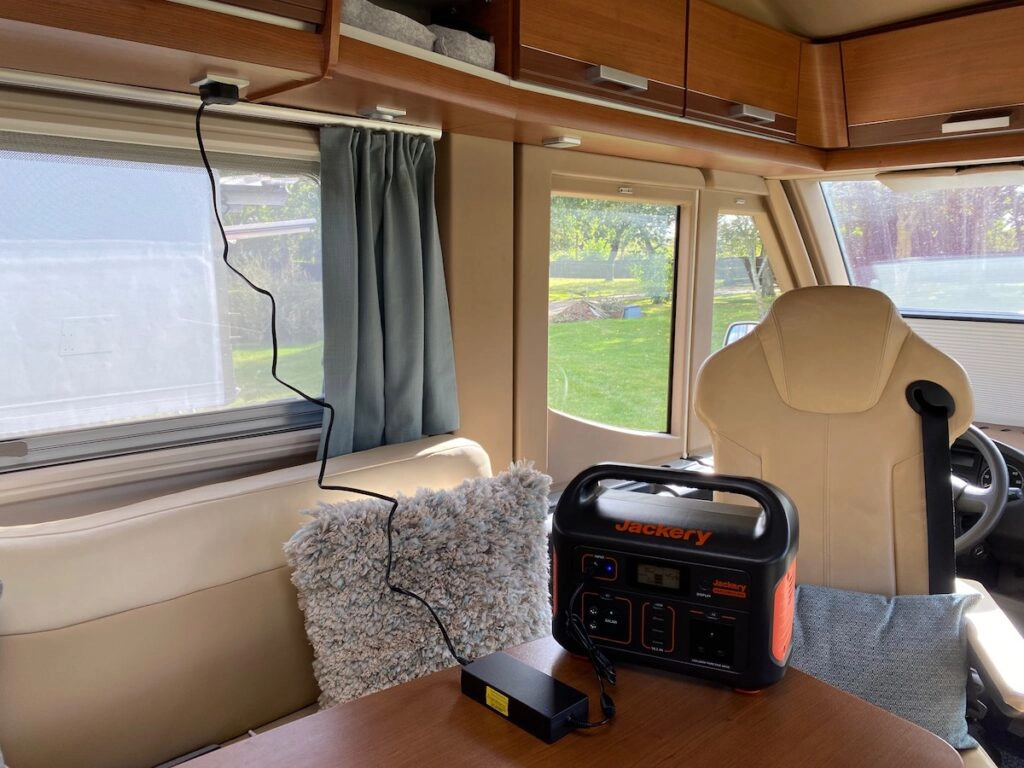 Conclusion
A Jackery Explorer Portable Power Station is a great addition to our set-up, giving us enough power every day to charge our electronic devices easily, leaving all our leisure battery power for on-board kit like the lights, tv and water pump.
If you're in a van with an older solar set-up or no solar at all, and the thought of running cables and fitting lots of new electrics sends you running, then a Jackery is the perfect solution.
Where to Buy the Jackery Explorer 500
Jackery is an American brand and is stocked by Amazon in the UK. To check out their products for yourself, head to Jackery's Amazon UK store.
There you'll find the right size of Jackery power station for your set-up, as well as all the accessories you need to create the perfect off-grid solar set up. We've been reviewing and using the SG500, but there are two other sizes to choose from depending on your needs.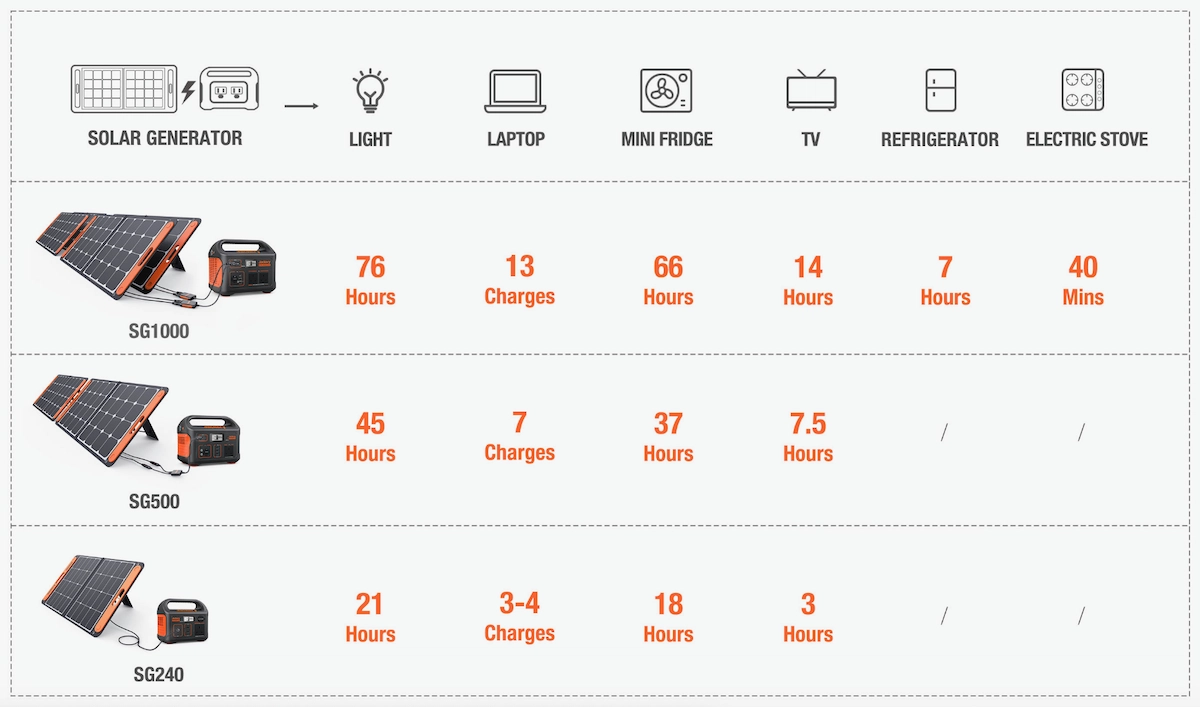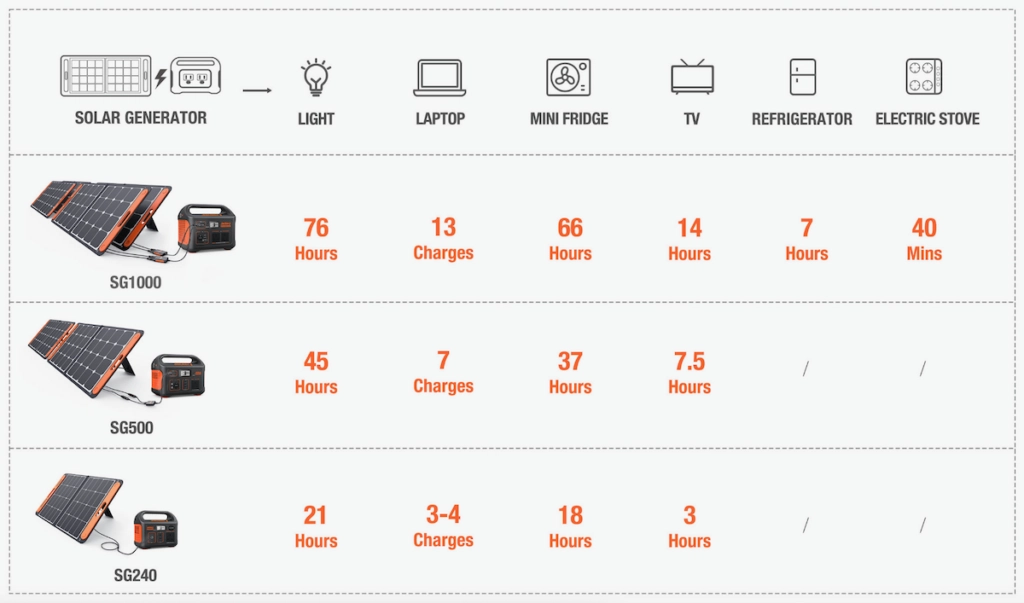 From October 18th to 20th its Jackery's nine year anniversary, and to celebrate there will be 15% off on all Jackery products – a great chance to grab a bargain!
Are you looking for more motorhome accessories? Check out these top posts…
Do you need a motorhome reversing camera? How do they work and how do you choose the right one for your motorhome? We'll answer all those questions in our comprehensive guide and help you find the best motorhome reversing camera for your needs.
Love it? Pin it!