This post may contain affiliate links, from which we earn an income.
Nestled high in the remote Svaneti region, Mestia is something of a pilgrimage for adventure travelers, hikers and overlanders. Surrounded by the mighty Caucasus, with a micro-culture all its own, Mestia is a must-visit destination in Georgia.
Whether you're looking to tackle the incredible drive to Mestia, hike between local villages, learn about the bloody history or just hang out and listen to traditional Georgian music as the local cows wander the streets, there's plenty to do in this fascinating town.
We spent a month in Mestia exploring the local region, and in our Mestia travel guide, we share all the info and tips you need to help you plan an amazing trip.
With details on getting there, ideas for things to do, recommended places to stay and eat, plus helpful Georgia travel tips, this is the only guide to Mestia you need!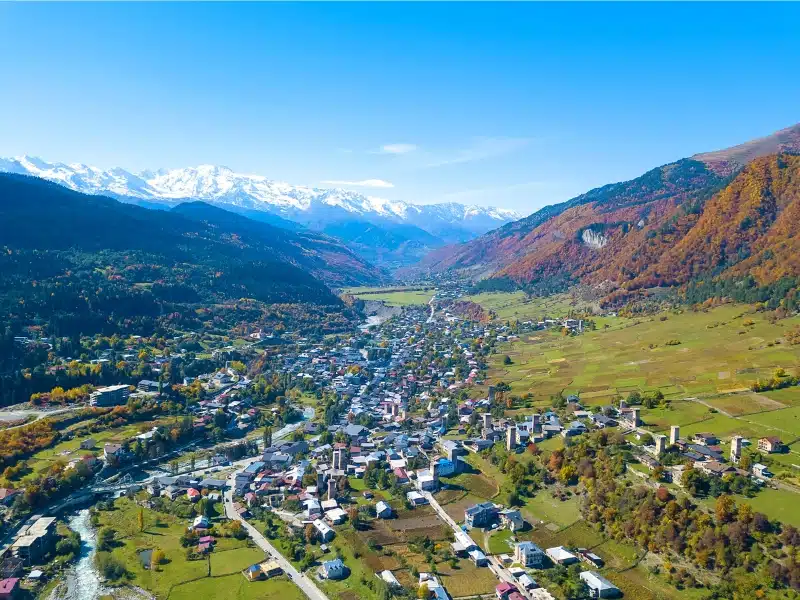 Where is Mestia?
Located 1500 meters high in the Georgian Caucasus mountains at the foot of Mount Ushba, the townlet of Mesia is in the remote Upper Svaneti region of Samegrelo-Zemo-Svaneti province, 80 miles (128km) northeast of the regional capital of Zugdidi.
Mestia and the adjoining 132 villages and hamlets group together to make up the Mestia District, which has a population of over 9,300, with around 2,000 of those living in Mestia itself.
Is this your first time visiting Georgia? Get all the information you need in our Georgia Travel Guide, including what to pack, the best time of year to go, getting there and practical tips to help you have the best trip!
Map of Mestia
How to use this map – Use your fingers (or computer mouse) to zoom in and out. Click or touch the icons to get more info about a place, and click the arrow in the box top left to open the index. To add to your own Google Maps account, click the star next to the title of the map.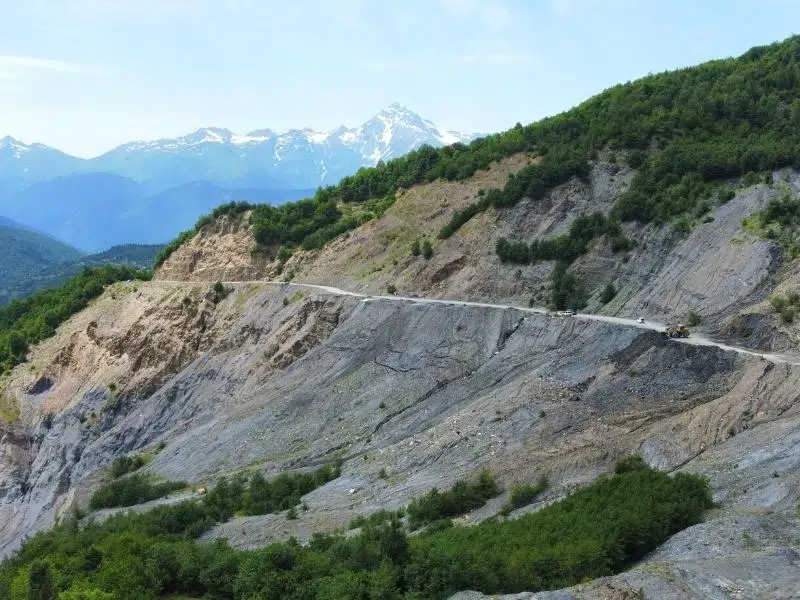 How to Get to Mestia
Driving to Mestia
Driving to Mestia is as much about the road itself as the destination. Once you leave Zugdidi, you'll start a love affair with this special route, which has to be one of the most scenic drives in Georgia.
Expect plenty of twists and turns, rough cut tunnels, sheer drops and dramatic gorges as you follow this snaking road along the edge of the raging Patara Enguri river.
It takes around three hours to drive from Zugdidi to Mestia, but we suggest heading off early so you have plenty of time for photos and regular breaks from driving. It's worth stopping to see the Dadiani Palace in Zugdidi, the stunning Enguri Dam, the rickety wooden bridge which crosses the river to Idliani, and the Dog's Waterfall a little further on.
It would just be possible, in June or July, to get there and back in a day, but you wouldn't have time to spend in Mestia and you'd be rushing on the road, which can be a tricky drive. We suggest spending a night or two in Mestia itself to soak up the special atmosphere of the place.
The Road to Mestia
The road to Mestia from Zugdidi, known as the Zugdidi-Jvari-Mestia-Lasdili highway, is sealed but there will be places where the tarmac has been washed away, leaving gravel in its wake. Even in summer, parts of the road will be missing as the effects of winter take their toll and the road maintenance teams race to catch up with, and repair, damage.
Unlike the spectacular but busy Georgian Military Highway, the route to Mestia is quiet – we drove for long stretches without seeing another vehicle. Make sure you have a working mobile phone and plenty of water and food should the worst happen. You may have to wait a while to be recovered if you break down!
Mestia is a popular ski destination in the winter, and the village remains busy. It is possible to drive there, and the road generally remains open. But heavy snow, rock falls, icicle falls in the tunnels and slippery surfaces are not uncommon, so we would say don't attempt this route in winter unless you are experienced at driving in this type of weather, are confident behind the wheel and have the right vehicle for the road with snow chains fitted.
If you're planning on getting to Mestia from the east, via the Zagari Pass and Ushguli, you will need a 4WD vehicle and be able to attempt the road in good weather. This spectacular route is not for the faint-hearted.
Flying to Mestia
It is possible to fly to Queen Tamar airport in Mestia throughout the year with Vanilla Sky, the only operator to fly to Mestia. Flights leave daily from Tbilisi, and once or twice a week from Kutaisi, depending on the season.
Expect flights to take around two hours, in either a small Propeller plane or helicopter. Prices start at around US$70 for a round trip, with helicopter flights being the most costly way to travel – but the incredible view of the Caucasus sort of makes up for the cost!
Sadly, the Vanilla Sky online booking system is clunky and the opposite of user-friendly, and actually buying a ticket is a bit of a challenge. In summer, tickets sell out extremely quickly, so we recommend following the Vanilla Sky Facebook page, where ticket release dates and special offers are announced.
Flights to Mestia often get delayed and cancelled at short notice due to poor weather conditions, so make sure to have a backup plan should the flight not go ahead as planned.
Marshrutka to Mestia
Marshrutka are shared minivans which operate a bit like buses but on a loose schedule. Marshrutka wait outside Zugdidi train station for the services coming from Tbilisi – as soon as you exit the station you'll hear the drivers shouting their routes. In between trains, you can also find marshrutka waiting at the bus stand near Zugdidi market.
The marshrutka journey to Mestia takes around four hours but always be prepared for it to be longer, so aim to get the earliest marshrutka that you can. Expect to pay around US$20 one way for the trip.
In the high season, you can also take the journey by marshrutka from Tbilisi, which takes a punishing ten hours and costs US$30. The minivans leave Tbilisi train station at 6am every morning. Make sure to pack plenty of supplies for this trip!
If you prefer to pre-book, check out these recommended transport services to Mestia, where you'll travel in an air-conditioned vehicle with a professional driver.
Taxi to Mestia
Taxis are also available from Zugdidi and can be found waiting around the main bus stand or railway station, or your guest house will be able to arrange a car for you.
A seat in a shared taxi will cost around US$22, but you do have to wait for the rest of the seats to fill before departing. You can also book the whole car for US$75-90 (depending on your negotiating skills!).
Getting Around in Mestia
Once in Mestia, you can rent a car, although you'll get a better rate and more options if you hire a car in Zugdidi or Tbilisi and drive yourself to Mestia.
There are plenty of taxis around the main square in town if you want to plan a day trip from Mestia to Ushguli or the Koruldi Lakes.
Everything else is within walking distance in the town and most hotels are central, so a car isn't really needed.
Are you planning to rent a car in Georgia? We recommend hiring your car with Localrent.com, an aggregator of local car rental companies. They work with small car rental companies that only operate in their location and closely monitor the quality of their service. This means you get the best service for the lowest price.
For a real adventure, hire a campervan in Georgia. Overlando offer self-drive campervan trips with their fully equipped 4×4 campers, including the awesome (and very cute) UAZ Bukhanka, a Soviet classic named after a loaf of bread! If you prefer a smaller vehicle, check out their Lada and Hilux cars with rooftop tents. You can park and sleep anywhere in Georgia, as long as you're not on private land. Use the Park4Night app to find overnight spots, and sleep on a high mountain pass, next to a beautiful river or hot spring, or in a wildflower meadow.
Head across to our complete guide to driving in Georgia, for tips and info about staying safe on the road and driving in Georgia.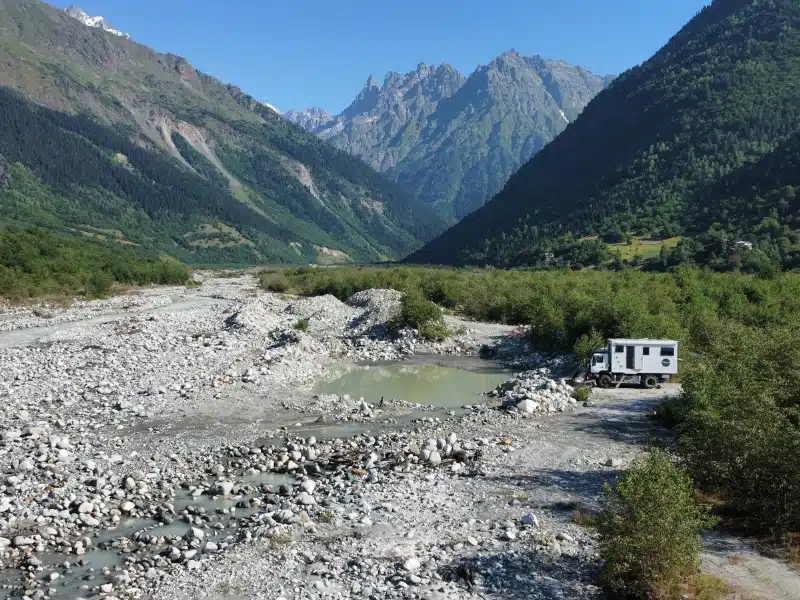 Mestia Organised Tours
Svaneti has traditionally been a destination for independent trekkers and overlanders but has started to draw a wider variety of tourists looking for adventure.
If visiting Mestia sounds amazing but too complicated to organise yourself, why not take a private tour? A private organised tour is a great way to see more of Georgia in less time, and your English-speaking guide will help you negotiate the trip between Georgia's capital city of Tbilisi and the Caucasus mountains.
Our recommended four day trip from Tbilisi to Svaneti not only hits the high spots in Mestia, but you get to visit the Prometheus Cave, Martvili Canyon and Enguri Dam on the way! Once in Mestia, you'll spend a whole day in Ushguli, possibly the highest village in Europe, and enjoy a traditional dinner with Georgian folk music.
Where to Stay in Mestia
Mestia History (in brief!)
The landlocked Georgian region of Svaneti has seen more than its fair share of invaders over the centuries including the Persians, Mongols and Turks, and in recent history, the Soviets and Russians.
The Svans, a subgroup of Georgians with their own language, historically defended and protected themselves and their livestock by residing in tall and strong stone towers known locally as koshki, or Svan towers.
The towers came into being because the wild and rugged landscape meant height was needed to see invaders approaching and long walls were difficult to build on the forbidding terrain.
So the Svans built these towered fortresses which continued to be used long after the risk of invasion had passed – when local blood feuds unfolded, families would barricade themselves inside their tower for long periods, in fear of murderous and bloody retribution.
These days, the Svans are much less bloodthirsty but remain incredibly proud of their heritage. Towers have given way to comfortable and practical homes, but remain standing tall in a testament to their design and construction, and the region has become a UNESCO World Heritage Site known as 'the country of a thousand towers'.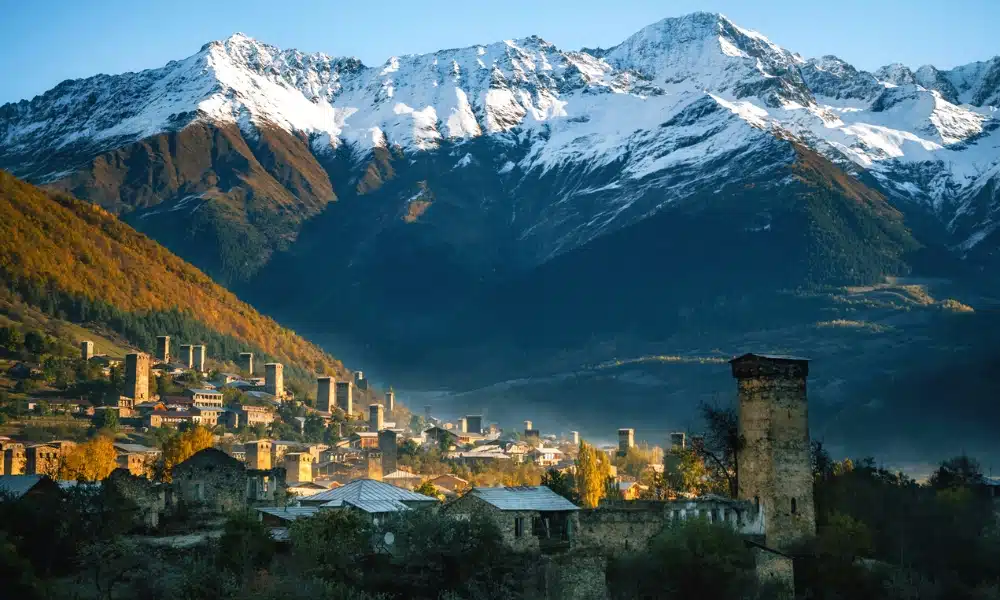 When to Visit Mestia
Winter & Spring
Unless you're visiting Mestia to ski, snowboard or take part in other winter sports, neither winter nor spring is the best time to visit. It will be properly cold and many activities like hiking and sightseeing will not be possible.
Summer
June, July and August are the optimum months to visit Mestia. The road will be clear and any repairs after the winter snows are likely to be completed.
Visit during these warm months and you'll be rewarded with blue skies and sunshine. Hiking trails will be open and you'll be able to spend your days in short sleeves. Pack a warm top for the evening though, as the nights can be a little chilly, and a waterproof as rain is common in these mountains.
Fall
Autumn is a gorgeous time in Mestia, which has its share of vibrant autumnal colours to enjoy, whilst the warmth of the summer remains into early September.
Keep your eyes on the weather though, as the snow can start in early October and the road south can quickly become unpassable.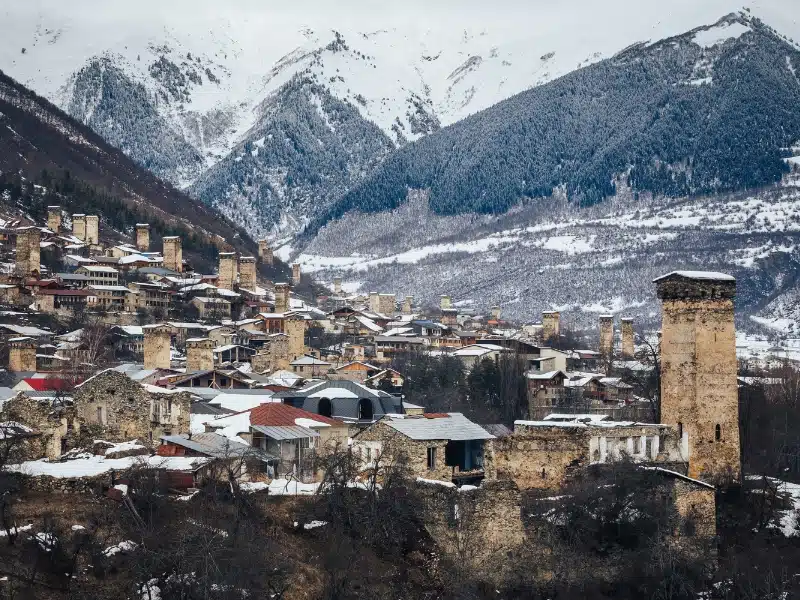 Is it Safe to Visit Svaneti?
Yes, Svaneti is generally safe for travel. The crime rate in Svaneti has improved exponentially over the past ten years, and we felt very safe the whole time we were there.
As with any remote and mountainous region, drivers, hikers and those seeking adventure should exercise caution and watch for avalanches, mudslides and floods which can happen in an instant in heavy rains. Always check the weather before you head out for the day.
Make sure you have travel insurance you can trust when visiting Mestia. We recommend True Traveller for their 5-star TrustPilot reviews, variety of cover options, best activities cover as standard, great prices and excellent service.
How Long Do I Need in Mestia?
Whilst you could drive there from Zugdidi and back in a day, it would only give you a few hours to spend in the town and to get a true feel of Mestia and the surrounding area, you need longer than this.
We recommend a five or seven day Mestia itinerary, especially if you're a keen hiker and want to visit Ushguli.
Are you planning a trip to Georgia? Find out all you need to know about SIM cards in Georgia so you can stay in touch, research, navigate and book hotels on the go.
Things To Do in Mestia & Svaneti
Go Hiking!
The number one activity in summer, hiking the Upper Svaneti is spectacular. Whatever your level of ability or fitness, there is a hiking adventure here for you. Local 4×4 taxis can take you part of the way on longer hikes, making the big peaks more accessible for everyone.
Hiking to Ushguli
Hiking to Ushguli is a 3-4 day, 60km trek along the stunning Transcaucasian Trail past snow-capped peaks, dramatic glaciers, and historic Svan towers. This route is long but not overly challenging and has guesthouse accommodation along the way, making this a perfect multi-day hike, without the need to carry gear or food.
Koruldi Lakes Hike
The Koruldi Lakes day hike starts in Mestia with an initial steep ascent before arriving at the alpine pastures which surround the slightly underwhelming lakes. What does meet expectations are the views of Mount Ushba, and the 360-degree mountain panorama, which is breathtaking.
It is possible to get a 4WD taxi from Mestia up the bone-shaking mountain road to the Cross over Mestia – a spot where there is a small hikers café, and yep, the road and trail cross. From the Cross, it's a relatively easy 1.5 hour hike to the lakes at 2,200 meters. Expect to pay around US$100 for a return trip.
Chalaadi Glacier Hike
Hiking to the Chalaadi Glacier was a real highlight for us. From town, there is a very boring and flat 8km walk to the trailhead of the hike, where you cross back over the Mestiachala river and start the small and interesting forest ascent to the glacier, which has receded significantly in recent years.
There's a bit of hopping about over boulders which have been left behind as the glacier has receded (look out for dates carved on the rocks which pinpoint the size, placement and movement of the glacier), but at 1850m the glacier is only 350m uphill from Mestia, making this an easy hike.
It is possible to get a taxi from town to the start of the hike for around US$20. The driver will wait the 3-4 hours you'll need for the return hike and to spend a bit of time around the glacier.
Zuruldi Ridge Hike
Hiking the Zuruldi Ridge is an easy stroll which you can do in a couple of hours by taking the Hatsvali cable car to the top of the ridge, where you can stop by the restaurant and enjoy a coffee along with fabulous across the valley of Ushba and Mount Tetnuldi.
Most people don't go any further, but it's a great hike along the ridge to the east for 3km to Mentashi Hill, where there is an old transmitter which serves as a great viewpoint. From here you can return the same way, or continue on the beautiful alpine trail to Tsvirmi village.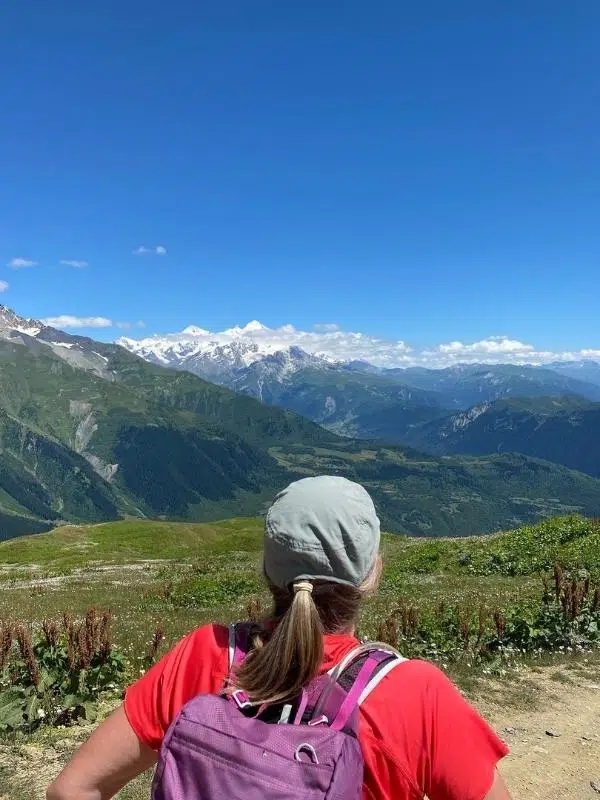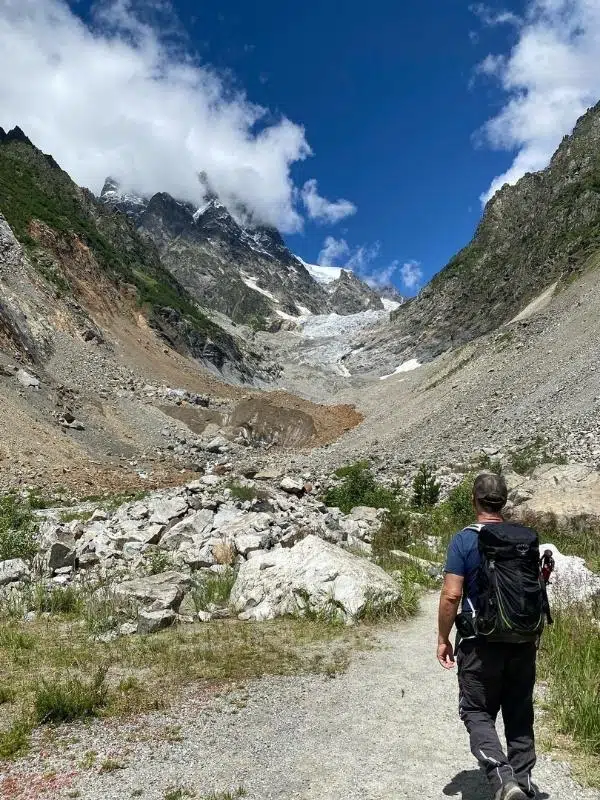 Take a Trip to Ushguli
Almost as legendary as the road to Mestia, the road to Ushguli winds its way east over the Ughviri Pass before passing the famous Tower of Love and arriving in the highest permanently inhabited settlement in Europe at 2,100m. Although… we also visited Khinalug/Khinalig in Azerbaijan during our Caucasus trip and they claim the exact same thing!
The Mestia Ushguli road is challenging, with unpaved sections, rivers of mud and many, many giant potholes. You really need a 4WD car or taxi (around US$50 return) to tackle this route, but your efforts will be rewarded with incredible views of the dramatic Caucasus landscape and an unspoilt and traditional Svan village to explore.
It's possible to drive from Mestia to Ushgulia and back in a day in the high season when the light lasts well into the evening. But there are lots of things to do in Ushguli, so we would recommend booking a guesthouse for a night or two.
Make sure to trek up to the Shkhara Glacier, visit the nearby UNESCO medieval village of Chazhashi, which still has more than 200 tower houses and is home to the Ushguli Ethnographic Museum, take a stroll to the simple 12th century Lamaria Church, and test your horse riding skills.
Deciding that the 4WD vehicle route wasn't for us, and we didn't fancy a multi-day hike, we took our scooter along the Mestia road to Ushguli. Watch us tackle the road on two wheels as we slip and slide our way across the Caucasus!
Explore the Svaneti Museum of History & Ethnography
To understand the history of the region, the Svan people and what makes this area so special, you must visit the Svaneti Museum of History and Ethnography in Mestia.
This small but well-designed museum features exhibitions showcasing artifacts that highlight the rich cultural history of Svaneti. A visit only takes about 30 minutes, but the museum is well worth a visit, especially if it's raining!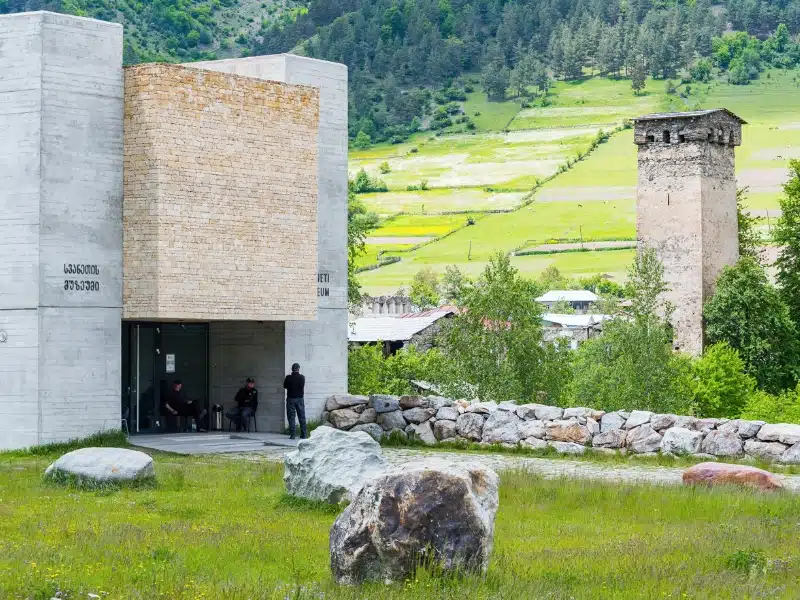 Go Skiing!
Most of Mestia's visitors come in the summer months, but Mestia is also a well-known ski destination, open between December and April.
Perfect for both skiing and snowboarding, there are 19km of slopes and nine lifts across Tenuldi and Hatsvali ski resorts, between the elevations of 2,265 and 3,160m.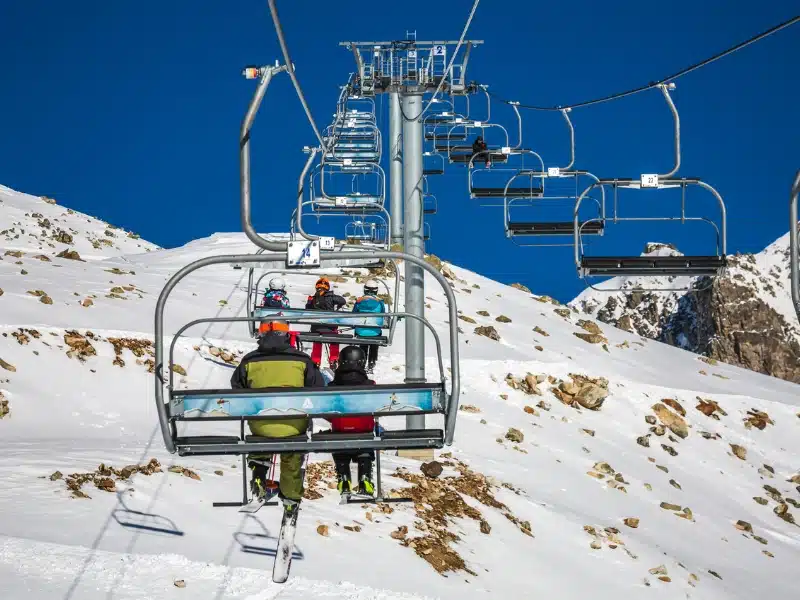 Love a road trip? Discover the best road trips in Georgia, where all four corners of this tiny nation offer diverse experiences, surrounded by the glorious backdrop of dramatic mountains, beautiful coasts and rolling steppe.
Explore Laghami
Discover the back streets in Laghami on the northern river bank, the oldest and most historic part of Mestia. As well as soaking up the history and atmosphere of ancient Mestia, you should visit the Transfiguration Cathedral for its beautiful frescoes painted in the 10th and 13th centuries, and the gold and silver engraved icon of Christ.
The church is usually closed, but there is a number on the door where you can ring and ask for it to be opened.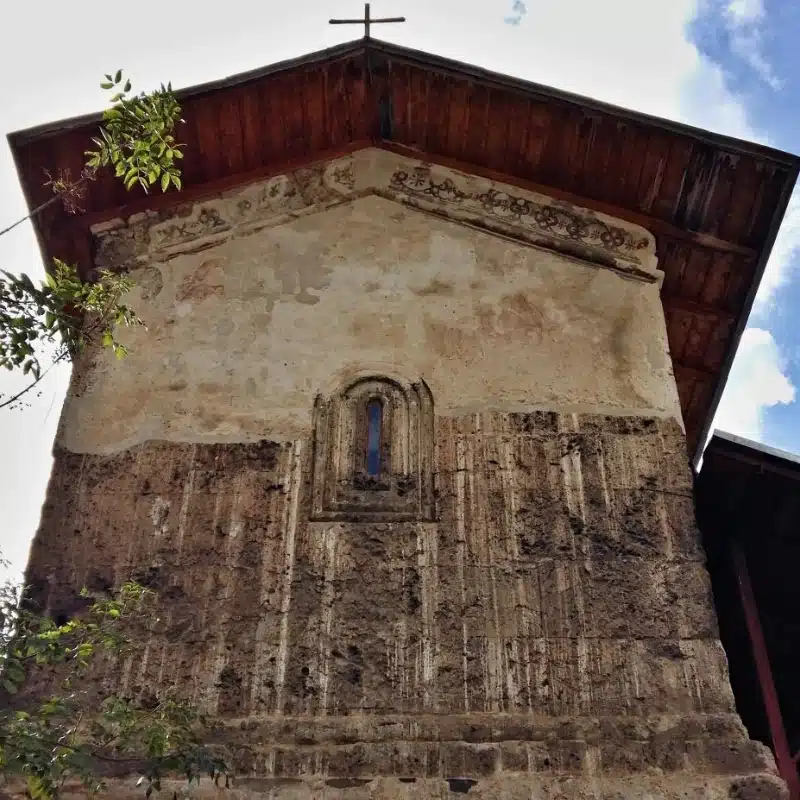 Discover Margiani's House Museum
Everyone who visits Mestia wants to see inside one of the many Svan towers, and that's just what you can do when you visit Margiani's Museum.
Inside this most traditional of Svaneti buildings, you can see how Svan families lived inside the stone watchtowers that give the whole area a distinctive Game of Thrones vibe, before climbing to the top for panoramic views.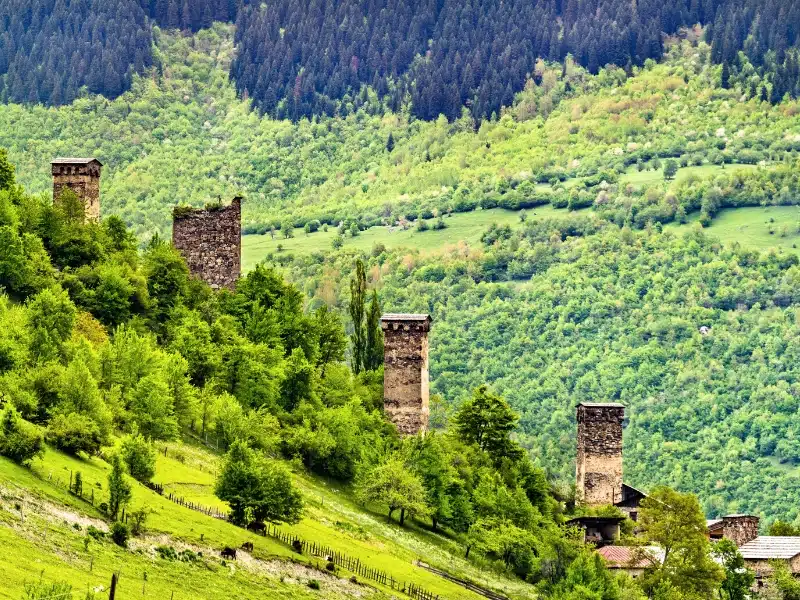 Take a Ride on the Hatsvali Cable Car
Just out of town, the Hatsvali ropeway was built to take skiers and snowboarders up the mountain. But in summer, it's a spectacular ride to the top, and the highest restaurant in Georgia. From the observation deck and restaurant, the views are breathtaking, with huge snow-capped peaks in every direction.
The Hatsvali cable car is actually made up of two separate lifts – the first is generally known as the Mestia cable car, and the station is just outside of town on the Ushguli road. Use this cable car to reach 1,800 meters above sea level and then take the second lift, known as the Hatsvali ski lift, to Hatsvali Top Station at 2,347m.
Swoon at the Tower of Love
About 25km out of Mestia on the Ushguli road is the Tower of Love. It's impossible to get to the bottom of this enigmatic tower's history – for as many people as you ask, there are as many legends shared!
For one Georgian Lari (GEL) you can climb to the small window and see inside the lone tower. We found it a little underwhelming, but it's one of those must-do Instagram spots in Georgia, and it's worth a stop if you're heading to Ushguli.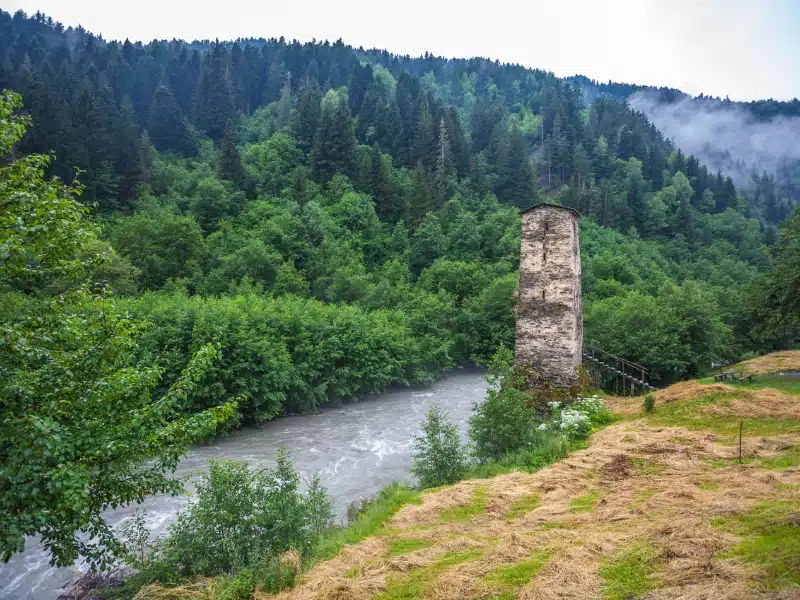 Guided Tours Around Mestia
Visit St George Church
The Georgians have a knack for building churches in the most beautiful spots, and St George Church is no different. Perched on a south-facing hilltop to the east of town, the shiny new church, sometimes called the Little Church, is a real gem.
You can hike or drive up to the church from town, following the track up to the Cross.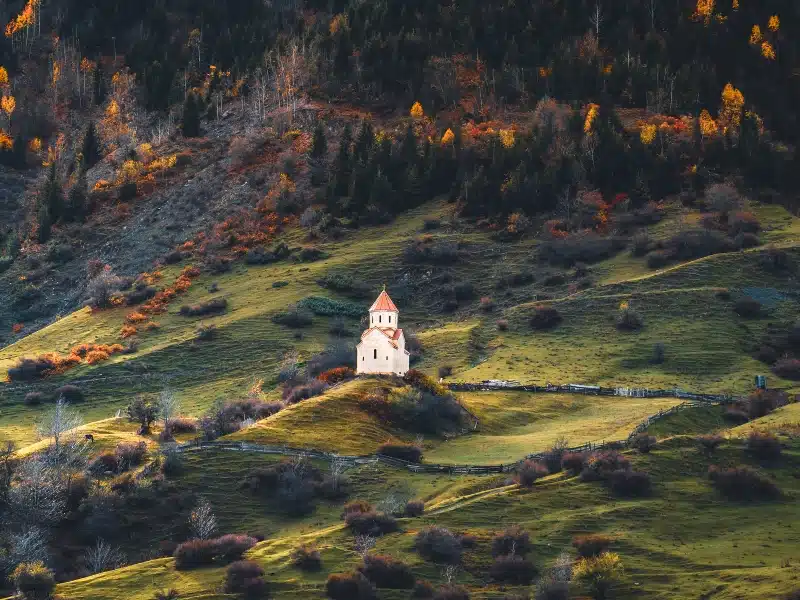 See Mestia from Above!
A tandem paraglide puts you in the capable hands of a professional paragliding pilot so you can experience the thrill of free flying without going through a lengthy learning process.
Adventure Georgia offers paragliding in Mestia, and the launch zone is just above the Cross, for a 350m descent lasting around 15 minutes. Both the views and the adrenaline rush are amazing!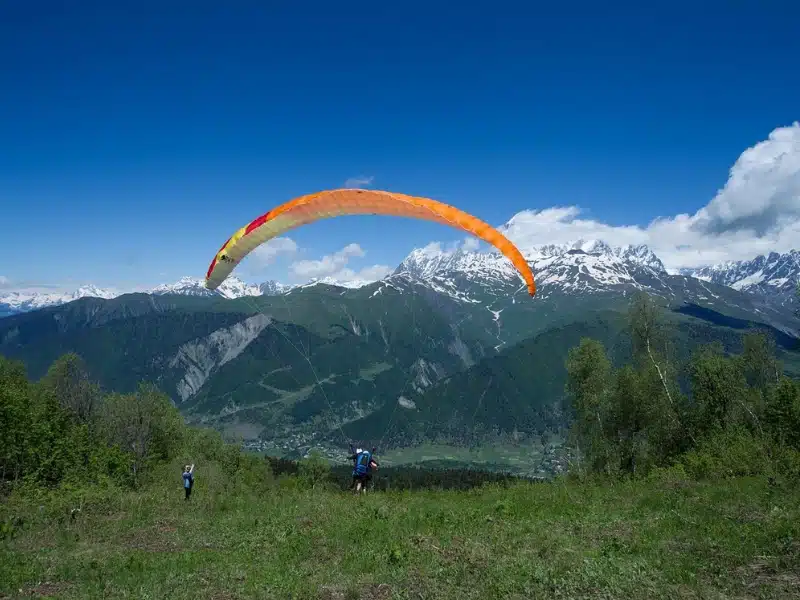 Get to Know the Famous Georgian Alpinist
The Mikhail Khergiani House-Museum is dedicated to the Georgian climber and mountaineer Mikhail Khergiani, a seven-time national champion climber who earned the nickname the 'Tiger of the Cliffs' for his ability to rapidly attack difficult routes. He was named an Honoured Master of Sport of the USSR in 1963 for his achievements. The memorial house museum has been housed in Khergiani's own home since 1985.
The museum's first floor exhibits the famous climber's personal belongings including clothes, climbing equipment, photos, awards and gifts. If you're at all interested in climbing, mountaineering or general feats of incredible sportsmanship, the museum is worth a visit.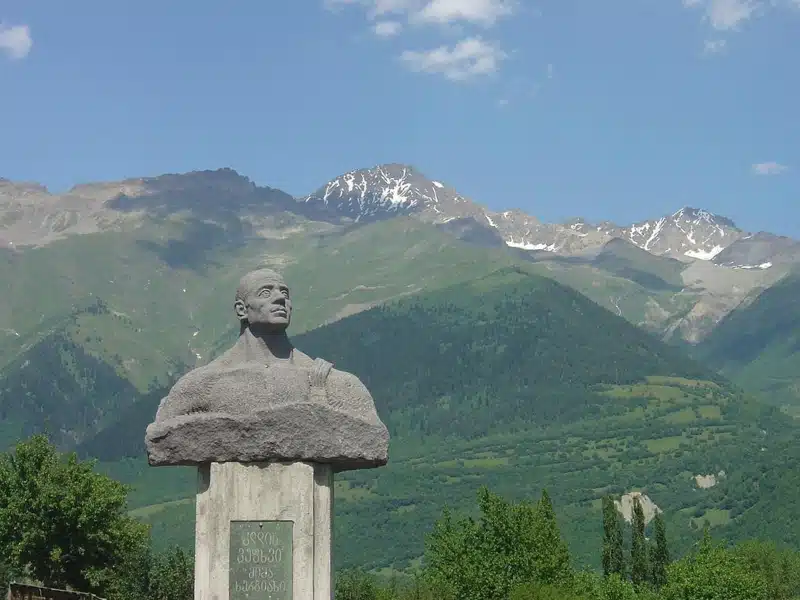 Have a Movie Night!
The award-winning 2017 Dede is a beautifully made film about the deep-rooted culture and values of the Svan people and the Svaneti region. Filmed in Svaneti by Georgian film director Mariam Khatchvani, you can watch the movie which is shown daily, at the Pub and Cinema Dede in Mestia.
Listen to Traditional Svanetian Music
Mestia's many cafés and restaurants come alive at nightfall with traditional musical performances by local bands. The performers sing in their own unwritten Svan language in a polyphonic three-part harmony, using instruments called the changi and chuniri.
Café Laila and Restaurant Seti in the central main square host the most popular folk music performances, with music starting around 8.30pm most evenings – perfect to enjoy with a glass of Georgia's famous saperavi wine, or chacha, the fiercely potent Georgian pomace brandy.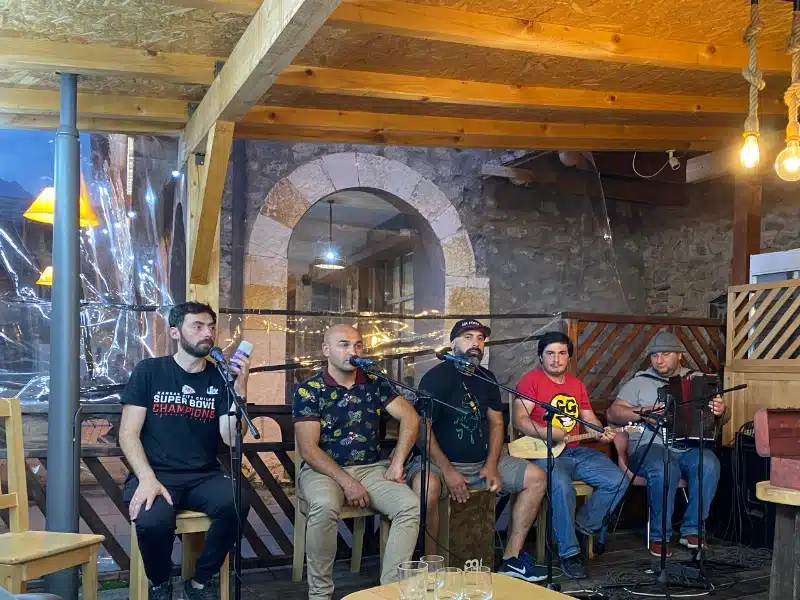 Try the Svan Cuisine
Traditional Svanetian food is full of hearty, carbohydrate-heavy dishes, perfect to keep you fueled up during the cold mountain winters.
Bread, potatoes, meat, honey and cheese are staples on any menu in Mestia, alongside Svaneti salt which is flavoured with coriander, dill, fenugreek, paprika, marigold powder (which gives the salt the yellow color), cumin, coarse salt and garlic. It is this that makes Svanetian dishes Svanetian with their distinctive taste and smell.
Try chvishdari, a millet flour and cheese patty, tashmijabi which is delicious cheesy mashed potato, kubdari, a meat and cheese filled bread, and fetvraal, which is the Svanetian take on khachapuri, a widely eaten Georgian dish of cheese stuffed flatbread.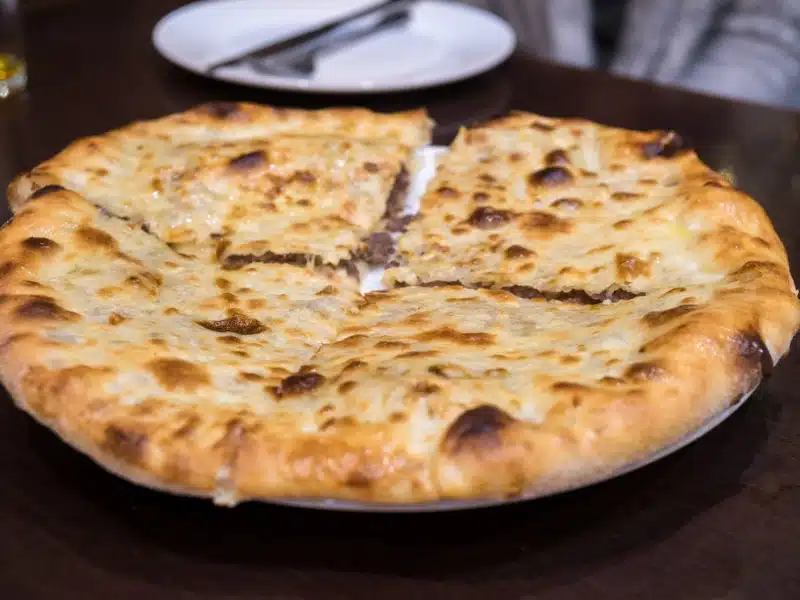 Where to Eat in Mestia
There are lots of small tucked-away restaurants here where you can sample traditional Svanetian food. These are just a few of our favourites;
Cafe Laila is right on the main square and is open all day. With outdoor seating which is perfect for summer and a wide choice of local dishes, Cafe Laila became our go-to option. Their tashmijabi is delicious, and their chicken shish served with a rich and sticky pomegranate sauce is perfection. Be aware that there will be street dogs hanging around, but they are harmless.
Restaurant Lushnu Qor is on the road east out of town and offers a lovely enclosed outdoor area with a restaurant and bar. Service can be a bit patchy, but the food is plentiful and flavoursome.
Erti Kava Coffee Room is one of the few eating places in Mestia to open before 10am, making it a great choice for morning coffee and breakfast. Centrally located, the baristas are friendly and they even serve a cooked breakfast!
New Café Daeli, a Tripadvisor Travelers Choice 2022, is a cozy bar and restaurant which plays modern music and serves good traditional food, including some of the best soups we tasted in Georgia.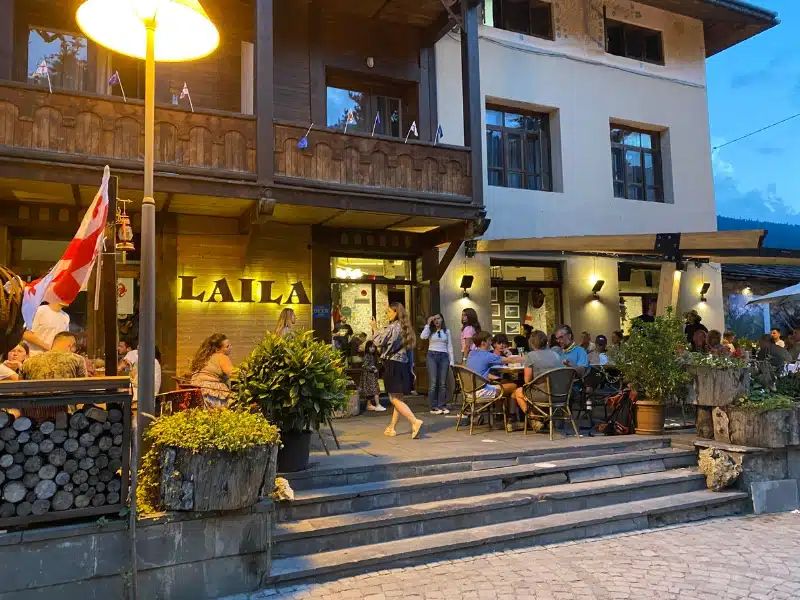 Are you looking for adventurous travel inspiration? Check out these top posts…
Do you crave the unexpected and want to experience the road less traveled? Are you looking for excitement and adventure on your next vacation? These road trip adventures will get your heart pounding and adrenaline racing. Be prepared to be inspired!
Love it? Pin it!